$50 Loan instant apps with no credit checks are the best cash advance options that have helped many Americans who have lived paycheck to paycheck post COVID-19 pandemic. The pandemic has wrecked thousands of budgeting plans and led to increased borrowing rates.
The best $50 loan instant apps and even more, provide users with everything they need, from credit card cash advances to financial tracking and other financial management tools. Fortunately, some of these instant money apps have helped millions of individuals to stay afloat financially.
What Are $50 Loan Instant Apps?
$50 Loan instant apps are web applications or mobile apps that give you access to money or extra cash in the range of $50, $100 or more when you need it. Online lending platforms operate cash advance apps, loan apps, and money transfer apps, all of which fall in the category of loan instant apps. They are viable alternatives to payday loans, which many individuals would rather avoid.
Why Do People Use $50 Loan Instant Apps?
People use $50 loan instant apps or apps that can give even more such as $,100, $150, $200 or slightly more to obtain emergency funds or extra money for unplanned expenses or other cash management problems. An individual may need to settle an emergency expense like a health bill or a credit card payment but may not have any emergency savings to dip into.
List Of Top 10 Best $50 Loan Instant Apps That Can Help You Until Payday
Dave
SoFi Money
Axos Bank
Varo
DailyPay
Branch
MoneyLion
Brigit
Chime
Empower
1. Dave
Dave is one of the best $50 loan instant apps to ever exist. The lending platforms says it is on a mission to create financial opportunity that advances America's collective potential. With them, you get paid up to two days early, build your credit history, and get between $50 to $200 cash advances without paying a fee.
Features of Dave Instant Cash Advance App
Get a small advance on your next paycheck and then pay Dave back when it arrives. No interest. No credit check.
Dave partners with LevelCredit to let you report rent payments to major credit bureaus, giving you a credit-building opportunity. A $100 per year service that's free for Dave Banking members.
Every account is protected by banking-level security and FDIC-insured up to $250,000
Download DAVE APP ON GOOGLE PLAY STORE BY CLICKING HERE.
Download DAVE APP ON APP STORE BY CLICKING HERE.
2. SoFi Money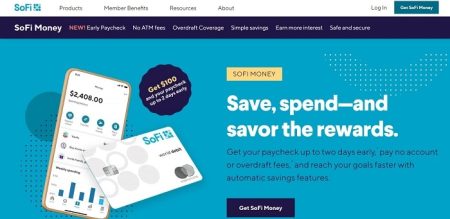 SoFi Money is the 2nd pick on our list of $50 loan instant apps. The platform gives you early access to your salary before the direct deposit is scheduled to arrive in your account.
Like Dave, this app does not charge overdraft fees or minimum balance fees. It even offers free coverage for accidental overdrafts of up to $50 so you don't get hit with a penalty.
Another benefit of using SoFi Money is that you get to earn 0.25% annual percentage yield (APY)—about six times the national average— on your savings. All you have to do to qualify for this rate is direct deposit at least $500 into your SoFi Money account monthly.
To apply for an instant cash advance from SoFi Money, CLICK HERE.
3. Axos Bank
Axos Bank is our 3rd pick on our list of $50 loan instant apps and a financial service that functions like Dave, offering users quicker access to their paychecks. When you open a high-yield savings and checking account with Axos Bank, you automatically qualify for the Direct Deposit Express feature.
This gives you access to an advance on the money you've already earned days before the actual check lands in your account. To activate this feature, you simply have to set up a direct deposit for your account and Axos will take it from there.
Axos Bank does not charge you a monthly service fee. It doesn't demand overdraft fees or require you to have a minimum balance to keep your account operative either.
To apply for cash advance from Axos Bank, CLICK HERE
4. Varo
Varo is a powerful digital banking service and our 4th pick on our list of top 10 best $50 loan instant apps for quick cash loan. The platform provides access to cash advances before your paycheck arrives so you don't have to put up with the usual delays that accompany traditional banks.
Once you set up a direct deposit on your Varo account, you'll be entitled to withdraw any amount you want from your earned wages ahead of time.
The pay advances you receive from Varo are interest-free, just like the advances that Dave offers. You won't even have to pay transfer fees, foreign transaction fees, or keep a minimum balance.
To apply for Varo instant cash advance app, CLICK HERE.
5. DailyPay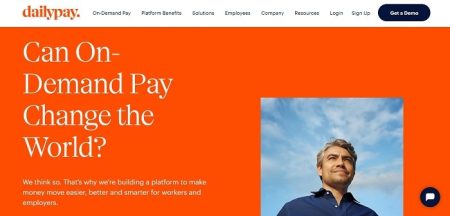 If you're looking for $50 loan instant apps for emergency cash to help you solve urgent financial needs when you're low on funding without attracting hefty overdraft fees on your account, then DailyPay is one of your best options to consider.
With DailyPay, you can get an advance on your earnings before your next payday and save big in overdraft fees, loan interest, and late fees.
Whenever you clock in for a shift, your earnings for the day will be added to your DailyPay account. You can transfer the earned amount to your bank account any time you want and DailyPay will deduct the advances from your salary when payday comes around.
The app charges a modest transfer fee of $1.99—which is on par with what Dave charges—on each withdrawal to deposit your cash advance by the next business day. Alternatively, you can pay $2.99 for an instant transfer.
To apply for DailyPay advance, CLICK HERE.
6. Branch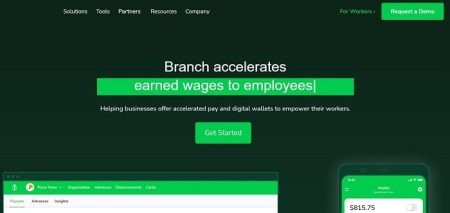 Branch is our 6th pick on our list of top 10 best $50 loan instant apps available in the market today. The service is designed to help employees get faster access to their wages, keep track of payments and balances, get spending reports regularly, and receive alerts about upcoming bills.
This fintech platform is particularly useful for employers who have lots of underbanked or unbanked employees. It provides them with a free digital account and debit card for transactions.
Branch lets you withdraw from $50 to $500 in advance based on how many hours of work you do and wages you earn. However, the catch is that your employer also has to set up an account on Branch.
To apply for Branch instant cash advance app, CLICK HERE
7. MoneyLion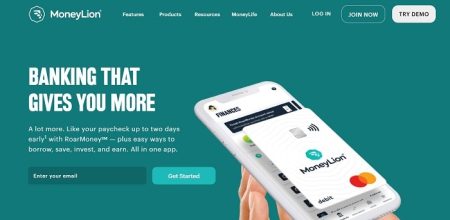 In our list of reputable $50 loan instant apps for emergency expenses is MoneyLion.
The [;atform grants you instant loans between $50 to $250 per pay cycle depending on how much income you regularly earn and deposit into your checking account.
The process for getting a cash advance on MoneyLion is fast. You can even receive the disbursement instantly or within a few hours if you have a RoarMoney account. MoneyLion doesn't require any fees or interest on cash advances. Instead, the company asks that you leave an optional tip whenever you get a cash advance so that MoneyLion can remain interest-free and available to as many users as possible.
MoneyLion doesn't perform any kind of credit checks before, during, or after you request a cash advance, so you don't have to worry about ruining your credit or getting disqualified for not having stellar credit.
To apply for MoneyLion instant cash advance app, CLICK HERE.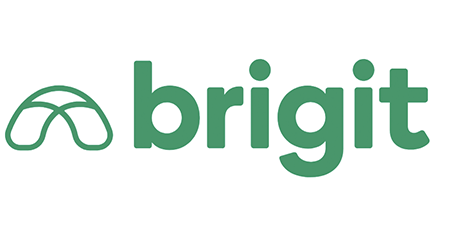 Brigit is one of the best $50 loan instant apps you can get in 2022. It works by letting you borrow money and paying it back when your next paycheck is deposited.
With Brigit Plus, you get a cash advance within 20 minutes whilst the standard accounts get it within 1 to 2 business days. To be able to request even up to $250, you need to uograde to the $9.99 per month plus plan. It's definitely one of the top instant cash advance apps like Dave you can get.
Brigit allows you to extend the due date on your first loan once without incurring a penalty or late fee. The more you use the service, you'll be able to earn more extension credits that will let you postpone loan repayment up to three times in a row. Brigit charges a membership fee, but the price points and benefits differ greatly.
To Apply for Brigit loan, click here.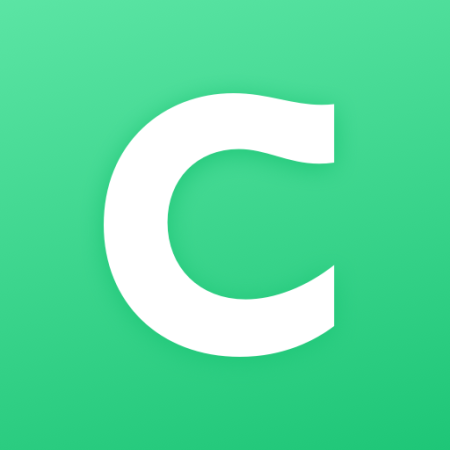 Chime is our 9th pick on our list of top 10 best $50 loan instant apps with no credit check in 2022. You can request between $50 to $200 but you have to start building your account to qualify.
If you're in urgent need of a little cash, Chime can lend you up to $50 or $100 before your paycheck arrives. With Chime's Spot Me feature, you can overdraw up to $200 on your account depending on your repayment history.
Chime has been in the fintech business for almost a decade now serving as an online bank account where you can make direct deposits, transfer money, send checks, pay bills online and get a cash advance on your salary when you're low on funds.
To Apply for Chime loan, click here.

The process with Empower is simple. You can withdraw from $50 to $250 and you pay automatically when you receive your next paycheck. It's our 10th pick on our list of cash advance apps that can give you $50 or $100 with a guarantee of instant approvals and quick cash loans.
When you apply for a loan from the platform, the money will be disbursed to your Empower checking account free of charge or to an external bank account for a flat fee of $3. You can even get access to your paycheck two days earlier thanks to Empower's Early Paycheck Deposit feature. Empower is definitely one of the top apps like Dave.
To Apply for Empower loan, click here.
Do You Need Quick Or Emergency Cash From Apps that let you borrow money?
If you are in United States of America (USA), you can also apply for an emergency cash advance loan even if you have a poor or bad credit rating. If you need the top and best Apps For No Credit Check Loans Guaranteed Approval Direct Lender, CLICK HERE.
These Top 10 Best Instant Loans No Credit Checks Guaranteed Online Approval are highly recommended if you are in the USA.
If you are in Canada, these 10 cash advance loan apps could meet your emergency and quick cash loan request.
In need of an instant loan or an emergency cash loan in Nigeria? You can apply through any of the top loan apps in Nigeria and get funded under a few hours, a few more hours without collateral or document needed of our list of reputable loan apps in Nigeria.
For instant, payday, emergency or advance cash loan if you are in Australia, CLICK HERE.
Please follow and like us: