My name is kehinde Akindayo (not real names.).  I work in the account department of a fertilizer company in Abuja. I borrowed N18,000 from 9ja Cash loan app with a 14-day tenure and repayment amount is N28,000. I needed the money to assist feedings for me and my family and for transportation because I was not paid any salary for last month in question.  Though they claim the interest is 0 amount, they charged me a service fee of N10,000 for the loan.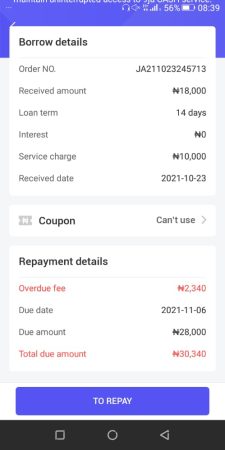 '9ja Cash charged me service fee of N10,000 on N18,000 loan for 14days'
Like I said, I had an issue at my workplace, I was not paid last month salary, so I begged 9ja Cash to please hold on for me till latest month end of November to pay, promising to clear everything even with the overdue charges which is now N30,340. This I did so they won't be sending threat messages to my contacts…However all my appeal to 9ja Cash fell on deaf ears and they still went ahead and sent the defamatory message below to all my contacts.
BEWARE OF A FRAUDSTER, (xxxxxxxx), phone NO: (xxxxx), FOR DUPING A LOAN FINANCING COMPANY OF A SUM OF MONEY, THE PUBLIC IS ADVISED TO DESIST FROM TRANSACTING BUSINESS WITH HIM TILL HIS ARREST AND ARRAIGNMENT IN COURT. HIS PICTURE WILL BE POSTED ON OUR SOCIAL MEDIA PAGE(Facebook).9JACASH.
I want 9JA Cash to send messages to all my contacts, apologizing for the defamatory message they sent to them earlier, because I did not steal from them and I'm not a criminal.
And I want Nigerians to desist from taking loans from 9Cash anymore because they have violated the privacy agreement we have and they only tend to destroy people's reputation.