Abeg quick cash app suffers setback as withdrawal feature disabled
Abeg app, a peer-to-peer (P2P) social payments platform, according to news reaching Quick Loan Arena has disabled their withdrawal feature following a malfunctioning of the app.
This has thrown hundreds of users to confusion as no withdrawals can be carried out, leaving their millions of Naira stuck in the app's system.
Abeg is not directly a quick loan app, but the platform enables users to send or request quick cash from another Abeg user without having to input any bank details. All you need is their Abeg tag to send them money and request funds from them.
The app was founded by three young men, Muheez Akanni, Michael Okoh, and Dare Adekoya, and is only available to Nigerians, for now. Funding an Abeg wallet requires a Bank Verification Number (BVN) and a local phone number linked to your account.
The Abeg app is supposed to make payments and withdrawals as easy as ever. However, millions of naira belonging to various Nigerians are currently stuck in the app, Quick Loan Arena understands.
ENigeria Newspaper quotes a user who says, "Recently, Abeg app has been unstable; accounts of customers with large sums of money have been disabled, and the latest to set the roof on fire was restricting the withdrawal feature, which lets consumers to access their monies when needed."
The Newspaper adds that thousands of disgruntled users have started reporting the app on Google Play Store, while others have removed it, resulting in its de-ranking on the platform a few days ago.
"Thousands of users also took to the comment area to express their dissatisfaction with the app's inconsistencies, with phony pledges from the owners to remedy the problems, all to no effect. Many people are concerned that Abeg, as BBNaija main sponsor, spent N2 billion yet did not address the platform's problems," ENigeria Newspaper reports.
Dare Adekoya, the CEO of Abeg app, is a billionaire IT guru, programmer, entrepreneur, and product developer who catapulted to prominence after Nigerians realized he was the app's co-founder.
The app owner released a press release that they have gotten the problem resolved, even though users are still complaining that the problem persists.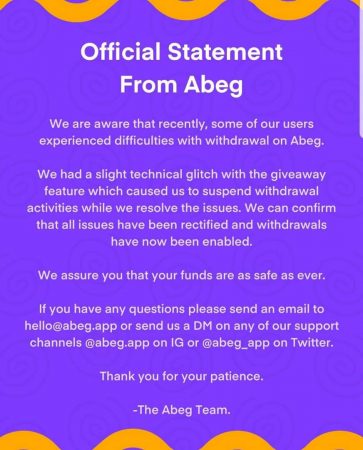 Although Abeg is similar to Cashapp, its founders hope it'll break boring rules surrounding current fintech startups and change how regular people think about payment technology.
Abeg makes gifting money and splitting bills between friends easier. Got a frighteningly huge bar tab after that TGIF party? You can contribute to the bill by Abeg-ging it.
You can also buy airtime, pay bills, and link your social media accounts to find Abeg users on Twitter or Instagram.
Other unique features you can find on the Abeg app include a Giveaway option, Ajo (a group saving tool), Cliques (for your bill splitting) and loans. The last three are still in the pipeline though.
We are a financial solutions brokerage company that seeks to inform and educate individuals and small  businesses about quick loan opportunities to help them take informed decisions. We are neither staffers nor stakeholder in this loan agency. Book A Call TODAY and speak with one of our Consultants for more information! Call or Whatsapp +234 (0)803 385 7245.
Do remember to give us a feedback about your quick loan experience after the lending process is executed.
READ ALSO! Living in Canada? Get a quick loan between $300 to $1,500 in 24 hours
READ ALSO! Avant credit offer: Get $2,000 to $35,000 individual quick loan
READ ALSO! GTB Quick Credit: N500,000 – 5 Million Quick Loan Offer With 1.5% Interest
READ ALSO! https://quickloanarena.com/simple-loan-quick-loan-us-customers/
READ ALSO! Living in Canada? Get a quick loan between $300 to $1,500 in 24 hours
READ ALSO! 5 sure ways to spot quick loan scams
READ ALSO! BBNaija Dorathy Launches Lingerie Line, Says Priority Is Making Busty Women Look Good
READ ALSO! How To Empower Yourself And Generate Income From Mutual Funds
READ ALSO! Skytrend Loans Series: Getting quick loans from Page Financials
READ ALSO! Why The North Remains Headquarters Of Poverty In Nigeria — Kingsley Moghalu
READ ALSO! Living in Canada? Get a quick loan between $300 to $1,500 in 24 hours
READ ALSO! 5 sure ways to spot quick loan scams
Please follow and like us: