An accountant who works with a fertilizer company in Abuja has threatened to sue 9ja Cash lending platform for sending defamatory messages to him and everyone on his contact list.
The accountant, who does not want his name revealed for now says he borrowed N18,000 from 9ja Cash on the 23rd of October 2021 and was expected to pay a service charge of N10,000 after 14 days bringing his repayment to N28,000.
Abuja accountant threatens to sue 9ja cash over loan defamatory messages
He told QUICK LOAN ARENA that his company for some reasons didn't pay him salary for the month of October 2021 and he as a result pleaded with 9ja Cash to hold on to November ending when he would have gotten his salary and pay them off, including the extra days charges, but according to the accountant, the lending platform declined and instead went ahead to send defamatory messages to him and all contacts on his phone.
He told QUICK LOAN ARENA this afternoon, "I intend to sue 9ja Cash lending platform for defamation except they retract their earlier defamatory and threatening messages. They must send an apology to all my contact list, failing wish I may resort to seek redress in a court of law."
He adds: "They should make the apology not only because of me but every other person that might be suffering because of these type of defamatory messages, because it's totally against the law."
Read his story below:
My name is kehinde Akindayo (not real names.).  I work in the account department of a fertilizer company in Abuja. I borrowed N18,000 from 9ja Cash loan app with a 14-day tenure and repayment amount is N28,000. I needed the money to assist feedings for me and my family and for transportation because I was not paid any salary for last month in question.  Though they claim the interest is 0 amount, they charged me a service fee of N10,000 for the loan.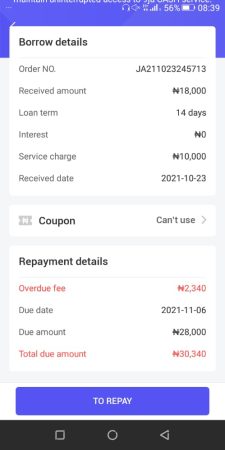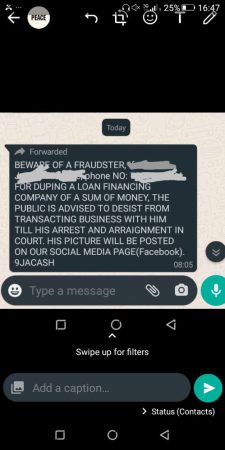 Like I said, I had an issue at my workplace, I was not paid last month salary, so I begged 9ja Cash to please hold on for me till latest month end of November to pay, promising to clear everything even with the overdue charges which is now N30,340. This I did so they won't be sending threat messages to my contacts…However all my appeal to 9ja Cash fell on deaf ears and they still went ahead and sent the defamatory message below to all my contacts.
BEWARE OF A FRAUDSTER, (xxxxxxxx), phone NO: (xxxxx), FOR DUPING A LOAN FINANCING COMPANY OF A SUM OF MONEY, THE PUBLIC IS ADVISED TO DESIST FROM TRANSACTING BUSINESS WITH HIM TILL HIS ARREST AND ARRAIGNMENT IN COURT. HIS PICTURE WILL BE POSTED ON OUR SOCIAL MEDIA PAGE(Facebook).9JACASH.
I want 9JA Cash to send messages to all my contacts, apologizing for the defamatory message they sent to them earlier, because I did not steal from them and I'm not a criminal.
And I want Nigerians to desist from taking loans from 9Cash anymore because they have violated the privacy agreement we have and they only tend to destroy people's reputation.
Editor's note: 9ja Cash has already been added to our list of blacklisted loan apps in Nigeria by their earlier but similar multiple alleged violations and infractions. Nigerians are requested to boycott their loans.