Getting the best deal on personal loans in Australia can save you thousands in interest and fees. With an unsecured personal loan, you can buy a car, consolidate your debts, renovate your home, travel, buy personal goods and more.
A personal loan lets you borrow money to pay for something special, like a holiday, car or home renovations. You have to repay it with interest over a fixed term, usually between one and seven years.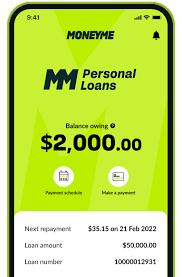 Summary Of Top 7 Best Personal Loans In Australia With Low Interest, Minimal Fees and fast lending and approval process in 2023
| | | | | |
| --- | --- | --- | --- | --- |
| Ranking | Application Name | "Best For" Option | Interest Rate | |
| #1 | NAB Unsecured Personal Loan | Best for Unsecured Personal Loan | 6.99% p.a. to 18.99% p.a | |
| #2 | Pepper Money Personal Loans | Best for No Fees Personal Loan | 6.75% p.a – 19.95% p.a | |
| #3 | Latitude Personal Loan | Best for Flexible Loan Options | 5.75% p.a. to 25.99% p.a. | |
| #4 | Citi Personal Loan | Best for Fastest Loan Processing | 6.99% p.a – 23.99% p.a | |
| #5 | Harmoney Personal Loan | Best for Flexible Repayment | Rates Starting from 5.35% p.a | |
| #6 | BOQ Personal Loan | Best for Low, Fixed Rate | 10.99% p.a | |
| #7 | OurMoneyMarket Personal Loan | Best for Indirect Lenders | 5.85% p.a | |
List of Top 7 Best Personal Loans In Australia for fast approval lending and quick disbursement
NAB Personal Loan
Pepper Money Personal Loans
Latitude Personal Loan
Citi Personal Loan
Harmoney Personal Loan
BOQ Personal Loan
OurMoneyMarket Personal Loan
1. NAB Personal Loan
National Australia Bank Ltd (NAB) is set up to serve customers well and help its communities prosper.
NAB claims to be providing finance support to more than eight and a half million customers in Australia and overseas across: personal accounts, small, medium and large businesses, private clients, government and institutional activities.
The organization became NAB when the National Bank of Australasia (est. 1858) merged with the Commercial Banking Company of Sydney (est. 1834) on October 1, 1981.
With an unsecured personal loan from NAB, you can buy a car, consolidate your debts, renovate your home, travel, buy personal goods and more.
2. Pepper Money Personal Loans
What you get with Pepper Money Personal Loans
Rates based on your circumstances. Get your rate before applying, it won't impact your credit score.
No fees. Ditch the fees and save with our no fee personal loan. No set up fee, no monthly fee and no early repayment fee.
Get a quick decision. The platform aims to give you a decision within 5 hours. Funds in account next business day.
Apply online in 10 minutes or call us on 1300 108 794.
3. Latitude Personal Loan
Latitude Personal Loans are tailored to suit you, only you, to take you where you want to be. Whether it's money for a renovation, holiday or for consolidating debt, you can check the rates below and get this done for.
Loan amounts From $5,000
Repayments Weekly, fortnightly, monthly
Loan terms 2 – 7 years
Secured and unsecured
Rate and repayment fixed for the life of the loan
4. Citi Personal Loan
Whether you're ready to consolidate your debt, finance a home project or fund a major milestone, a fixed-rate Citi personal loan can help put your plans into action.
5. Harmoney Personal Loan
Harmoney is an online direct personal lender that operates across Australia and New Zealand. The company was established in 2014 to introduce peer-to-peer lending to New Zealand. Features include the following:
Tell about your loan and provide some details about yourself and your finances.
The lending platform provides you detailed loan terms with your interest rate, borrowing limit, and repayments.
Accept your loan terms and provide some final details. Most loans are fully funded within 24 hours.
6. BOQ Personal Loan
Whether you're looking to pay for your next car, wedding, holiday, consolidate your debts or you need some extra funds, BOQ low interest personal loan can help make your dreams a reality.
To apply for a BOQ Personal Loan, you must:
Be 18 years of age or older
Be applying for a loan of $3,000 or more
Have never been bankrupt
Be an Australian citizen or permanent resident
Have a regular, permanent income
BOQ Fixed Rate Flexible Personal Loan gives you the certainty of knowing what your repayments will be over the course of your loan. Your repayment amount is determined at the start of the loan.
The platform don't charge any penalties for making additional repayments or early repayment on our fixed rate loans to give you additional flexibility and to allow you to repay your loan early.
If you're looking to purchase a car, you can lock in a lower interest rate by using your new or used car as security with their Car Loan.
7. OurMoneyMarket Personal Loan
With OurMoneyMarket Personal Loan, you can obtain a low rate personal loan tailored to your unique circumstances. Getting a quote is fast and easy and won't impact your credit score.
Personal Loans from OurMoneyMarket may be used for any worthwhile purpose, such as debt consolidation, home improvement, buying a new or used car or paying for further education – whatever it is you need!
FAQs
How to get the best personal loans in Australia for you
You can get a personal loan in Australia between $5000 to $100,000, although the average is around $20,000.
Loan terms can vary between 1 to 7 years, most commonly 3 years.
Other things you need to think about when taking out a loan are:
Do you want to be able to make additional payments?
Do you want the flexibility to pay your loan out early?
Is the ability to redraw on your loan important?
To get the best personal loan, you'll want to get the lowest rate you can, with no fees and the loan features that are important to you.
According to the Finder website on its September 2022 bulletin, comparing any product helps you find the best deal, and personal loans in Australia are no exception. The platform gave tables which according to it, makes it easy to compare the rates and fees from Australia's top lenders to find the best loan for customers. You should keep the following things in mind:
Loan amount. What are the minimum and maximum amounts the lender will let you apply for – is it enough to achieve your goals?
Loan term. What are the minimum and maximum loan terms? Usually, terms of between 1 and 7 years are available. The longer the term the more interest you'll pay, but the lower your repayments will be each month.
Fees. Check for upfront fees such as establishment or application fees and ongoing monthly or annual fees.
Interest rate. Is the rate fixed or variable? Is the rate competitive compared to other options available?
Affordability. Once you know your loan amount and term, you can use a loan repayment calculator to see if your regular repayments will be affordable on your budget.
Repayments. Can you choose between weekly, fortnightly or monthly repayments? Is it possible to make extra repayments without penalty or fees? Can you repay the entire loan early without penalty?
Features. Some features, like a redraw facility, can save you money over your loan term, while others – such as a well made app – can be great quality of life considerations.
How To Apply for the right Personal Loans In Australia
Personal loans in Australia are there to assist you in the short term, not leave you with long term debt.
Lenders will work out your monthly surplus (what you have got left after you have paid all your expenses) to ensure you can meet the repayments.
If you are not able to meet the repayments comfortably, you can try reducing the amount or extending the loan term.
We extend our sympathy over the harassment you went through. You can send a mail to lenderstaskforce@fccpc.gov.ng detailing your encounter with the loan app
3 Tips for getting your personal loan approved
Avoid applying with multiple lenders as it can impact your credit score.
Know how much you can afford comfortably to repay by making a budget.
Always ask the lender to communicate the single, total dollar amount of what the loan will cost.
With over 70 lenders to choose from, there isn't going to be a single best personal loan for every borrower but there are definitely some key features that all great personal loans have in common. These are low interest rates, minimal fees and the flexibility to make extra repayments.
How to find and apply for personal loans in Australia
Compare products
Use Finder's comparison table to find a loan that suits you. Pay attention to the interest rate, comparison rate, fees and ability to make extra repayments.
Go to site
Click 'Go to Site' on our tables to be taken directly to the lender's website, where you can find more information or get a quote. Click 'More Info' on our table to go to our dedicated review page.
Apply for the loan
Submit your application for the loan. It will help to have the right documents on hand, such as your driver's license and any income/employment details.
Conclusion
Whether you want to fund that dream holiday again, plan to tackle a home renovation or even hope to fund a medical procedure, there are many reasons for wanting to take out a personal loan and just as many options when it comes to choosing a loan and lender in Australia. That's why it's so important to be confident you're getting the best personal loan deal you can.
The lender will look at your application and, if you're approved, will send you their final quote. This is your chance to review all the details and make your decision whether to accept the loan.