BorrowNow gave me N7,312 loan for 7 days without requesting; Now they are blackmailing me to pay back N11,623
Goodday QUICK LOAN ARENA. My name is Olufemi Olanrewaju (not real names). I work with Edwin Clark University in Delta State. I want you to helpme publish my experience with BorrowNow  loan app on your reputable platform.
I ran into an emergency recently and was looking for a quick loan to rescue my immediate needs. In the process I stumbled on this loan app on Google Play Store called BorrowNow. After completing the registration process I waited to see how much I will be awarded, the loan tenure and loan interest so as to make a decision if I will collect the loan or not.
Eventually I was offered N7,312 with 7 days tenure to pay back N11,623 with the loan interest coming up to N4,311.
Since the loan was just 7,312 for 7 days and the exhorbitant interest amount of N4,311, I declined the application.
But to my greatest surprise I saw that the loan was already been disbursed into my account, even after i click decline loan application.
I quickly wrote an email to the customer service to stop the loan DISBURSEMENT because I was no longer interested for the stated reason.
Yet after a while they still went ahead to credit me the said amount.
I also quickly wrote them again to send me their account details so that I can send back their money immediately but they refused.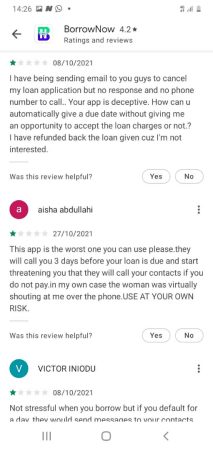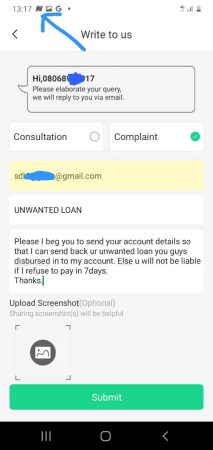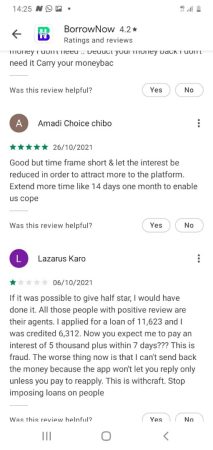 I am calling on BorrowNow to send me their account details so i can pay back their principal amount because I won't pay interest on a loan I didn't request or ask for.
QUICK LOAN ARENA understands that Google Play Store policy for finance apps hosted on their platform is that loan must not be less than 60 days tenure and interest rate and Anual Percentage Rate (APR) should be within a value. However this loan apps now apparently charge low interest but charge as much as 50% of the laon amount as service fees. And most of their tenure are within 7 days. This is unacceptable and it should stop. Thiese flouting loan apps should be banned from Google Play Store.
To download the eNaira Speed Wallet on Google Play Store,
CLICK HERE.
To download the eNaira Speed Merchant Wallet on Google Play Store,
CLICK HERE.
To download the eNaira speed wallet on Apple Store
CLICK HERE.

To download the eNaira speed merchant wallet app on apple store
CLICK HERE.
To visit the eNaira website and get more information about the digital currency,
CLICK HERE
BECOME QUICK LOAN ARENA BUSINESS PARTNER
Register to become our business partner and enjoy our free advisory and consultancy services on getting a quick loan from our list of accredited lending partners and also guide on the process of loan application.
Disclaimer: Quick Loan Arena is not a loan agency and we do not give out loan to anybody. We however profile and review legitimate and reputable loan agencies and seeks to educate individuals, household and small businesses about loan opportunities to help them make informed decisions and establish their businesses.
Speak with any of our Quick Loan Consultants for more information! Call or Whatsapp +234 (0)803 385 7245.
Do remember to give us a feedback about your quick loan experience after the lending process is executed.
READ ALSO! Google removes LCredit, Rapid Naira, other predatory loan apps from its Play Store
READ ALSO! Got LCredit loan app on your Phone? Here's why you should uninstall it immediately
READ ALSO! Running from banks, Nigerians face crisis with quick loan sharks On Google Play
READ ALSO! Palmcredit: Get Quick Loan Up To N300,000!
READ ALSO! EasyMoni: Stop sending threats to customers' contact list: Do your homework if you're real!
READ ALSO! Instant Cash In Nigeria: Top 30 Quick Online Loan Apps On Google Play 2021
READ ALSO! Quick Online Loans In Nigeria: 20 Platforms Needing No Collateral – Series 1
READ ALSO! Quick Online Loans In Nigeria Without Collateral: 20 Top Platforms – Series 2
READ ALSO! Accounting software expert, Femi Adeoya, takes on small and medium scale businesses
READ ALSO! Money In Minutes: Instant Online Quick Loans In Nigeria Without Documents
READ ALSO! Migo: Quick Online Loans In Nigeria Without Collateral Or Guarantor
READ ALSO! You have a job offer or you are an applicant looking for job, click here or whatsapp 0803 239 3958 to reach us
READ ALSO! How I Was Lured Into Debt Trap With N2.5m Specta Quick Loan From Sterling Bank
READ ALSO! BBNaija Dorathy Launches Lingerie Line, Says Priority Is Making Busty Women Look Good
Please follow and like us: