C24 Capital: Credible and quick loan up to N1m but lots of paperwork
C24 Capital is a quick loan lending platform that promises to create an avenue for people to actualize opportunities around them, by having access to money when they need it.
C24 Platform offers quick loan with low interest rates and a simple repayment plan to customers. The least amount that can be accessed is (forty thousand naira (N40,000) and the maximum for a new customer is seven hundred and fifty thousand naira (N750,000) while existing customers can get up to One million naira(1,000,000) this depends on borrower's ability to repay based on income level and other selection criteria which will be verified.
When you feels down and out of cash and have pressing financial obligations to take care of, C24 Capital says it has created a simple way to get back up on your feet without delay and actualize opportunities of a quick loan, and without the need of a collateral!
According to C24 Capital, over 150,000+ customers have been empowered with over a borrowing capacity of over ₦5 billion.
The quick loan platforms says: :Our promise of excellence comes from our drive to provide first-class financial services in an atmosphere of transparency with competitive interest rates and a simplified repayment structure. For now, we only operate within Lagos with plans to expand to various states nationwide anytime soon."
What C24 Capital Offers?
At C24 Capital, the promise is to get your loans processed at the speed of light (maybe not that fast, but we come pretty close) to ensure that you keep moving.
Why take a quick loan with C24 Capital?
C24 Capital says its quick loan processing is a committment to meeting customers' needs at the quickest possible time. "We understand the fact that life wouldn't hold, neither should our clients hence the reason why we offer topnotch service at the fastest possible time," it says.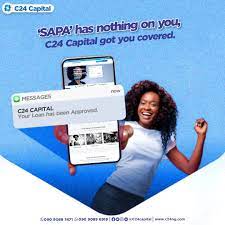 Features of C24 Capital quick loan
Fast
Online loan application can be completed within 5 minutes and a loan application feedback is sent to you almost immediately.
Flexible
Repayment structure is flexible which means you don't have to break the bank to payback.
Great rates
You get the most competitive interest in the market which makes us top choice when it comes to consumer lending.
Pros
You can get quick loan of up to N2m
The maximum loan you can get is high
The approval process is fast
Cons
Geographically restricted to Lagos
Lots of paperwork
Criticism
The documentation process and paperwork is too much. Most people avoid bank loans due to the long process and paperwork involved in getting bank loans. C24 Capital defeat the aim of "Quick loan" with the extensive paperwork involved. Also limiting the loan access to Lagos residents alone is a discouragement to those outside Lagos state.
Some online users also had this to say Agbaso ifeanyichukwu David said "it's not about the new look of the house. I keep having failed transactions and you never keep to your estimated turn around time to reverse the transactions, plus your charges are sooooooo high".
Ridwan Kazeem: "Useless app. After successful registration and form was sent to my mail, can't even log-in, invalid credentials, forgot password is not working. Is this how I will get disappointed when I fund my wallet?
Documentations Needed to Complete the Application Process
As an individual, you may apply and be able to access C24 quick loan of up to two million Naira. This loan can help sort out bill payments, house rent, medical bills, etc. To apply, you are required to have:
A passport photograph
A valid national ID (Drivers License, International Passport, National Voter's Card)
An employment letter to confirm that you are an employee or have a sustainable means of income
6 months bank account statement
Company Identification
Direct Debit Mandate
How To Apply For A C24 Individual Quick Loan
To Apply for a C24 Capital quick loan, CLICK HERE
Quick Loan Arena is not a loan agency and we do not give out loan to anybody. We are however a quick loan review blog that seeks to inform and educate individuals and small businesses about instant loan opportunities to help them take informed decisions. We also provide loan advisory services.  Speak with any of our Quick Loan Consultants for more information! Call or Whatsapp +234 (0)803 385 7245.
Do remember to give us a feedback about your quick loan experience after the lending process is executed.
READ ALSO! How I Was Lured Into Debt Trap With N2.5m Specta Quick Loan From Sterling Bank
READ ALSO! EasyMoni: Stop Sending Threats To Customers' Contact List: Do Your Homework If You're Real!
READ ALSO! How some quick loan platforms are exploiting the poor
READ ALSO! GTB Quick Credit: N500,000 – 5 Million Quick Loan Offer With 1.5% Interest
READ ALSO! Can Prosper Quick Loan Make You Prosper? Check It Out!
READ ALSO! 5 sure ways to spot quick loan scams
READ ALSO! BBNaija Dorathy Launches Lingerie Line, Says Priority Is Making Busty Women Look Good
READ ALSO! How To Empower Yourself And Generate Income From Mutual Funds
READ ALSO! Skytrend Loans Series: Getting quick loans from Page Financials
Please follow and like us: