A widow from Oyo State has cried out to QUICK LOAN ARENA and to the entire Nigerians and regulatory authorities for help against what she referred to as "FairMoney Loan App high interest rate that is killing and unsustainable."
Oyo State Widow Cries Out Against FairMoney Loan App High Interest Rate
Mrs Olowolafe Adebowale, (not real names) a civil servant with the Oyo State Government told us she borrowed N150,000 from FairMoney Loan App, which also serves a fully licenced digital microfinance bank in Nigeria. The borrowed money N150,000 was to be paid back in 9-month tenure at the rate of N30,000 per month.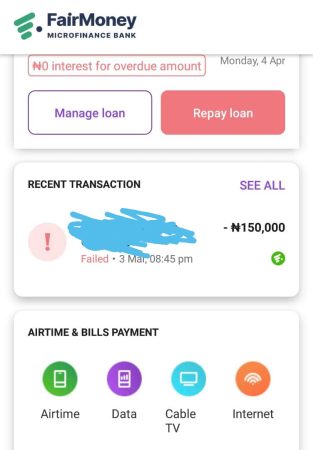 That's a whopping repayment of N270,000, that is at almost 100% interest rate as against the 30% FairMoney claims in their website and Play Store profile. This loan interest is very high and not according to fairness and equitability that many think FairMoney loan app stands for. A lot of people see Fairmoney loan app as one of the best digital lending platforms in Nigeria but this claim is put under the test.
Mrs Adebowale lamented that she been a widow needed the N150,000 to meet up an emergency obligation last month and the money has been collected. She says her first repayment has already fallen due 2 days ago but she doesn't even have any money to start the payment which is still a long while of 9 months away. She says she feels frustrated, threatened and cheated for having to pay almost 100% interest rate for 9 months.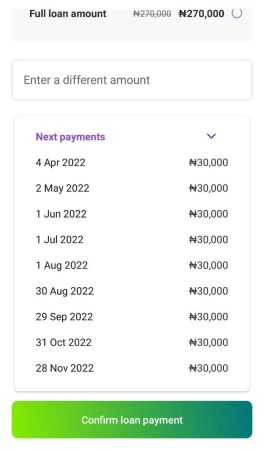 Mrs Adebowale now wants the Federal government, regulatory agencies, FCCPC, CBN to rein on FairMoney Loan app and they deal on a fair interest rate as required by law. She wants Nigerians to come to her aid and prevail on loan apps in Nigeria to not charge high interest rate that is killing.
Read her Statement below:
In first week of March 2022, I requested for a loan of N150,000 from FairMoney Loan App and it was apporved after due diligence on my profile and application. I am a widow and a civil servant living and working in Oyo State. The lending app says I will be paying back N270,000 in 9 months which equals to N30,000 every month.
I agreed with the loan terms and proceeded to collect the money due to the emergency I needed it for at the time. Please QUICK LOAN ARENA and entire Nigerians and government agencies, help me look into this. Help hundreds of borrwers and customers whgo are suffering daily under FairMoney loan app high interest rate that is both unfair and killing.
I am supposed to start the monthly repayments on April 4 which I'm still hunting for the N30,000 to be paid either today or tomorrow. Please how can you be of help by publishing FairMoney loan app high interest rate? It is unsustainable. Many people believe FairMoney is a good loan app but their high interest rate make me to wonder if this is true. Thanks.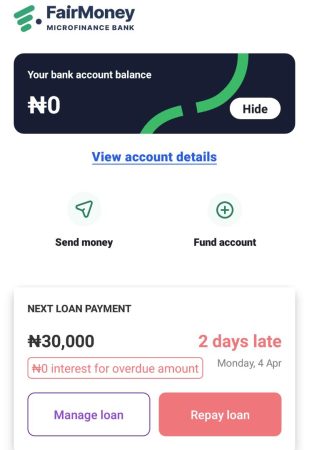 QUICK LOAN ARENA has been in the forefront of media battle against illegal loan apps and loan sharks in Nigeria. We have exposed several scam and fraudulent lending platforms that are defrauding Nigerians and Google has even removed some from their platforms.
The Nigerian government through the FCCPC has also intensified clampdown recently against the loan sharks that are charging very high interest rate and operating illegally.
Meanwhile the Federal Government has accused Google Incorporation of shielding illegal loan apps in Nigeria. This assertion was made by the Federal Competition and Consumer Protection Commission (FCCPC), the agency that manages consumer protection issues in the country.
According to FCCPC, the internet giant, Google has been indicted for obstructing efforts aimed at tracing the owners of illegal online money lenders engaged in consumer rights violations in Nigeria.
The Executive Vice Chairman/Chief Executive Officer, FCCPC, Mr Babtunde Irukera, made the allegation at a collaborative engagement with the media in Lagos.
FG accuses Google of Collaborating With Illegal Loan Apps In Nigeria To Fleece Customers
He said that Google has been uncooperative in the commission's efforts to enforce the withdrawal of illegal loan apps being used by the money lenders from its Play Store, even when evidence of inappropriate use of the Apps has been established. The agency accused the internet giant of collaborating with these fraudulent lending apps to fleece poor and hapless Nigerians.
Recall that FCCPC raided the offices of some online loan sharks and illegal loan apps operating in Lagos about three weeks ago, where Irukera disclosed that the commission had secured court orders to enforce the withdrawal of the defaulting Apps from Google and Apple platforms.