Lawmaker moves motion to halt threats, harassment to Nigerians by loan apps, platforms
QUICK LOAN ARENA reports that the Federal Lawmaker, representing Egbeda/Ona Ara Federal constituency, Hon. Akin Alabi has moved a motion in the House of Representatives to halt the malicious and brutal blackmails, threats and excesses of quick loan apps and lending companies and platforms across the nation.
Loan apps and lending platforms had lately been involved in gruesome blackmails and threats unsing underhanded tactics like harassing and sending threat messages to customers and their entire families and contact list once there is an alleged 24 hour loan default. QUICK LOAN ARENA understands this is against the data provacy policy which the loan apps subscribes to, on behalf of their customers and is in breach of their privacy in the process.
Hon Akin Alabi, in his motion stated that these companies have been operating outside the principles of fair and lawful processing of personal data as required under the Nigeria Data Protection Regulation and other relevant provisions on data protection in Nigeria.
Hon Alabi called on the CBN to provide better regulation for these financial service providers, and for the the National Information Technology Development Agency (NITDA) to ensure strict adherence to the Nigerian Data Protection Regulation by all online loan providers.
QUICK LOAN ARENA has been championing campaign to halt the harassment and threat by this loan apps and platforms and we have published several stories of how Nigerians have been subjected to lamentable conditions in the process.
Familes and contact list of alleged loan defaulters who are not parties to the loan contract are always labelled as criminals and robbers all in a bid to harass and shame the customer to pay up. This is unethical.
See the motion by Hon Akin Alabi to the house of representatives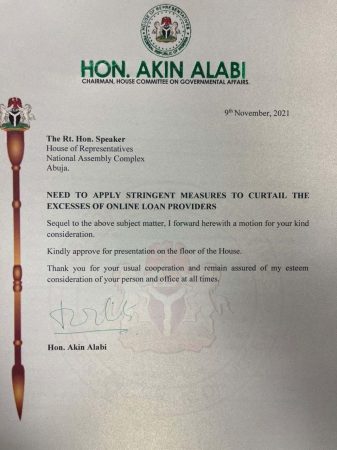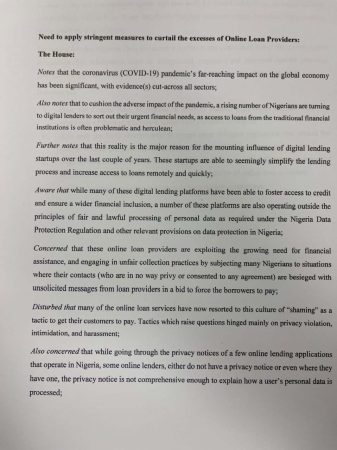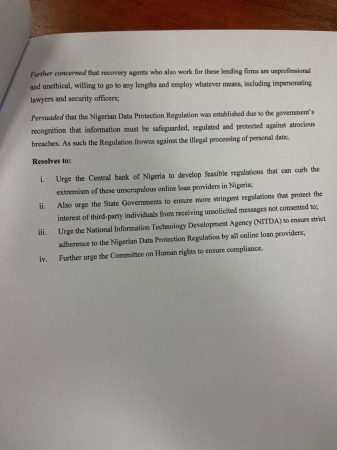 Original content creation costs money and time.
Unauthorized use, copying and/or duplication of this content material without prior express and written permission to the publisher/owner is strictly prohibited and infringements shall be subjected to relevant copyright laws.
To download the eNaira Speed Wallet on Google Play Store,
CLICK HERE.
To download the eNaira Speed Merchant Wallet on Google Play Store,
CLICK HERE.
To download the eNaira speed wallet on Apple Store
CLICK HERE.

To download the eNaira speed merchant wallet app on apple store
CLICK HERE.
To visit the eNaira website and get more information about the digital currency,
CLICK HERE
BECOME QUICK LOAN ARENA BUSINESS PARTNER
Register to become our business partner and enjoy our free advisory and consultancy services on getting a quick loan from our list of accredited lending partners and also guide on the process of loan application.
Disclaimer: Quick Loan Arena is not a loan agency and we do not give out loan to anybody. We however profile and review legitimate and reputable loan agencies and seeks to educate individuals, household and small businesses about loan opportunities to help them make informed decisions and establish their businesses.
Speak with any of our Quick Loan Consultants for more information! Call or Whatsapp Speak with any of our Quick Loan Consultants for more information! Call or Whatsapp +234 (0) 915 382 1578.
Do remember to give us a feedback about your quick loan experience after the lending process is executed.
READ ALSO! Google removes LCredit, Rapid Naira, other predatory loan apps from its Play Store
READ ALSO! Got LCredit loan app on your Phone? Here's why you should uninstall it immediately
READ ALSO! Running from banks, Nigerians face crisis with quick loan sharks On Google Play
READ ALSO! Palmcredit: Get Quick Loan Up To N300,000!
READ ALSO! EasyMoni: Stop sending threats to customers' contact list: Do your homework if you're real!
READ ALSO! Instant Cash In Nigeria: Top 30 Quick Online Loan Apps On Google Play 2021
READ ALSO! Quick Online Loans In Nigeria: 20 Platforms Needing No Collateral – Series 1
READ ALSO! Quick Online Loans In Nigeria Without Collateral: 20 Top Platforms – Series 2
READ ALSO! Accounting software expert, Femi Adeoya, takes on small and medium scale businesses
READ ALSO! Money In Minutes: Instant Online Quick Loans In Nigeria Without Documents
READ ALSO! Migo: Quick Online Loans In Nigeria Without Collateral Or Guarantor
READ ALSO! You have a job offer or you are an applicant looking for job, click here or whatsapp 0803 239 3958 to reach us
READ ALSO! How I Was Lured Into Debt Trap With N2.5m Specta Quick Loan From Sterling Bank
READ ALSO! BBNaija Dorathy Launches Lingerie Line, Says Priority Is Making Busty Women Look Good
Please follow and like us: