FairMoney is one of the best and legit loan apps used by Nigerians to access instant loans without collateral, documentation or paperwork. Loan apps like FairMoney also have similar features that guarantees superfast cash and instant loan approval. Fairmoney's CEO, Laurin Hainy, made it clear that the app aims to provide a platform that ordinary citizens can use to fund their dreams and businesses to go up the ladder. The platform says it has given online loans to over 3 million customers in the last four years.
Why is FairMoney Loan App Unique in the Quick Loan Industry in Nigeria?
The app uses artificial intelligence to analyse your bank records and validate your BVN to make lending decisions based on your credit score. The loan is 100% online, with no collateral required and you can apply at any time, any day of the week. In terms of design, the app is made to be easy for every user. The dashboard is simple and straightforward and navigating through the app is quite simple too. Application for loan and repayment can be done through simple quick steps. Loan apps like FairMoney have these similar characteristics.
FairMoney offers loans between N1,500 to N500,000 with repayment periods from 61 days to 180 days at monthly interest rates that range from 10% to 30%. And the platform doesn't behave like some fake loan apps that are in the habit of sending shame and threatening messages to their customers and their contact list.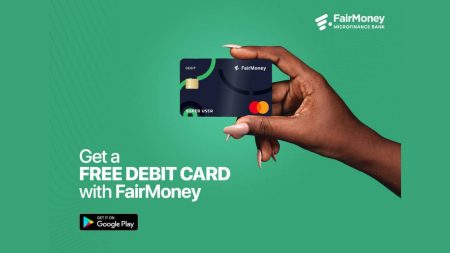 FairMoney app is, no doubt, one of the most used by Nigerians as it has been downloaded 5 million times and still counting.
Many lending platforms and loan apps like FairMoney now exist in the quick loan market today and helping millions of Nigerians access instant cash in advance until their next paycheck. These apps have similar features like FairMoney such as speed of delivery – you can get a loan instantly in 5 Minutes, you can get up to N1,000,000 loan in 18 months repayment period, flexibility – you can repay on or before your due date with a reduced interest rate, no hidden charges – interest charges are all-inclusive, ensuring transparency.
With these apps, the customer is King – Apps like FairMoney has trained teams that ensure to treat you with the utmost respect at all times.
Top 8 Loan Apps That Work Like FairMoney For Fast Cash Loans And Instant Disbursement
There are many other legit platforms and loan apps like FairMoney which Nigerians can use to access instant funds, with low interest, superfast approval and quick disbursement that protect customers' privacy including but not limited to Branch loan app, Carbon Loan App, Aella Credit App, Quick Check App and Money in Minutes App among other reputable loan apps that give access to quick cash.
Here are 8 top loan apps like FairMoney that is available for your use when you need quick loan approval and instant superfast cash into your bank account.
1. Carbon loan App
Carbon, formerly known as Paylater, is one of the best instant loan apps like FairMoney in Nigeria for instant cash. The platform helps customers willing to build positive credit score and it has gathered over 1 million downloads on Google Play Store since it was unveiled.
With Carbon loan app, you can borrow up to N1 million (One Million Naira) without collateral, documentation, guarantors, or paperwork. You can apply 24/7 and receive funds in your Carbon account instantly. You can equally unlock higher loan amounts and lower interest rates by repaying loans on time.
2. Branch Loan App
With over 10 million downloads on Google Play Store, Branch lending platform is definitely one of the most reliable and trusted loan apps like FairMoney obtainable in the quick loan industry today in Nigeria. When you need instant cash with low interest to take care of emergency loans, Branch's 2.5% to 20% monthly interest is the most competitive go to option in the loan market. The loan app's APR of 18% to 260% is considerably lower than that of Fairmoney, Carbon, Palmcredit, and other rival apps like FairMoney in the mobile loan sector.
The money lending app just like FairMoney makes it easy for borrowers to get quick loan of up to ₦500,000, to transfer money for free, and enjoy investment yields of 20% per annum. You can simply apply through the Branch app and get approved in under 24 hours. Branch don't charge late fees or rollover fees, nor put restrictions on how you spend your money, and our customer support team is available 24/7.
3. Aella Credit App
Aella otherwise called Aella Credit is another loan app like FairMoney which exists to simplify and open up financial access for all in emerging markets by leveraging technology and widespread mobile adoption for Nigerian borrowers. It is one of the best lending apps in Nigeria for easy loan processing and good customer service in 2023.
With the position of the 4th best loan app for instant cash in Nigeria, Aella Credit has a rich history of innovation and was the first digital lender to pilot in Africa's biggest market. The lending app just like FairMoney, offers loans at low-interest rates and demands no late fees. It allows borrowers to build their creditworthiness via prompt loan repayment in order to qualify for larger loan amounts and reductions.
4. Umba Loan App
Umba lending platform is one of the best loan apps like FairMoney available in Nigeria today for instant cash. The platform charges no late fees, no rollover charges and no origination fees. The lender prides itself as the leading digital bank in Africa. With it, users can apply, drawdown and repay loans directly from their smartphone or desktop computer.
Umba uses your phone's data, including your SMS history, to authenticate your identity and generate a credit score, making obtaining a personal loan straightforward. Umba ranks among Nigeria's most secure, as they prioritise your privacy and pledge never to share your information with other parties. It's definitely a go to option when searching for the best loan apps like FairMoney.
Other legit and reputable loan apps and lending platforms like FairMoney available in the quick loan market in Nigeria include but not limited to:
5. Alat by Wema App Like FairMoney
6. Quick Check App Like FairMoney
7. GTB QuickCredit App Like FairMoney
8. Money In Minutes App Like FairMoney
Conclusion.
Now, the FairMoney app is more than just a loan app. The platform owns a Microfinance bank that is duly licensed by the Central Bank of Nigeria. As such, all your deposits are insured with the Nigeria Deposit Insurance Corporation (NDIC).
The FairMoney app allows customers to get an account number and use it to receive money from anyone in Nigeria, to add money to your account, to send money to any bank account for FREE, to apply for loan and receive it instantly, and to pay for your bill in Nigeria. Many of the loan apps like FairMoney also allows these wonderful features which is why many customers are always in search of lending platforms alternatives that work like FairMoney.