PalmCredit, EaseMoni and all these apps listed are among our list of blacklisted loan apps and recommend that every Nigerian boycot them.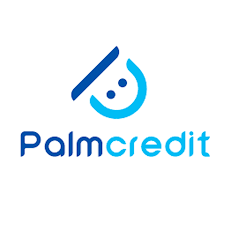 "The existence and operations of many of these soft and quick loan agencies are largely illegal. (PalmCredit and many others are acting illegaly). Their interest rates are similarly illegal majorly under the Money lenders laws. The failure to pay loan is a contractual one remediable by action for recovery and damages but they employ crude and methods of blackmail and libel towards recovery. They are all actionable wrongs but usually the owners of these quick loan companies are unknown or "miragy". And the victims are mostly too embarrassed to seek remedy against them in court." – Andy Akporugo Jr, Legal Practitioner
To get funds from the traditional banks is time wasting, bureaucratic and quite procedural.  As a result of this, millions of Nigerian families are downloading quick loan apps to make ends meet.
However as Nigerians are turning to loan apps for instant cash to meet biting domestic needs, these platforms have constituted themselves into loan sharks blackmailing and shaming customers, their families and their contact at the slightest repayment default. PalmCredit and many others are culpable.
Why PalmCredit, EaseMoni, iMoney, PalmCash, NCash, FastMoney Should Be Boycotted And Their Apps Uninstalled Immediately
Loan apps like PalmCredit and the others are not only involving in unethical practices between a simple contractual agreement between them and their customers, they are overstepping their legal boundaries and involving in illegal defamatory practices that are criminal in nature.
These overridng loan apps now have already framed up threat and blackmailing messages that their staff and loan recovery agents send to their customers even in the first day of due repayment, warning them to act well else face the disgrace of their life, and their families.
QUICK LOAN ARENA understands that everyday, many of these shaming and blackmailing messages are sent by these loan apps to their customers over alleged loan defaults. The lending companies even go ahead to labelling as criminals families and contacts of such customers. We bring a few of such messages and we ask that these approach and resort to blackmails be halted with immediate effect.
The screenshotted blackmailing message below is from EaseMoni, a quick loan app and lending company in Nigeria. It's hosted on Google Play Store.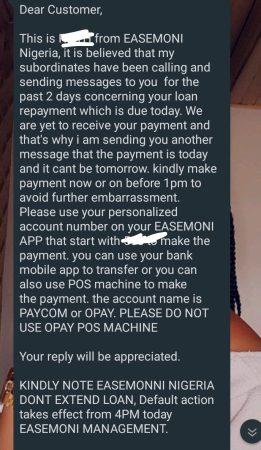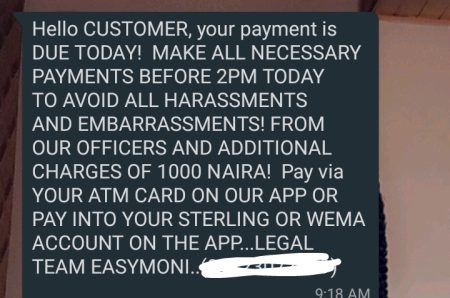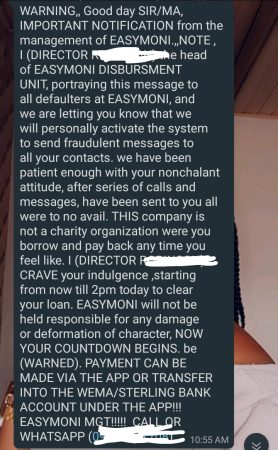 The next one is from Okash, another loan app and lending platform in Nigeria, sending threat and blackmailing message to its customer for alleged default.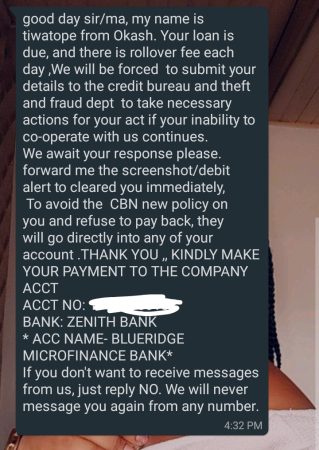 Below is a threat and curse message from GGmoney, a loan app hosted on Google Play Store.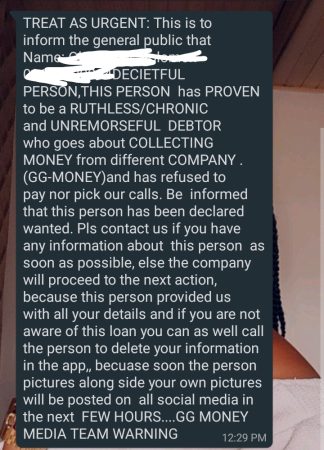 Yet another blackmailing and shaming message from an unethical loan app, Palm Cash that accuses its customer of being a criminal is seen below: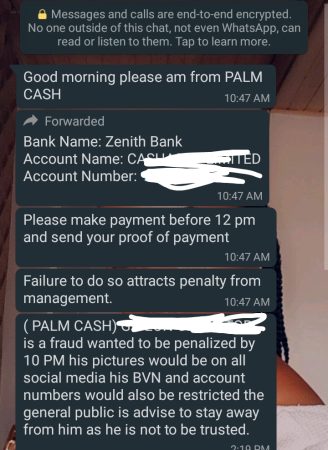 iCredit, a loan app hosted on Google and operating in Nigeria shore, sent the threatening message below to a customer who have been alleged to default in a loan: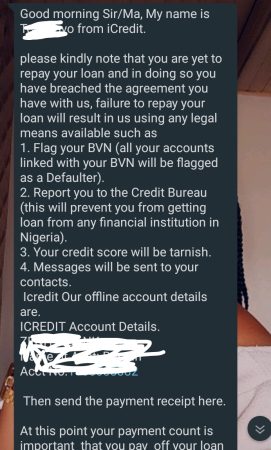 PalmCredit sent the message below to a customer who appraoched QUICK LOAN ARENA for help:
With all due respect Sir/Ma,
A letter of INDEBTEDNESS to PalmCredit will be forward to your bank on (13TH Oct 2021).
Your refusal to offset your loan with PALMCREDIT has left the company no choice than to upload your details to CREDIT BUREAU and your BVN will be blacklisted.
Trust you don't want to be humiliated before making payment, as your picture will be uploaded on social media as a FRAUDSTER.
NOTE: All contacts on your are also made available to be reach out to 13TH Oct 2021.
SEPTEMBER JUST ENDED SALARY ARE BEEN PAID BUT YOU REFUSED TO PAY BACK YOUR LOAN. THIS IS A CLEAR EVIDENCE THAT YOU PURPOSELY REFUSED TO PAY But you will regret your action towards it
Pay via your App (VIRTUAL ACCOUNT ON YOUR APP) or via offline into repayment account: 0818498156-Access Bank, Account name- PalmCredit Transfer. And send me your evidence of payment for reconciliation. (From PalmCredit)
A scam lawyer purportedly sent a message to a PalmCredit customer claiming to be representing the loan platform on its recovery as below. He confirmed our suspicion that some of these faceless loan apps in Nigeria are owned and managed by Chinese loan sharks:
I'm Attorney JONES from TEE & Co. Law Firm, soliciting for my client PALMCREDIT, A SOFT LOAN COMPANY an internationally owned company from China.
This is in respect to the soft loan you took online from my client, after agreeing to the terms and agreement, of the loan and yet refused to clear up the loan For OVER A MONTH NOW
In line with lawful basis of THE 1999 CONSTITUTION OF THE FEDERAL REPUBLIC OF NIGERIA & CREDIT REPORTING ACT, 2017, We have 3 count charges:
1. Fraud
2. Negligence to communications
3. Tying down of the company's business asset.
I JUST WANT TO GIVE YOU THIS BENEFIT OF DOUBT, IF THE DEBT IS NOT PAID TO MY CLIENT LATEST TOMORROW, FRIDAY(OCT. 8TH, 2021), our law firm will engage fair legal action in it's full capacity which shall involve:
1. Forwarding customer's profile to NATIONAL BUREAU OF STATISTICS. This means that he can't get a visa at any embassy
2. The management will also get your NIN and ALL BANK account BLACKLISTED. which is why we took down your NIN number and the bank BVN.
3. Customer's picture will be posted on MSM(Newspapers and TV) and also on SOCIAL MEDIA (FACEBOOK, TWITTER AND INSTAGRAM)
4. We have an arrest warrant already and court charges will follow afterwards in few days. PLS NOTE,  If it gets to this, all money charged for this actions will be paid by customer as it's binding by the law.
N.B: MAKE SURE TO FORWARD THE PROOF OF PAYMENT AFTER PAYING SO THAT YOU CAN BE CLEARED.
NCash, yet another loan app operating in Nigeria and found in Google Play Store sent the demeaning malicious message to one of its customers over a loan that just fell due:
Since you have choose to use your LAZINESS, UNREASONABLE ACT TOWARDS YOUR REPAYMENT TO DELAY OTHER CUSTOMERS LIKE YOUR NOT TO GET FUND, YOUR ATTITUDE SEEMS FRUADULENT, JUST NOTE THAT, IF AT THE END OF TODAY AND WE DID NOT RECIEVE YOUR PAYMENT, DAMAGINGS WILL OCCUR TO YOUR REPUTATION, MORE PEOPLE WILL CALL WORTHLESS , RUTHLESS AND CRHONIC DEBTOR, we are going to EMBARRASS YOU and declare you a very DECEIFUL , RUTHLESS and CHRONIC DEBTOR, After series of calls and messages, you decided not to repay up till now.
We are going to inform all your CONTACTS, post you around that you LACK INTEGRITY, not a good business partner, and you cant keep to any of your promises. We will make sure we disgrace you with every possible means because of this your UNPAID LOAN. THIS IS 7DAYS AGREEMENT LOAN AND YOU KNOW THAT BEFORE APPLYING FOR THIS LOAN. Dont blame us for doing this because agreement is agreement and 7days is 7days…. WE WILL DISCLOSE YOUR BVN AND PRIVACY AND RENDER YOU WORTHLESS TO THE PUBLIC. THANK YOU. NCASH MEDIA TEAM .08147902779.
Fast Money a loan app hosted on Google Play and managed by Fastmoney Technology in Lagos, Nigeria sent the blackmailing message below to a customer, his family members and contact list. Mr Oladele Gbenga (not real names) then approached QUICK LOAN ARENA to make a complaint. See the message below:
BEWARE THAT THE FAMILY OF XXXXXXXXX WITH PHONE NO (XXXXXXX) #35503, ARE RUTHLESS CHRONIC DEBTORS WHO ON A DAILY BASIS ABSCOND WITH PEOPLE'S FUNDS, CURRENTLY THEY ARE ON THE RUN WITH A COMPANY MONEY AND ARE REFUSING TO PAY BE CAREFUL OF THE THEM AND UNTIL FULL PAYMENT, THEY SHOULD NOT BE TRUSTED WITH ANY FORM OF TRANSACTIONS. FAST MONEY.
Mr Gbenga laments, "Honestly, I took the loan on 18/10/2021. For 14days. And it is to expire on Monday 1st November, 2021. I shouldn't have taken it. But to meet up with a very emergency situation. I was away on transit as at that Monday, I could have made the payment. I collected N24,000 to repay N35,200 for 14 days, (N11,200 as interest fees)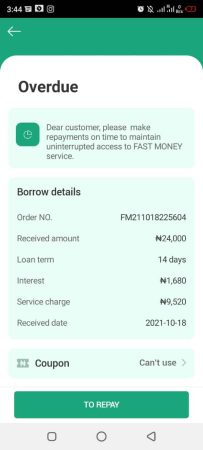 PalmCredit, Okash, others violating Google Policy
These are just few of degrading and blackmailing messages sent to borrowers all in the quest of recovering borrowed money aside threatening calls to relatives and contacts as well. We understand this is quite unetical and illegal and should not be continued in a sane society.
QUICK LOAN ARENA spoke with Mr Andy Akporugo, a renowned senior lawyer who manages his law firm in Lagos. We wanted to get his response and legal perspectives to loan apps and platforms sending threat and shaming customers  and their contacts unilaterally for alleged loan defaults.
Mr Akporugo has this to say: "It is wrong on many grounds. First, their (quick loan apps) existence and operations are largely illegal. Their interest rates are similarly illegal majorly under the Money lenders laws. The failure to pay loan is a contractual one remediable by action for recovery and damages but they employ methods of blackmail and libel towards recovery. They are all actionable wrongs but usually the owners of these quick loan companies are unknown or "miragy". And the victims are mostly too embarrassed to seek remedy against them in court."
On the strength of a court action against these lending platforms, Mr Akporugo adds: "Yes. Most certainly. But the strength or weakness of each case will depend on the actual action by each lender. These loan platforms take as much as 17% in 10 days! The money lenders law only allows 4% in 30 days maximum. Many wrongs, many many many wrongs, but they are mostly faceless and phony."
The senior lawyer told QUICK LOAN ARENA: "I received such a threatening message concerning a lawyer friend and the picture they added really made him look like a criminal. But it was for defaulting on N34,000.00k, and so he was too embarrassed to do anything. Everyone just said pay them let them go. I think that's largely why they succeed and keep at it."