The rising activities of the Illegal Financial Operators (IFOs) otherwise called Ponzi Schemes which portends grave risk to public confidence and the stability of the Nigerian financial system is worrisome according to the Central Bank of Nigeria (CBN).
A Ponzi Scheme is an investment scam that involves the payment of purported returns to existing investors from funds contributed by new investors. Ponzi scheme organizers often solicit new investors by promising to invest funds in opportunities claimed to generate high returns with little or no risk.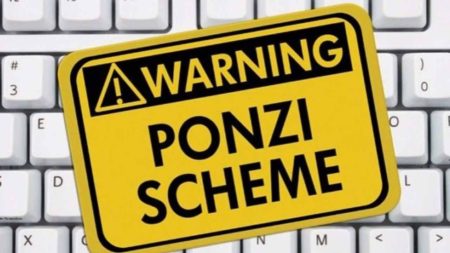 On April 4, 2022, the CBN through the Financial Services Regulation Coordinating Committee (FSRCC), warned the general public of unlicensed or IFOs,  saying they should refrain from dealing with them.
This is because these illegal financial operators lure and defraud unsuspecting members of the public by offering extra-ordinary returns on investments as bait.
Illegal financial operators And Ponzi schemes
Illegal financial operators, popularly known as Ponzi schemes are said to be 'investment' schemes that promise unrealistic returns, which ordinarily should be treated with caution.
An example of a Ponzi scheme is Marvodi Mundial Movement (MMM) fund in Russia, which issued investors shares of stock and suddenly collapsed in 1994.
According to the International Monetary Fund (IMF)'s published article authored by Valentine Debra.
A Ponzi scheme is closely related to a pyramid because it revolves around continuous recruiting, but in a Ponzi scheme the promoter generally has no product to sell and pays no commission to investors who recruit new "members." Instead, the promoter collects payments from a stream of people, promising them all the same high rate of return on a short-term investment.
In the typical Ponzi scheme, there is no real investment opportunity, and the promoter just uses the money from new recruits to pay obligations owed to longer-standing members of the program. In English, there is an expression that nicely summarizes this scheme:
It's called "stealing from Peter to pay Paul." In fact some law enforcement officers call Ponzi schemes "Peter-Paul" scams. Many of you may be familiar with Ponzi schemes reported in the international financial news.
Many Nigerians have lost billions of naira to the illegal financial operators promoters masquerading as investment 'portfolio managers'.
It is estimated that Nigerians have lost about N300 billion in the last few years to Ponzi schemes. In 2016, 3 million investors lost about N18 billion to the infamous Marvodi Mundial Movement (MMM) and most recently, people lost about N17 billion to the MBA Trading & Capital Investment Limited, another N22 billion to the Imagine Global Solutions, and about N47 billion to Chinmark investment among many others.
"Ponzi schemers take advantage of low interest rates period by providing attractive interest rates to investors and working on the desperation of the investors to beat inflation rate or multiply their savings," Ayodeji Ebo, managing director/CBO, Optimus by Afrinvest, said.
This, he said, has a negative impact on the economy as the funds that should support productive activities are taken away fraudulently. In addition, investor education is key. Investors should seek professional advice when in doubt.
In his submission, Ayodele Akinwunmi, relationship manager, corporate banking at FSDH Merchant Bank Limited, said, "the Ponzi schemes are not good for our economy and the financial markets."
According to him, although the Central Bank and the Securities and Exchange Commission (SEC) are working well to get rid of them, the investing public should also be careful of "get rich quick schemes".
"Real wealth takes time to build. And it can only happen through long term consistent investments in products that contribute to economic growth and through licensed operators," Akinwunmi said.
In a statement published by the CBN on its website on Monday, the FSRCC drew the attention of the general public to the worrisome increase in the activities of the Illegal Financial Operators which portends grave risk to public confidence and the stability of the Nigerian Financial System.
The statement advised the members of the public to visit the websites of the Central Bank of Nigeria, Securities and Exchange Commission (SEC) and other relevant member agencies of the FSRCC to verify the registration and license status of such companies and schemes before investing in them.
"You are also advised to report any individual or entities suspected to be involved in such nefarious activities to the law enforcement agencies," the statement said.
It further said that financial regulatory agencies shall continue to carry out all necessary due diligence before registering/licensing any operator under their regulatory purview.
In addition, it stressed that agencies shall refer to relevant supervisory authorities for confirmation before finalizing on any registration/licensing application. Member agencies are encouraged to engage in regular sensitization campaigns on the threats posed by the activities of Illegal Financial Operators.
The statement signed by the secretary, FSRCC, said further enquiries should be addressed to: the director, Financial Policy and Regulation, Central Bank of Nigeria, and / or the executive commissioner, Legal and Enforcement, Securities and Exchange Commission.
The FSRCC was established by the CBN in April 1994, to address more effectively, through consultations and regular inter-agency meetings, issues of common concern to regulatory and supervisory bodies.
The CBN in April 1994 undertook to facilitate a formal framework for the co-ordination of regulatory and supervisory activities in the Nigerian financial sector by establishing the FSCC.
On 27th May, 1994, the name of the Committee was changed to Financial Services Regulation Coordinating Committee (FSRCC).
The Committee was accorded legal status by the 1998 amendment to Section 38 of the CBN Act 1991 and formally inaugurated by the Governor of the CBN in May 1999.
In November 2016, the Nigeria Deposit Insurance Corporation (NDIC) warned the public against patronizing illegal fund raisers, known as wander banks.
The Corporation said the illegal fund raisers are neither licensed by the Central Bank of Nigeria nor under the deposit insurance coverage.
"Members of the public are thereby advised to patronize only banking institutions that display the NDIC sticker", said Umaru Ibrahim, who was the managing director of NDIC then.
In April 2020, SEC reiterated its commitment to protect investors and also ensure the promoters of Ponzi schemes are made to face the full wrath of the law.
Ponzi schemes are prohibited by the provisions of Section 38(1) of the Investments and Securities Act (ISA) 2007, it does not allow people that are not registered by the SEC to collect money from the public.
The Commission had released a list of 12 unlawful/unlicensed investment schemes which included: Loom Nigeria Money, Box Value Trading Company Ltd, Now-Now Alert, Flip Cash Investment, Result Investment Nigeria Limited, Helping Hand and Investment and No Failure Development and Empowerment Nig. Ltd.
Others are "MBA Forex and Investment Ltd, Federated Investors Trading Company, Jamalife Helpers Global Ltd, Flexus Global Solutions and Investment Ltd, United Capital Investment Company Limited".
The Commission informed members of the public that by virtue of the provisions of Section 38(1) of the Investments and Securities Act (ISA) 2007, only persons registered with the Commission can engage in capital market activities, thus making the actions of these entities listed above unlawful.
Osita Nwanisobi, director, corporate communications department, CBN, last month in Akure Ondo State, said, "as a Nigerian, you have a role to play in stopping some of these Ponzi scheme institutions that we see around."
"You must be conscious of any institutions that ask you to bring your money with an extremely very high interest rate. CBN licensed institutions are recognised and regulated. So, it is your responsibility to ensure that wherever you are putting your money, or whoever you are doing any financial business with is recognized by the CBN," Nwanisobi said.