Quick Loan Guide 2021: Lenders, features, pros, cons and how to apply
QUICK LOAN CONCEPT: AN INTRODUCTION
Without the access to funds and funding options which most times are through loans, small businesses run the risk of becoming stunted, unproductive and unsustainable. And to this the quick loan comcept is a very veritable option. One of the objectives QUICK LOAN ARENA intend to achieve is to fill the knowkedge gap for prospective individuals and businesses who needs objective and down to earth information to make informed decisions.
A sudden financial crisis is unavoidable for anyone. Gathering funds to manage such circumstances could have been a challenge when there was no digital lending system. Today, the scenario is completely different. Technology has taken our lives to a whole new level. Getting a quick loan is possible within a few minutes from the moment you apply for it.
Quick loan is a new phenomenon in the financial realm that has become very useful for multitudes to meet all sorts of monetary needs. Quick loans may come in the form of short-term loans, salary advance, line of credit, etc. You can choose the option that is suitable for your need just right from your mobile device.
WHAT IS A QUICK LOAN?
A quick loan gets you the access to funds instantly within a day. Though a secured loan is cheaper than a quick loan, it is the best solution when you need instant funds as a secured credit would take more time in processing and approval.
Quick loans are different from the traditional loans that are available with banks and financial institutions. The lending process is quick which involves an easy registration and verification. If you are eligible for a quick loan, the lender will immediately transfer the required funds into your bank account. You can repay the loan in comfortable terms that is already opted by you.
WHY IS A QUICK LOAN NECESSARY?
Quick loans can be used for practically any need you have—within reason and according to the terms of your loan. You can't use the money for anything illegal, however if you need money right away to cover bills, and or something else that needs immediate attention, you can take out a quick loan. Most lenders provide online applications that allow you to learn whether you've been approved in minutes. You could receive funding that day or within a few business days, depending on your lender.
Though a secured loan is cheaper than a quick loan, it is the best solution when you need instant funds as a secured credit would take more time in processing and approval. Quick loan lets you take minimum amount as loan which may not have been possible if you opt for a personal or secured loan.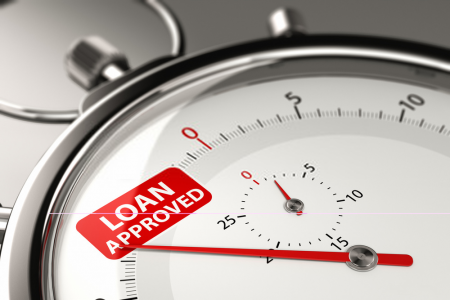 Some normal reasons you may look for a quick loan include:
• Emergency clinical costs. Mishaps occur all of a sudden, and you might require cash to take care of doctor's visit expenses for yourself or a friend or family member.
• Household bills. In some cases, charges stack up, and you need additional cash to stock the refrigerator and cover lease, utilities, telephone, security, or other necessities.
• Car fixes. A stalled vehicle can be a period of delicate crisis, especially in the event that you need your vehicle to work.
• Home fixes. Some family issues, similar to a flawed rooftop, can prompt you to want to apply for a quick loan.
These reasons are normal and justifiable. But instead of looking for speedy credits, an individual advance from a respectable bank could set aside cash for you.
FEATURES OF A QUICK LOAN
When you need finance immediately in an emergency, quick loans come handy. Some of the salient features of quick loans are:
Registration Process: One needs to register with the lender to avail a quick loan. This process is easy and requires zero physical documentation in most cases. Personal, income, employment details and credit history are to be provided.
Quick Verification: Once you have registered with the lender expressing your interest to avail a quick loan, your details are verified immediately, and the loan is processed for approval.
No Collateral: Quick loans are typically unsecured loans, wherein you do not need to pledge any collateral to secure the loan.
Interest Rate: As quick loans are unsecured loans, the rate of interest will be higher, considering the risks involved in the lending process.
Tenure: Quick loans are generally shorter. The maximum repayment period could be up to 2 years, and the minimum is 1 month. You can choose the quick loan that offers a comfortable repayment period.
BENEFITS OF A QUICK LOAN
Quick loans are beneficial in times of need and meeting emergencies. Some of the major benefits of taking a quick loan are:
Speedy Disbursal: One can avail a quick loan in the matter of hours and get the money disbursed on the same day.
No Credit Check: Comparatively, most lenders do not require a credit check to be done of the applicant. It paves the way for first-time borrowers to access credit and build their credit in a positive way.
No Collateral: Quick loans do not require a collateral or hypothecation of asset. This makes it very easy to avail the loan.
Easy Online Application: Many lenders today have made the process of applying for a quick loan easier through online method. Less paperwork is involved.
Zero Physical documentation: There is a very minimal documentation required for taking a quick loan. The entire process is carried out online including the document verification.
THE PROS AND CONS OF USING ADVERTISED 'QUICK LOAN' 
At the point when you justify it, credits publicized as "quick loans" can be costly, yet they're superior to renouncing clinical treatment, missing a lease installment, being left with the stalled vehicle, or being housed in an unacceptable home, all of which can course into bigger obligation issues. Yet at the same time, there might be better, more moderate other options.
Here are a few advantages and disadvantages of promoted "speedy advances." and what to look like for more moderate other options.
Pros
• You might have the option to get the cash that very day
• Low (or no) credit necessities implies the advances may be simpler to meet all requirements or eligibility criteria.
Cons
• High loan fees and expenses can transform fast credits into an immense monetary weight
• Extremely short advance terms and reimbursement choices can make it hard to make credit installments on schedule while bearing the cost of your standard month to month costs
• Many banks publicizing fast credits accompany stowed away charges and costs
4 WAYS TO ENSURE BETTER CHANCES OF GETTING A QUICK LOAN 
There are a couple of steps you can take that might expand your risks of fast endorsement for credit with sensible terms. A portion of this can require thinking ahead and arranging, and it's normally best to make a move before you need to get cash.
1. Try not to apply for an overabundance.
The bigger the advance sum, the more troublesome it is to qualify, so audit your accounts and apply just for what you genuinely need.
2. Work on your credit.
Your credit assessment can straightforwardly affect your capacity to meet all requirements for a quick loan and the rates and terms you're offered whenever supported. Be that as it may, further developing your credit sets aside time. It merits zeroing in on your credit presently to assist with guaranteeing you can fit the bill for more ideal advance terms in the event that you do require one later on.
3. Go to a trustworthy quick loan lender.
Prior to applying, read clients' audits of online quick loan specialists to find out with regards to their encounters. Keep in mind: however speed is significant, it shouldn't be your lone concern. You additionally need to discover a lending platform that offers great customer care, sensible rates, and reasonable reimbursement alternatives. Remember that some loaning alternatives can convey exorbitant financing costs.
4. Have your documents prepared.
Banks might demand reports to confirm your character, pay, and address. You might have to share duplicates of:
• A government provided ID, similar to a driver's permit or visa
• Proof of address, similar to a rent or service bill
• Proof of pay, similar to a new compensation stub, bank statement, or assessment records
Sharing duplicates when they're mentioned could assist you with avoiding delays during the advance application process.
CATEGORIES OF QUICK LOANS
Personal Loans
Personal loans are accessible by Salary Earners to meet personal cash needs e.g. rent, school fees, medical bills, home repairs etc.
Business Loan
Business loans are accessible by business owners who have registered businesses that have been in operation for a period of time. The funds may be required to enhance their businesses or as working capital.
L.P.O Finance
L.P.O finance is accessible to business owners with a registered business who require funding for a Local Purchasing Order
Invoice Discounting
Invoice discounting is accessible to business owners with a registered business who require working capital while waiting for an unpaid invoice.
Payroll Loan
Payroll loans are accessible by employees who receive monthly paycheck into a salary account verfiable by a bank statement.
APPLYING FOR A QUICK LOAN
Most of the quick loans have zero physical documentation, and it can be applied online just using your mobile phone. By visiting the official website of the lender, you will be able to apply for the quick loan. You will have to enter your personal and income details for loan processing. The lender might ask you to upload the proofs online for verification, following which your loan will be approved or rejected.
Downloading the mobile application is another easy way to apply for quick loans. You need to download the app from Google Play Store or App Store and register yourself with your social media profile or by creating a new profile. After entering basic details such as address, NIN, BVN, bank details, photograph, etc., upload the valid documents. The app will review your request and the money will be disbursed to your bank account if you are eligible and qualify.
BECOME QUICK LOAN ARENA BUSINESS PARTNER
Register to become our business partner and enjoy our free advisory and consultancy services on getting a quick loan from our list of accredited lending partners and also guide on the process of loan application.
Disclaimer: Quick Loan Arena is not a loan agency and we do not give out loan to anybody. We are however a quick loan review blog that seeks to inform and educate individuals and small businesses about instant loan opportunities to help them take informed decisions.
We also provide loan advisory services, once you become our business partner
. Speak with any of our Quick Loan Consultants for more information! Call or Whatsapp +234 (0)803 385 7245.
Do remember to give us a feedback about your quick loan experience after the lending process is executed.
READ ALSO! How I Was Lured Into Debt Trap With N2.5m Specta Quick Loan From Sterling Bank
READ ALSO! EasyMoni: Stop Sending Threats To Customers' Contact List: Do Your Homework If You're Real!
READ ALSO! How some quick loan platforms are exploiting the poor
READ ALSO! GTB Quick Credit: N500,000 – 5 Million Quick Loan Offer With 1.5% Interest
READ ALSO! Can Prosper Quick Loan Make You Prosper? Check It Out!
READ ALSO! 5 sure ways to spot quick loan scams
READ ALSO! BBNaija Dorathy Launches Lingerie Line, Says Priority Is Making Busty Women Look Good
READ ALSO! How To Empower Yourself And Generate Income From Mutual Funds
Please follow and like us: