QUICK LOAN ARENA can authoritatively reveal that the banned rogue lending app, EasyMoni, that has been terrorizing Nigerian consumers and borrowers by sending defamatory and shame messages to them and their contact list, is not only owned by Chinese loan sharks, but managed from far away China and Hong Kong.
We have received several calls and complaints from different categories of Nigerians asking for the customer care number and office address of Easymoni loan app but every effort to ascertain these information has been futile.
How Loan Sharks from China, Hngkong managed EasyMoni in Nigeria
However a detailed check on EasyMoni confirmed Facebook page shows that the digital lender is administered and managed in far away China. This is one of the revelations we got this afternoon from Facebook directly.
See the screenshot below: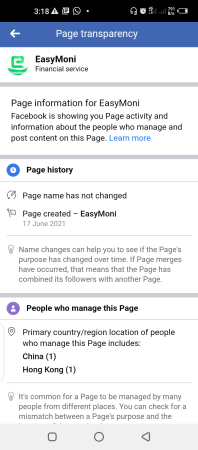 We advise all Nigerians to boycott EasyMoni lending platform for predating on poor and hapless citizens through their "unknown staff" who are fond of always resorting to curse and blackmailing messages to customers, their families and contact list whenever there's a slight loan repayment dispute.