Microsoft is putting the final nail in the coffin of Internet Explorer, with the legacy web browser set to retire for good tomorrow.
The tech giant has gradually shifted away from the ageing software after 27 years on the scene, starting afresh with the new Edge browser in 2015 to coincide with the launch of Windows 10.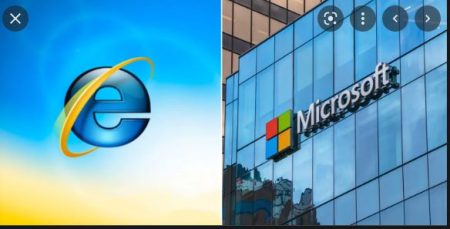 What It Means When Microsoft Discontinues Internet Explorer
Support for the final version, Internet Explorer 11, has been maintained, even though most people have already moved elsewhere.
By ending support, this means important security updates and bug fixes will no longer be rolled out.
According to Statcounter, just 0.45 per cent of internet users still use the Internet Explorer browser.
In a blog post explaining the decision last year, Sean Lyndersay, partner group program manager for Microsoft Edge, wrote: 'Over the last year, you may have noticed our movement away from Internet Explorer (IE) support, such as an announcement of the end of IE support by Microsoft 365 online services.
'Today, we are at the next stage of that journey: we are announcing that the future of Internet Explorer on Windows 10 is in Microsoft Edge.
'Not only is Microsoft Edge a faster, more secure and more modern browsing experience than Internet Explorer, but it is also able to address a key concern: compatibility for older, legacy websites and applications.'
The firm had already paved the way for Internet Explorer's demise, ending support for it in the Microsoft Teams web app in 2020.
Thankfully, Edge offers an IE mode for people to view dated websites that may not load properly on modern web browsers.
Mr Lyndersay added: 'Microsoft Edge has Internet Explorer mode built in, so you can access those legacy Internet Explorer-based websites and applications straight from Microsoft Edge.