A Nigerian customer has told QUICK LOAN ARENA that the several blackmails, defamatory messages and threats from loan apps can cause borrowers to commit suicide, warning that the Federal government should quickly halt the trend of excesses from these digital lenders.
Customer Cries Out For Help Against Threats From Loan Apps In Nigeria
According to Owoeye Hannah who spoke to this reporter on Social Media laments the way and manner loan apps in Nigeria threaten their customers and talking rudely to them like they don't matter. Some go as far as refrring to their customers and borrowers as 'crazy', 'stupid' and all manner of derogatory statements.
Owoeye urges the Nigerian government to regulate the threats from loan apps and demand that they abide by the rules of the game and be civil in their operations.
She says the threats from loan apps can be dismaying with some coming even a day or the very day the loan repayment falls due. She wants the loans in Nigeria to give provision and moratorium for repayment even after the due date.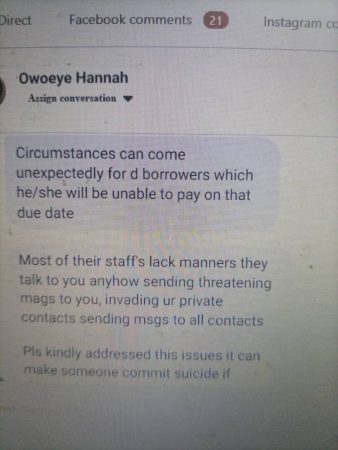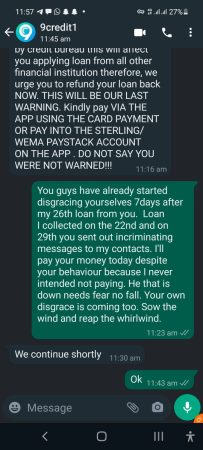 Customer Wants Harrassment And Threats From Loan Apps In Nigeria To Stop
10 Best Loan Apps Without ATM Card In Nigeria 2022
The loan app customer condemns the situation where staff of lending platform talk anyhow to their customers, sending threatening messages to them and their contacts and invading their data privacy.
Finally Owoeye urges loan apps in Nigeria to abide by the local lending rules and Google Playstor policy on loan tenure which mandates digital lenders to not give out any loan less than 60 days tenure.
Top Loan Apps Banned In Nigeria
QUICK LOAN ARENA understands most of Nigerian digital lending apps give out loan for just 7 days. This is despicable, according to her.
Read her statement below
Good morning QUICK LOAN ARENA. Please help us look into the short duration loan apps in Nigeria normally give customers when they collect loans and the ensuing embarrassements they melt out to them whenever there is an alleged loan repayment default.
After due date they should at least give customers extra one week to make repayments.
Circumstances can arise unexpectedly for borrowers which may make he or she to be unable to pay on due date.
Most of the loan app staffs lack manners, they talk to customers anyhow, sending threatening and derogatory messages to them. They also invade their private contacts, sendingdefamatory messages to all their contacts.
Pls kindly help us use your platform to address these issues. If not addresed, it can make victims, customers to commit suicide if threats from loan apps is too much and unbearable.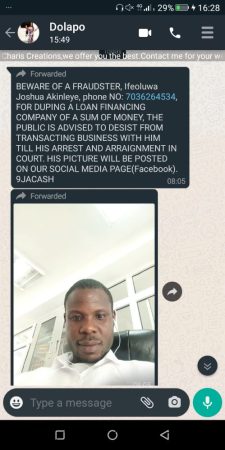 According to infosecawareness.in, the following are major threats from loan apps:
Threats From Loan Apps In Nigeria
Accessing the contact number and picture stored in mobile.
Misuse of contact numbers and pictures saved in mobile.
Excessive interest and penalties.
Interest deducted before providing the loan.
Constant harassment and threats.
Online Harassment.
Harsh and unethical means of recovery.
The website goes ahead to some of the major signs that may indicate red flag and potential fraudulent lending practices by loan apps and listed measures for customers to safeguard themselves.
TOP 15 WORST LOAN APPS IN NIGERIA (Avoid 3 and 8 by all means)
Warning Signs To Identifying Fake Loan Apps
No verification of previous repayment history
Creation of sense of urgency and pressurizes into acting immediately
Hidden or undisclosed charges/ fee amounts.
Unsecured websites
No physical address disclosed by lender
 Safety measures Against Fake Loan Apps
Check for lenders contact information like phone number, email address and physical address.
Verify the online reviews by customers given for the lender.
Check the professional reviews on trust worthy lenders.
Make sure it has a Reserve Bank of India's (RBI's) mobile-only Non-Banking Financial Company (NBFC) license which allows them to give you that loan.
Review the app permissions regularly and give access permissions as per the purpose of the app only.
READ ALSO! TOP 13 ACCOUNTING SOFTWARE FOR SMALL AND MEDIUM SCALE BUSINESSES 
FAQs
Which app gives loan without ATM?
The following are the apps that give loan without ATM in Nigeria:
Branch loan app
Aella loan app
Quick Credit loan app
FairMoney loan app
Umba loan app
Renmoney loan app
OKash loan app
GTB Quick Credit loan app
Money in Minutes loan app
Quick Check loan app
Can I get loan without debit card?
Yes you can. A debit card is not mandatory condition to obtain a loan. In fact many micro-lending companies and loan apps do not require a debit card or an ATM card for loan. Once you can show that you have the capacity for repayment, either by your credit history, your present salary or your analysis of your bank statement, many of the loan apps will oblige you a loan. All the loan apps stated above will give you credit without a debit card.
8 Best Instant Loan Apps Without BVN In Nigeria
Which is the best app to get instant loan in Nigeria?
Below is a list of the best apps to get instant loan in Nigeria: Please note that this rating is subject to review from time to time.
1. Branch
2. Carbon
3. Aella Credit
4. QuickCredit
5. Money in Minutes
6. FairMoney
7. Page Financials
8. Renmoney
Best 22 Reputable Loan Apps For Instant Cash In Nigeria 2022
9. Umba
10. Okash
11. QuickCheck
12. Migo
13. Zedvance
14. C24 Capital
15. GTB Quick Credit
France fines Google €2m over app developers' contracts
Please follow and like us: