I will be explaining with five simple lending apps how you can get a loan with BVN only in Nigeria in 2023.
If you find yourself in a financial strait either as an individual or a business owner, and you need an urgent loan and all you have is your BVN and your smartphone only, calm down and read the different options of loan apps that can be of help you access an instant loan with your BVN only and a few credentials.
BVN is a unique identification number that can be verified across all financial institutions in Nigeria. A customer's BVN is mapped to the individual's biological traits namely: Finger Print, Signature, Facial photograph captured at the point of enrollment and other personal profile information.
List Of Top 5 Lending Applications You can use to apply and get an urgent loan With BVN Only In Nigeria in 2023
The best lending applications and loan apps that can help you with instant cash loan with BVN only in Nigeria include the following: Branch loan app, Carbon app, FairMoney App, Aella Loan app, QuickCheck, GTBQuick Credit app among other reliable apps which may make the process of getting an instant loan a lot easier and more convenient.
1. Branch Loan with BVN only
With over 10 million downloads on Google Play Store, Branch lending platform is the overall best application you can use to get a loan with BVN only in Nigeria. Branch's 2.5% to 20% monthly interest is the most competitive obtainable in the quick loan industry. The loan app's APR of 18% to 260% is considerably lower than that of Fairmoney, Carbon, Palmcredit, and other rivals in the mobile loan sector.
Branch don't charge late fees or rollover fees, nor put restrictions on how you spend your money, and our customer support team is available 24/7. If you ever needed loan apps in Nigeria for instant cash that are reliable, this is one of your best pick.
2. Carbon Loan with BVN only
Carbon, formerly known as Paylater, is the second best instant digital lender that can approve loan for you if all you have is BVN only in Nigeria.. With Carbon, you can borrow up to N1 million (One Million Naira) without collateral, guarantors, or paperwork with your BVN only.
At your first try with Carbon loan app, you may not be able to access big cash, but when you start borrowing small, and paying back as at when due, thus gradually building good credit history, you eventually have access to bigger loan funds.
3. FairMoney Loan with BVN only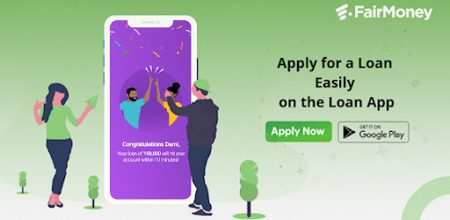 FairMoney digital platform is the third best platform to get a loan with BVN only in Nigeria. You can access instant loan up to ₦1,000,000 with repayment periods from 61 days to 18 months at monthly interest rates of 2.5% to 30% (APRs from 30% to 260%) with the FairMoney app. This online lender has the exceptional quality of granting higher loan tenure than many other similar lending applications.
4. Aella Loan with BVN only
Aella exists to simplify and open up financial access for all in emerging markets by leveraging technology and widespread mobile adoption for Nigerian borrowers. Aella Credit app allows customers to access loans with only their BVN and apply through their smartphone if they are in Nigeria, access instant cash up to N1,000,000 within a few minutes of application.
Aella app has low-interest rates and demands no late fees. It allows borrowers to build their creditworthiness via prompt loan repayment in order to qualify for larger loan amounts and reductions in interest rate.
5. Umba loan with BVN only
Umba  allows you to borrow money in Nigeria if all you have is your BVN only and with some little profile details about yourself. The app is one of the best loan app pick in Nigeria for no late fees, no rollover charges and no origination fees and with BVN only.
Aella App claims to be the leading digital bank in Africa, allowing customers and users to apply, drawdown and repay loans directly from their smartphone or desktop computer and obtain cash disbursement directly into their bank accounts even if all they have is their BVN only.
Below are some Commonly Asked Questions about the BVN.
 What is a BVN?
BVN means Bank Verification Number
 What is the Goal of the Bank Verification Number?
The goal of the Bank Verification Number (BVN) is to uniquely verify the identity of
each Bank's customer for 'know your customer' (KYC) purposes.
What is Enrolment?
Enrolment is the process of capturing a customer's details which includes
fingerprint and facial image after which a BVN is generated.
How does a Customer get a BVN?
Answer: A customer enrolls at any branch of a bank where he/she has an account or intends
to open an account.
Must every customer have a BVN, is it Compulsory?
Yes it is compulsory for every bankable customer to have a BVN.
How long does it take to get a BVN?
It takes up to 24hrs after Enrolment to get a BVN.
What is the Benefit of enrolling for a BVN?
Answer: The BVN helps to reduce fraud, increase the efficiency of banking operations and
also enable customer access to future credit facilities.
How is the BVN communicated to the customer?
Answer: Once the BVN is generated, the bank would inform you of your BVN. All customers
would receive SMS alerts.
If a customer forgets his/her BVN what should the customer do?
The customer should contact his/her bank where the enrolment was carried out, to
retrieve the number.
How and Where can you update customer information e.g. in case of change of
address?
The customer goes to his or her bank and follows the bank's processes for updating
customer information. A customer can update his/her information only at the bank where
he/she has an account.
Does the BVN change when customers update their record?
Answer: No, the BVN doesn't change.
When does my BVN expire and how do I renew?
The BVN expires after 10 years. After 10 years of the issuance of the BVN, the
customer goes back to his/her bank to re-enroll.
Conclusion
Loan applications and platforms that give loan with BVN only in Nigeria include but not limited to Branch loan app, Carbon loan app, FairMoney App, Aella Credit App, Umba Loan app among others. These lending apps general have low interest rate, fast approval and quick cash disbursement without collateral or documentation.
| | | | | |
| --- | --- | --- | --- | --- |
| Rating | Loan Application With BVN Only | "Best For" Pick | Playstore Rating | No. of Downloads |
| #1 | Branch Loan App | Best Overall Lending Platform in Nigeria | 4.5/5 | 10 Million |
| #2 | Carbon Loan App | Best for Building Credit Score | 4.4/5 | 1 Million |
| #3 | FairMoney Loan App | Best for Highest Loan Tenure | 4.4/5 | 5 Million |
| #4 | Aella Credit Loan App | Best for Easy Loan Processing | 4.4/5 | 1 Million |
| #5 | Umba Loan App | Best for Low Interest and Zero Charges | 3.8/5 | 1 Million |