Wema Bank unveils Quick Loan of N100,000 to N10m for businesses
Wema Bank has unveiled a special digital platform, Quick Loan to assist entrepreneurs, startups and corporate customers fund their businesses.
The additional feature, which is hosted on ALAT for Business, its corporate internet banking platform, will help small and medium-scale enterprises (SMEs) and corporate customers access quick loans between the range of N100,000 and N10 million.
Quick Loan, the bank says, will be accessed virtually from any location without the need to locate a physical branch. And it will only be available for ALAT for Business customers
The bank's Product Manager for ALAT for Business, Samuel Robson, highlighted the pivotal role that SMES play in the economic, employment and export growth in Nigeria.
He says: "Despite the significant contribution of SMEs to the Nigerian economy, challenges persist that hinder the growth and development of the sector.''
In his statement, he stressed: "Quick loan access has been one of the most challenging factors faced by this sector and we understand the need to support SMEs by providing easy access to the loans they seek."
"Hence the launch of Quick Loan on ALAT for Business, a platform that serves our corporate customers and SME owners.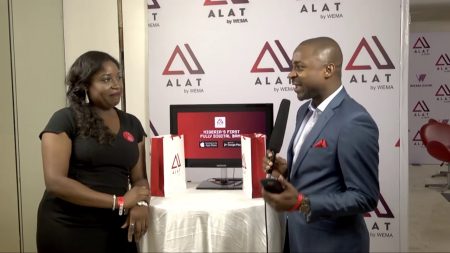 "We believe this extra feature will help to mitigate some hassles entrepreneurs and businesses experience.''
A Nigeria SME survey report developed by PricewaterhouseCoopers (PwC), shows there are about 17.4 million small and medium-scale enterprises (SMEs) in Nigeria and these contribute about 48 per cent of the national Gross Domestic Products (GDP), accounting for 96 per cent of businesses and 84 per cent of employment in the country.
The ALAT for Business Quick Loan is open to new and existing customers registered on the ALAT for Business platform and does not require cumbersome paperwork.
ALAT for Business is the internet banking platform designed to help corporate customers and entrepreneurs manage their business accounts optimally and stay on top of their finances from anywhere and anytime.
It's a low-interest quick loan platform by the deposit money bank, for salary earners whether such person is an existing customer or not and has been in operation before this additional feature for businesses was launched.
Wema Bank ALAT scheme enables salary earners acess a minimum of N50,000 and up to N2,000,000 within hours with a 3 to 24 months pay back tenure with only 2% interest rate per month on a reducing balance basis.
Register to become our business partner and enjoy our free advisory and consultancy services on getting a quick loan from our list of accredited lending partners and also guide on the process of loan application.
Disclaimer: Quick Loan Arena is not a loan agency and we do not give out loan to anybody. We are however a quick loan review blog that seeks to inform and educate individuals and small businesses about instant loan opportunities to help them take informed decisions.
We also provide loan advisory services, once you become our business partner
. Speak with any of our Quick Loan Consultants for more information! Call or Whatsapp +234 (0)803 385 7245.
Do remember to give us a feedback about your quick loan experience after the lending process is executed.
READ ALSO! How I Was Lured Into Debt Trap With N2.5m Specta Quick Loan From Sterling Bank
READ ALSO! EasyMoni: Stop Sending Threats To Customers' Contact List: Do Your Homework If You're Real!
READ ALSO! How some quick loan platforms are exploiting the poor
READ ALSO! GTB Quick Credit: N500,000 – 5 Million Quick Loan Offer With 1.5% Interest
READ ALSO! Can Prosper Quick Loan Make You Prosper? Check It Out!
READ ALSO! 5 sure ways to spot quick loan scams
READ ALSO! BBNaija Dorathy Launches Lingerie Line, Says Priority Is Making Busty Women Look Good
READ ALSO! How To Empower Yourself And Generate Income From Mutual Funds
READ ALSO! Skytrend Loans Series: Getting quick loans from Page Financials
Please follow and like us: