The World Bank has said the Central Bank of Nigeria's (CBN) development finance intervention is fuelling inflation in the short term and weakening the ability of the apex bank to control inflation.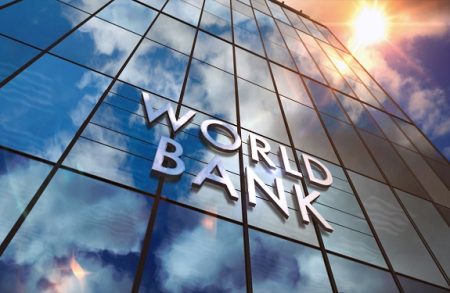 How CBN Continued Subsidized Funding To Certain Sectors Fuelling Inflation
According to the global bank, the CBN continued subsidized funding to certain sectors has to slow down as it is undermining the ability of commercial banks to lend on a risk-adjusted pricing basis and as a result fuelling inflation. It added that the apex bank's disbursement in the private sector as its share of private sector credit rose from 6.5 per cent in 2019 to 10 per cent in 2021.
It disclosed this in its 'Nigeria Development Update (June 2022): The Continuing Urgency of Business Unusual.' It said, "The CBN's continued provision of heavily subsidised funding to certain sectors undermines commercial banks that lend on a risk-adjusted pricing basis and needs to be dialled down.
"CBN disbursements are growing in funding the private sector, with the CBN's share of private sector credit rising from about 6.5 per cent at end-2019 to 10 per cent by end-2021. Although some of the COVID-related tools deployed by the CBN are being phased out (e.g., the moratorium on principal repayments on CBN-funded credits lapsed in March 2022), the Central Bank has introduced new intervention facilities without a publicly available evaluation of their impact.
"The CBN also stepped up disbursements and kept the monetary policy rate unchanged at 11.5 percent from September 2020 until May 2022. On March 15, 2022, the CBN extended the five percent per annum interest rate on its development finance intervention funds for one more year through end-February 2023.
"The Monetary Policy Committee has strongly encouraged the central bank to continue its development finance interventions, including a policy tool to help tame rising inflation. However, this stance fuels inflation in the short term from elevated aggregate demand and weakens the ability of the central bank to control inflation efficiently."
According to the Washington-based bank, expanding government programmes to support micro, small, and medium enterprises is a priority to protect viable and vulnerable MSMEs against rising uncertainty.
It said while the banking system had proved resilient in the face of the pandemic, the operating environment for banks and firms has become more challenging recently. It stated that the fallout from the war in Ukraine is driving inflation higher, increasing production costs and the cost of borrowing through higher rates.
It further said that loan quality over the next several quarters is likely to deteriorate. It added that certain medium-sized banks that cater to SMEs and intermediate CBN development finance could be stressed if economic recovery falters and SMEs, many of which have already suffered over the last two years, typically have less resiliency in revenue generation than larger, more diversified companies.
See Full Release By The Central Bank Of Nigeria, CBN:
A 'Business Unusual' approach, even more urgently needed to reduce inflation, lessen fiscal pressures, and attract investment for jobs
ABUJA, June 14, 2022 — Nigeria is in a paradoxical situation: growth prospects have improved compared to six months ago but inflationary and fiscal pressures have increased considerably, leaving the economy much more vulnerable, highlights the latest World Bank Nigeria Development Update (NDU).The report, titled "The Continuing Urgency of Business Unusual," says that inflation in Nigeria, already one of the highest in the world before the war in Ukraine, is likely to increase further as a result of the rise in global fuel and food prices caused by the war. And that, the World Bank estimates, is likely to push an additional one million Nigerians into poverty by the end of 2022, on top of the 6 million Nigerians that were already predicted to fall into poverty this year because of the rise in prices, particularly food prices.This latest edition of the NDU highlights that the inflationary pressures will be compounded by the fiscal pressures Nigeria will face this year because of the ballooning cost of gasoline subsidies at a time when oil production continues to decline. Hence, Nigeria, for the first time since its return to democracy, and alone amongst major oil exporters, is unlikely to benefit fiscally from the windfall opportunity created by higher global oil prices."When we launched our previous Nigeria Development Update in November 2021, we estimated that Nigeria could stand to lose more than 3 trillion Naira in revenues in 2022 because the proceeds from crude oil sales, instead of going to the federation account, would be used to cover the rising cost of gasoline subsidies that mostly benefit the rich. Sadly, that projection turned out to be optimistic," said Shubham Chaudhuri, World Bank Country Director for Nigeria. "With oil prices going up significantly, and with it, the price of imported gasoline, we now estimate that the foregone revenues as a result of gasoline subsidies will be closer to 5 trillion Naira in 2022. And that 5 trillion is urgently needed to cushion ordinary Nigerians from the crushing effect of double-digit increases in the cost of basic commodities, to invest in Nigeria's children and youth, and in the infrastructure needed for private businesses small and large to flourish, grow and create jobs."

According to the report, Nigeria's growing macroeconomic challenges in 2022 highlight the continuing urgency of a departure from business as usual, and the need for consensus around a package of robust reforms. The Report highlights three policy priorities: (1) reducing inflation through a sequenced and coordinated mix of exchange rate, trade, monetary, and fiscal policies including the adoption of a single, market-responsive exchange rate; (2) addressing mounting fiscal pressures at the federal and sub-national levels by phasing out the petrol subsidy (estimated to cost up to 5 trillion naira in 2022) and redirecting fiscal resources to investments in infrastructure, education, and health services; increasing "pro-health taxes", and improving tax compliance; and (3) catalyzing private investment to boost job creation by improving the transparency of key government-to-business services and eliminating trade restrictions.

"Despite the better-than-expected performance of the services and agriculture sectors and higher oil prices stemming from the war in Ukraine, Nigeria is experiencing a curious case of lower fiscal revenues. This is limiting the government's ability to expand basic services, support the economic recovery, and protect the poor during this difficult time" said Marco Hernandez, World Bank Lead Economist for Nigeria and co-author of the Report.

In addition to assessing Nigeria's economic situation, this edition of the NDU also casts a spotlight on the unintended effects of Nigeria's trade restrictions; the importance of investing in adolescent girls to defuse Nigeria's demographic timebomb; and the imperative of bringing Nigeria's out-of-school children back to school.

* The World Bank's International Development Association (IDA), established in 1960, helps the world's poorest countries by providing grants and low to zero-interest loans for projects and programs that boost economic growth, reduce poverty, and improve poor people's lives. IDA is one of the largest sources of assistance for the world's 76 poorest countries, 39 of which are in Africa. Resources from IDA bring positive change to the 1.6 billion people who live in IDA countries. Since 1960, IDA has supported development work in 113 countries. Annual commitments have averaged about $21 billion over the last three years, with about 61 percent going to Africa.