In this article, I will be reviewing the full list of top 50 most dangerous and most notorious fake loan apps that have been declared illegal in Nigeria in 2023. You must ensure to avoid them by all means. Their main aim is to threaten and embarass you with shame and blackmailing messages and invade your contact list. Only patronize legit loan apps which will protect your privacy and give instant secured loans.
I will list and analyze them for you in details, so you can avoid downloading or patronizing them whenever you come across these scam lending applications in Google Play Store, Apps Store or anyhwere else. Most of these fake loan apps in Nigeria have tenure ranging from 7- 14 days, this is in breach of Google Policy on loan apps hosted on its Play Store and contravenes local laws in Nigeria.
Another name for fake loan apps is loan sharks. A loan shark is a loan app, digital platform, online or offline lender which offers credit loans at extremely high interest rates, has strict terms of collection upon failure, including sending threatening, shaming and defamatory messages to you and your phone contact list and generally operates outside the law. So in essence loan sharks operate illegally and are thus usually referred to as illegal loan apps and platforms.
List Of Dangerous and Notorious Fake Loan Apps and Lending Platforms Declared Illegal and Banned In Nigeria in 2023
The most dangerous and notorious fake loan apps and lending platforms that have been banned and declared illegal in Nigeria include: Cash Mall, CashLion, FastMoney, LendCash, BorrowNow, LCredit, NairaPlus, 9ja Cash, Cash Wallet, 9Credit, Sokoloan, Palmcash, Ease Cash, ForNaira, KashKash, Rapid Naira, EasyMoni, among others. Many have been scammed and defrauded, and their bank accounts illegally debited by these fraudulent digital lenders. Borrowers are warned not to patronize any of these illegal loan apps.
1. Cash Mall
Cash Mall claims to be a professional loan app for mobile with intelligent and convenient online loan process, adding that customers could get access to a loan anytime anywhere.
The lending platform also promises that borrowers' private data are secure and safe, saying it never share customers' information to anyone without consent. These claims are false. Cash Mall is one of the top fake loan apps in Nigeria and the very first on our list of 50. If you ever default a day, their strict collection method will expose your data on social media and shame messages sent to all your contact list. It claim loans amount vary from NGN 2,000 to NGN 100,000. That is not true. It only gives very little credit amount to customers.
It claims loan tenure to be 91 days ~ 365 days on their dashboard but customers say Cash Mall tenure is 7 days and this is against Gogle Policy for loan apps hosted on its Play Store. It claims its maximum Annual Percentage Rate (APR) is 36%. This is false. It charges way higher. This loan app charges origination fee apart from interest, ranging from 1% to 9%… which is not permitted by Google Play Store where it is hosted and even considered illegal by our local laws.
2. CashLion
CashLion is another fake lending app that claims you can apply for instant cash online from its platform and get your loan disbursed into your bank account immediately. It says its Online Loan App offers: Loan Amount: ₦ 2000 – ₦ 50,000, No hidden charges; Loan Term: 91 – 365 days; Interest rate: 16% -21% APR, Service Fee: 0. However these claims are false and fraudulent. The app never gives loan to anyone for 91 days let alone 365 days. All its loan are for 7 days tenure. It has hidden charges contrary to its claim.
3. FastMoney
FastMoney is a scam lender that has actually been banned by Google and its operation shut down by the Nigerian government. The app has been scamming Nigerians with a lot of dubious charges and raining threats and shame on borrowers even for a day's default.
Regulatory authorities has now concluded plan to prosecute FastMoney and many other fake loan apps in Nigeria such as NowCash, Sokoloan, 9credit, LendCash, and many others that are breaching the data privacy of their customers by sending threatening and blackmailing messages to them and their contact lists.
4. LendCash
LendCash  is another fake loan app that has been banned by Google for serial violation of its policy rules and are been traced by Nigerian government for prosecution. Many borrowers have been battered and scammed by this loan app unethical and unacceptable modus operandi.
5. BorrowNow
In our list of top fake loan apps in Nigeria, BorrowNow is a key platform to expose. BorrowNow loan app has excessively high interest rates. It also do not comply with Nigerian local laws and flouts Google policies on loan tenure.
BorrowNow loan app is one of those bad loan lender that is fond of sending threatening and defamatory messages to their customers and borrwers. Fortunately Google Network has seen through its scam tendencies and banned it from its Play Store.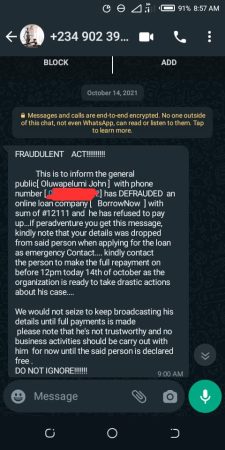 6. LCredit
LCredit is one of the most fraudulent ever to exist digital lending platform in Nigeria. Unfortunately after been initially banned by Google Play Store for obvious violation of its policies, this app got its way back. Last year, QUICK LOAN ARENA exclusively reported that LCredit, Rapid Transfer and some yet to be identified quick loan apps have been removed by Google from its Play Store for violating its operational policies.
The proliferation of these fake loan apps in Nigeria is indeed endangering and threatening the financial and digital space which has in greater terms facilitated financial inclusiveness of many citizens who have hitherto been inaccessible to the traditional banking system, and except regulatory authorities check their operations, more crisis may be ahead,
LCredit was banned from Google Play Store because the app was discovered by Play Protect, the security system on Google that scans apps hosted on its network, as involving in malicious and fraudulent activities. The platform was trying to spy on phone contacts, recordings, Photos and other private content on the android devices of its users, contracy to Google laid down privacy policy.
7. NairaPlus
NairaPlus is another scam lending platformthat invades the data privacy of their customers and sending blackmailing and threatening messages to their contacts whenever there is an alleged loan repayment default.
We understand this is in breach of their customers' data privacy policy which the different loan apps vowed to adhere to during registration and hosting on Google Play Store. This is also required by local laws for any loan app or lending company operating in Nigeria. 
8. 9ja Cash
9ja cash is owned and managed by the scam Sokoloan lending app, whose operations has been shut down in Nigeria along with all its subsidiaries.
9ja cash manner of operation is to threaten customers with defamatory messages including the people in your contact list.
9. Cash Wallet
Cash Wallet is yet another fake loan app that operates an established scam platform that deducts 'down payment' from your debit card. The lending platform claims to be a personal loan app in Nigeria where you can get quick loans using your mobile phone anywhere, anytime. However from customer feedback, this is not true.
10. GGMoney Loan App
GGMoney has been reported on several occasions for numerous unethical practices from the company and its untrained staffs coupled with its high and astronomical interest rate.
GGMoney loan app has been banned by Google Play Store and shutdwon by Nigerian financial authoritiesb for its fraudulent lending activities and illegally debiting customers debit card. The app is also guilty of abusing the data privacy rights of its customers.
11. 9Credit
9Credit loan app is known for its unethical and untowards lending practices. The app charges customers dubiously high interest rate. It gives out loans for only 7 days instead of a minimum of 60 days as stipulated in Google policy. Also 9Credit is fond of defaming and threatning its customers and their contact list.
See the screenshot below
12. Sokoloan
Sokoloan has been banned in Nigeria and shut out from Google Play Store. The app has contravened the following policies of Google Play Store.
Give loans for 7 days as against the 91 to 360 days displayed in Google Play store
Does not give loan up to #300,000 as it claim
Does not declare its real charges in the sense that, they display amount of loan to be given and what they give actually is far lesser.
Like others, 7 days loan starts counting the moment you receive money in your account and what you see on your dashboard immediately is 6 days remaining. Its never 7 days
Failure to pay back as at when due will have their staffs harass you, threaten you and send messages to people on your contact list that you should not be trusted and be told to pay back your debt.
13. Palmcash
See below what a leading lawyer has to say about Palmcash and other similar fake loan apps in Nigeria that are scamming their customers and borrowers.
"The existence and operations of many of these soft and quick loan agencies are largely illegal. Their interest rates are similarly illegal majorly under the Money lenders laws. The failure to pay loan is a contractual one remediable by action for recovery and damages but they employ crude and methods of blackmail and libel towards recovery. They are all actionable wrongs but usually the owners of these quick loan companies are unknown or "miragy". And the victims are mostly too embarrassed to seek remedy against them in court." – Andy Akporugo Jr, Legal Practitioner.
Palmcash is fraudulent and contravenes Nigerian law. The loan platform is faceless, has no physical address and no customer service personnels you can speak to. Please do yourself justice by boycotting their service.
14. Ease Cash
Ease Cash is our 14th pick on our list of top 50 fake loan apps in Nigeria. It is the new name for the banned and blacklisted rogue digital lending app, EasyMoni and is now fully hosted and registered on the largest internet network, Google! Borrowers Beware!
EasyMoni the rogue digital lending app that was banned and blacklisted by Google weeks ago has changed name to Ease Cash in order to escape and continue fleecing innocent Nigerian borrowers. The digital lending app is now fully reregistered as Ease Cash on Google Play Store.
EasyMoni got a terrible reputation for threatening and shaming its customers at any slight loan default or disagreement. The digital lending app is found of terrorising and blackmailing Nigerian borrowers for a long while and has been in violation of customer data privacy. It has now found its way back to the giant tech network as Ease Cash.
15. ForNaira
Listen to what a customer has to say about ForNaira, the platform that falls on the 15th position on our list of fake loan apps in Nigeria.
ForNaira is the worst quick online loan app…just 1 day overdue and their agent sent a message to all my contacts that is was over 2 months and that I have refused to pick calls or reply to messages. Meanwhile the lady in question sent me message as at 5:45am and I replied that I will pay by 4pm, by 9am, she started sending messages to my contacts…for what she has done I will not pay a dime again. You can't defame me and still want me to pay you after all I was still going to pay for the overdue. I have evidence. This testimony was made by a customer of this loan app.
16. GotCash
GotCash is yet another scam loan app. We had published an article early in November, 2021 where we revealed how GotCash and other rogue loan apps are defaming Nigerian consumers and why Google should ban them and take them down from its Play Store.
Some of these apps are owned and managed from China or Hong Kong. Some managed in Nigeria are faceless, without any office or customer service telephone number. Please avoid Gotcash, it's a fake loan app.
17. NCash 
NCash lending app is not a legitimate platform but set up to scam Nigerians. It sends threat and horrible messages to you and your contacts whenever they believe you are owing them and insult you with every curse word possible.
These loan apps are set up to swindle unsuspecting Nigerians, asking them to make deposits before loan approval, deducting upfront service fees from their debit cards, and they charge interest rate as much as 100%, many times request repayment within 7 days.
18. GoToCash
Google removed GotoCash and PalmCash, twin rogue app from its Play Store, on November 28th, 2021 over serial violations of its policy and customer data privacy breach.
19. GoCash
GoCash is another fake lending platform known for its very unfriendly customer relations and breach of customer data. The loan app blackmails and send threat messages to its borrowers even before a loan is due. This lending app deducts illegal fees from your ATM card and grant loan just for 7 days.
20. KashKash
KashKash is a fake loan app in Nigeria that claims to offer flexible online loan products for consumers nationwide. However its claims are false and dubious.  They do not give out loans up to N200,000 ever, and all their loans are for 7 days tenure with very high interest rate as against their promise of low interest.
KashKash will send you shame messages if you default on their meagre loan. The lending platform is a loan shark and one of those whose operations were recently shut down.
Other fake loan apps and illegal online lending applications and platforms present in Nigeria include:
EasyMoni
Rapid Naira
EaseMoni
AngelLoan
Speedy Choice
EasyCredit
OKash
CycleCash
CashRain
iCoin
Mikoloan
SuperCash
XCredit
LionCash
Ajeloan
CreditHall
GetCash
iCredit
PalmCredit
Aimloan
CashFarm
Oxloan
Lucky Loan
Ucredit
NowCash
Star Loan
Kashpal
Monicredit
Creditup
Zuma Cash
How Can You Identify Fake Loan Apps and Illegal Lending Platforms in Nigeria?
We have identified 15 easy ways to point out a fake loan app in case you come across one. They include:
Fake loan apps in Nigeria access and compromise contacts' numbers and photos stored in their mobile phone and use them as a form of threat and harassment in case of customer default.
Constantly pressurizing customers to collect loans and/or to repay loans even before repayment due date. And issuing threats along. In some case they transfer money to you unsolicited, if you ever borrowed money from them and force repayment at heavy interest.
Invading customers' data privacy and sending defamatory and threatening messages to them and their contact list
Extremely high interest rate and penalties.
Deduction of processing and/or security deposit before loan processing
Interest deducted before providing the loan.
Constant harassment and threats on customers
Online Harassment of customers and borrowers.
Harsh and unethical means of loan recovery.
Use of rude and derogatory statement by loan app staff on customers.
Gives out loan to customers for 7 days tenure instead of minimum of 60 days stipulated by law
Creation of sense of urgency and pressurizes into acting immediately, sometimes luring you to collect loans against your wish.
Hidden or undisclosed charges/ fee amounts.
Unsecured websites and in many cases, fake loan apps in Nigeria have no website at all, no physical office address.
Most times, they have no social media platforms, no contact telephone numbers, no valid customer service support or email to contact them with.
Conclusion
As a customer or borrower, you do not have to be scammed, threatened or defamed anymore. by these fake lending apps. Simply avoid any of the illegal platforms mentioned in this article and you would be safe in all your transactions. You can patronize any of the trusted and reputable loan apps in Nigeria such as Carbon, Branch, FairMoney, Aella, Umba, Lendigo and many other reliable apps if you need to borrow quick cash loan from legit platforms. These apps won't shame you or send defamatory messages to you or your contact list.
We should also add that regulatory authorities in Nigeria have now concluded plan to prosecute many of these fake loan apps such as NowCash, Sokoloan, 9credit, LendCash, LCredit and many others that are still breaching the data privacy of their customers by sending threatening and blackmailing messages to them and their contacts.