For customers' data breach, defamation: 9Credit app should be blacklisted
QUICK LOAN ARENA is compiling a list of all quick loan apps on Google Play Store that are guilty of data privacy invasion of their customers and sending blackmailing and threatening messages to their contacts whenever there is an alleged loan repayment default. Our 5th on the list is 9Credit.
We understand this is in breach of their customers' data privacy which Google Play Store expects the app to adhere to.. This is also required in our local laws and it relates with any loan app or lending company operating in Nigeria.
In our list of blacklisted loan apps in Nigeria, 9Credit is gaining the 5th entry. We advise all Nigerian loan seekers to boycott the services of 9Credit loan app until it apologizes to its customers and comply with local laws and Google policies.
See the defaming message below 9Credit sent to the people in the contact list of one of its customers. These were people who never signed as guarantors nor were oarties to the loan agreement. QUICK LOAN ARENA understands this is a descent so low and quite unethical.
URGENTLY TREAT!!!This is to notify you that name; temitope victor obembe Phone: 08165032655 / 08147638922 is an INCONSIDERATE PERSON,THIS PERSON has PROVEN to be a CRUEL/HARD HEARTED DEBTOR, also we DISCOVERED that this PERSON IS A PERPECTUAL/UNREMORSEFUL DEBTOR known ALL OVER THE FINTECH COMPANY IN NIGERIA,This DEBTOR goes around COLLECTING MONEY from different fund COMPANY without repaying. This person has CURRENTLY REFUSE to REPAY the companys money(NC)and has refused pick our calls. Please contact us if you have any information about this person as soon as possible, else the company will be FORCED to take LEGAL ACTION to RECOVER THIS fund, Kindly be INFORMED that this person provided us with all your details STATING that YOU both AGREE to COLLECT this fund from US… if you are not aware of this fund you can as well call the person to delete your information on the APP NOW, because SHORTLY the person DETAILS along sides yours will be PUBLISHED in a DRASTIC MANNER. NC
See the screenshot below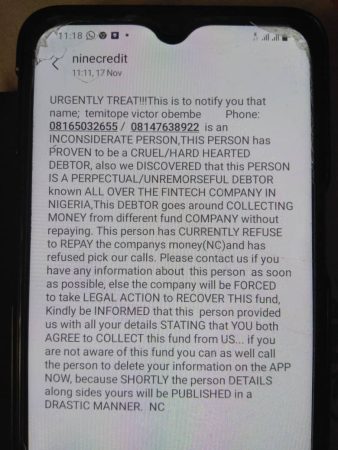 Next day 9Credit repeated similar notorious feat and sent the message below to contact list of another alleged debtor;
Phone 08024563894 Name Shola Akinyele Good day, the above named person took a fund from NC and has defaulted for several days, broken all contractual agreements that were in place when this fund was taken and has refused to repay the fund and has proven to be a person of questionable character. DISGRACE IS INEVITABLE AT THIS POINT, AND YOU BEING A FRIEND / FAMILY SHOWS THE KIND OF PERSON YOU ARE AS BIRDS OF A FEATHER FLOCK TOGETHER. YOU WERE USED AS AN EMERGENCY CONTACT. SO, CALL AND TELL THIS INDIVIDUAL to make payment now.IF YOU WERENT INFORMED WHILE THIS fund WAS TAKEN, ASK FOR YOUR DETAILS TO BE REMOVED FROM OUR WEBSITE AS YOU WERE USED AS THE EMERGENCY CONTACT.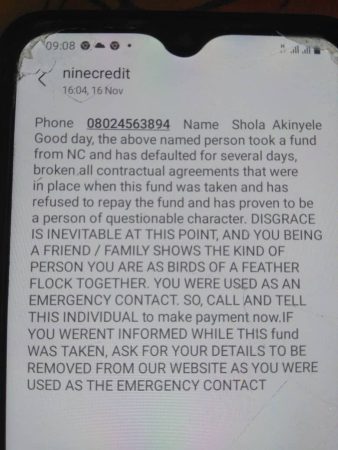 This is what Google says about data collected by apps on its Play Store:
You must be transparent in how you handle user data (e.g. information collected from or about a user, including device information). That means disclosing your app's access, collection, use and sharing of the data, and limiting the use of the data to the purposes disclosed. In addition, if your app handles personal and sensitive user data, please also refer to the additional requirements in the 'personal and sensitive user data' section below. These Google Play requirements are in addition to any requirements prescribed by applicable privacy and data protection laws (in your domiciles country).
Furthermore most of these loan apps have tenure ranging from 7- 14 days, this is in breach of Google Policy on loan apps hosted on its Play Store and contravenes local laws in Nigeria. Hear what Google has to say on loan tenure:
We do not allow apps that promote personal loans which require repayment in full in 60 days or less from the date the loan is issued (we refer to these as "short-term personal loans.
Most of the digital lending platform have turned into loan sharks terrorising Nigerians with extremely high interest rate sometimes as high as 50% for 7 days tenure and then later harassing the consumers and their contacts with malicious and defamatory words even when it's still a day to the loan expiration. This is unethical.
Finally most of the loan apps now charge illegal loan service or security fees while feigning to have low interest. This is unacceptable.
The National Information Technology Development Agency (NITDA) has also resolved to sanction and rein on loan apps and their lending platforms operating in Nigeria over these unethical practices of blackmailing and threatening consumers and their contact lists who were never parties to the loan agreement, whenever there is an alleged repayment default.
This is the link to 9Credit on Google Play Store. Nigerian consumers and quick loan seekers should boycott this app.
DATA PRIVACY BREACH: LIST OF BLACKLISTED LOAN APPS IN NIGERIA
4. 9ja Cash (Owned by Soko Lending Company Ltd)
Original content creation costs money and time.
Unauthorized use, copying and/or duplication of this content material without prior express and written permission to the publisher/owner is strictly prohibited and infringements shall be subjected to relevant copyright laws.
BECOME QUICK LOAN ARENA BUSINESS PARTNER BY DONATING TO OUR CAUSE
Register to become our business partner and donate to our CSR cause Among other things, this will entitle you to enjoy free advisory and consultancy services with our financial consortium.
Disclaimer: Quick Loan Arena is not a loan agency and we do not give out loan to anybody. We however profile and review legitimate and reputable loan agencies and seeks to educate individuals, household and small businesses about loan opportunities and fight for the cause of Nigerians who are being oppressed by loan sharks. Our intervention is to help consumers make informed lending decisions.
Speak with any of our Quick Loan Consultants for more information! Call or Whatsapp Speak with any of our Quick Loan Consultants for more information! Call or Whatsapp +234 (0) 915 382 1578.
Do remember to give us a feedback about your quick loan experience after the lending process is executed.
READ ALSO! Data Breach: Lagos Journalist blows hot, threatens to sue 9Credit for defamation
READ ALSO! Top 20 Loan Apps In Nigeria For Instant Cash!
READ ALSO! FG Launches Portal For Sale Of Homes Under National Housing Scheme (HOW TO APPLY)
READ ALSO! For customers' data breach, defamation: 9Credit app should be blacklisted
READ ALSO! CBN unveils business loans at 5% (N5m individuals, N25m corporate) for graduates, undergraduates
READ ALSO! Quick online loan scams: Top 7 ways to avoid falling victim
READ ALSO! Data Breach: EFCC, CBN, NITDA, FCCPC To Crack Down On Rogue Loan Apps
READ ALSO! CBN '100 Companies Every 100 Days' Loan Fixed At Maximum N5bn At 5%
READ ALSO! Google removes LCredit, Rapid Naira, other predatory loan apps from its Play Store
READ ALSO! How To Apply For CBN '100 Companies Every 100 Days' Project Funding
READ ALSO! Running from banks, Nigerians face crisis with quick loan sharks On Google Play
READ ALSO! EasyMoni: Stop sending threats to customers' contact list: Do your homework if you're real!
READ ALSO! Accounting software expert, Femi Adeoya, takes on small and medium scale businesses
READ ALSO! You have a job offer or you are an applicant looking for job, click here or whatsapp 0803 239 3958 to reach us
READ ALSO! How I Was Lured Into Debt Trap With N2.5m Specta Quick Loan From Sterling Bank
READ ALSO! BBNaija Dorathy Launches Lingerie Line, Says Priority Is Making Busty Women Look Good
Please follow and like us: