Small and Medium Scale Businesses, SMEs are a critical sector and the backbone of any nation's economy, especially developing countries. SMEs are also important contributors to employment, economic and export growth. In Nigeria, SMEs contribute 48% of national GDP, account for 96% of businesses and 84% of employment. Most SMEs cannot survive without loans and cannot afford the collaterals that traditional banking system requires. Hence it's important that SMEs loans without collateral in Nigeria are available to these very important sect of businesses.
10 Best Loan Apps Without ATM Card In Nigeria 2022
Despite the fluctuation and devaluation of the currency which has culminated in capital inadequacy for most SMEs in Nigeria, there are opportunities in the business environment that small businesses can explore to turn the tide.
Why SMEs Loans Without Collateral In Nigeria is Important
SMEs need loans to sustain their working capital, to invest and expand their productive capacity for better output and increased bottom line. Without the access to funds and funding which most times are through loans, small businesses run the risk of becoming stunted, unproductive and unsustainable.
In Nigeria, SMEs contribute 48% of national GDP, account for 96% of businesses and 84% of employment. According to the Nigeria Bureau of Statistics, (NBS), small and medium scale enterprises (SMEs) in Nigeria have contributed about 48% of the national GDP in the last five years.
According to the World Bank, SMEs account for the majority of businesses worldwide and are important contributors to job creation and global economic development. They represent about 90% of businesses and more than 50% of employment worldwide. Formal SMEs contribute up to 40% of national income (GDP) in emerging economies. Because of this major role, it's important that each country provides special SMEs loans without collateral for the survival of their econmies.
Best 22 Reputable Loan Apps For Instant Cash In Nigeria 2022
List Of Best 10 SMEs Loans Without Collateral In Nigeria
The following are a list of the top 10 SMEs Loans without collateral in Nigeria. Apart from specially designed for small businesses, their processes are quick, they provide instant cash, and they do not require collateral or any major documentation.
Lidya SME Loan
Stanbic SME Loan
Lendigo SME Loan
Zedvance SME Loan
GroFin SME Loan
CBN SME Loan For Graduates, Undergraduates
CBN Anchor Borrowers Programme
Sterling Specta
Wema Bank Alat for Business Quick Loan
1. Lidya SME Loan
Lidya is a USA holding financial institution that provides instant SMEs loans without collateral in Nigeria and to some other frontier and emerging markets. The company is spread across 3 continents and 5 countries which are USA, Portugal, Nigeria, Poland and Czech Republic. Lidya says it can grant instant credit between N50,000 to N30m to small businesses  in 24 hours.
Lidya SMEs loan give you the opportunity to expand your business and generate more income. Lidya provides financing based on the cashflow in your bank account and without collateral. You can access this quick online instant loan by simply signing up for growing your business to the next level. With Lidya instant online loan, you don't need to wait for your invoices to get paid in order to pay your expenses or grow your business. The online loan platform provides the option to turn every invoice into a revenue opportunity.
Top 10 Small Business Loans Without Collateral in Nigeria
Lidya says it has registered over 269,836 businesses, granted at least 44,245 quick loans. It also has 90 strategic corporate partners and has presence in 3countries.
Features of Lidya SME Loan Without Collateral In Nigeria
Businesses can obtain between N50,000 to N30,000,000 million in working capital.
All applications are online or via official mobile phone.
No colateral or physical documentation required
You can get decision in 24 hours.
How Lidya SME Loan Without Collateral works in Nigeria
To assess credit risk, Lidya SME loan uses close to 100 data points to evaluate businesses, build a credit score unique to each business, and disburse loans in 24 hours or less.
The following are the processes to access Lidya small business loans
Use your bank statements to get your loans
Upload your transaction history. Upload your data quickly and safely in our platform. Your data will be analyzed in 24 hours.
Understand your transaction data. Have a record of all your transactions that you can access online, anytime and anywhere.
Be qualified for a loan. If your business needs more working capital to grow, this is the premier option for you.
Get loans. Get access to funds immediately!
How To Apply For Lydia SME Loan Without Collateral
1. Create Account
Create and complete your profile in 5 minutes
2. Select Loan Type
Choose the most relevant option to apply for a loan
3. Get a Loan
Get financing through Lidya within 24 hours
Lidya's fintech platform, according to forbes.com lets small and medium-sized businesses (SMEs) register online for loans from $500 and get that credit within 24 hours. This process helps SMEs build a credit history for the first time.
The Nigerian lender had dispersed more than 10,000 loans to 2,000 small businesses in its home market, as of July 2019. In its first year, Lidya issued $2 million of loans growing to $10 million in year two. It is on track to become the biggest digital lender in Nigeria by the end of the year, it says.
To read more about Lidya loans, CLICK HERE
To Apply for a Lidya Business Loan CLICK HERE
2. Stanbic SME Loan
Stanbic SME Loan is a tailored made lending facility that is available to small businesses in Nigeria for expanding their productive capacity and meeting working capital in order to achieve business goals. The bank says the SME loan scheme takes 24-Hour process for eligible customers.
In this article, we examine how small and medium scale businesses, (SMEs) can access the Stanbic IBTC SME loan and have opportunity to not just expand their productive capacities but increase their working capital.
About Stanbic IBTC Bank
Stanbic IBTC Bank is a member of the Standard Bank Group, an authorized financial services and registered credit provider in Nigeria.
If you need an SME loan without collateral and zero stress, then the Stanbic IBTC SME Loan is one of your best options. The bank says with the loan scheme, "you will never lose a deal, and you can get from N50,000 and above to meet financing needs." However you may need to operate a Stanbic IBTC account to qualify.
Stanbic IBTC Bank adds that they are "committed to the continuous support and development of SMEs through targeted initiatives and products." It further advises SMEs in Nigeria to take advantage of the loan to expand their operations and grow their businesses.
Stanbic SME Loan Application Process
The application procedures for getting the Stanbic IBTC SME loan is not complicated at all. All you need to do is to start by completing a simple application form online. The form can be obtained by clicking the blue link below. After you do, you get a message like below with a form to fill
HOW TO APPLY.
Simply FILL the form in THIS LINK to apply for Stanbic IBTC SME Loan and the bank will contact you.
3. Lendigo SMEs Loan
Lendigo: You can Secure up to N300,000 – N10m business loan without collateral
Do you provide Retail and Professional services? Are you a trader of merchandise such as Electronics, Computing, Phones, Fashion and Apparel, Household Goods among others? If you are in these categories and in need of SMEs Loans without collateral in Nigeria to increase your productive capacity and sustain your working capital, then Lendigo may be able to help you out.
This is because Lendigo offers business loans from N300,000 – N10,000,000 without collateral.
Lendigo is a financial technology firm with a vision to become Nigeria's leading financial institution dedicated to small businesses (SMES Loans) through technology and innovative practices. The company prides itself as being Nigeria's No 1 SME Loan Provider.
Lendigo claims to provide easy, fast, flexible and reliable access to working capital to Nigerian SMEs according to their individual requirements and suited to their business and finance needs.
You can easily apply for a business loan on the Lendigo App at a very low interest rate, and get it credited straight into your account, even if your business is not yet registered.
To access their loan offers, you have to first register on their platform and then fill their form, CLICK HERE FOR MORE DETAILS.
4. Zedvance SME Loan
Zedvance Finance: The small business loan company that claims to provide N5million Loan in 5 hours
Zedvance Finance Limited is a consumer finance company committed to providing consumer credit in the most efficient and convenient manner while ensuring best practices. It offers loan packages that cater to all your financial needs regardless of what they may be. The company claims an eligible individual or small business can get up to N5million quick loan in 5 hours.
According to Zedvance, :"if you have a full-time job and wish to start a side business, with Zedvance you can borrow up to N5 million and repay it over a period of 18 months. No hidden charges." With Zedvance Instant Loan, you have the choice to a flexible mode of payment almost at the point of need. Depending on who you bank with, you could have the funds in your account within the hour.
Individuals and small business owners can give them a try. Once you are eligible and qualify, you may receive instant cash disbursement after your loan is approved.
To apply for Zedvance SME loan, you have to, sign up first.
5. GroFin SME Loan
Grofin loan support of $100k to $1.5m for small businesses in Nigeria and more
GroFin is a specialist, impact-driven small and medium scale businesses SMEs loans without collateral in Nigeria financier. The organization helps entrepreneurs succeed by providing them with small business loans and business support to grow their businesses.
GroFin believes that a growing SME sector which creates sustainable jobs is the most powerful driver of social and economic development that truly improves people's lives. Headquartered in Mauritius, GroFin offers financing and support to SMEs in 14 countries in Africa and the Middle East. It's supported by 34 international finance institutions, development organisations, and private funders who have committed nearly $540 million in capital to the funds. Since its inception in 2004, GroFin has invested in 761 SMEs and sustained nearly 84,500 jobs.
Features of Grofin SME Loan
GroFin support entrepreneurs and their small buisnesses with instant loan to help them thrive. It focuses on small businesses operating in education, healthcare, agri-processing, manufacturing and key services (water, energy and sanitation). GroFin believes that SMEs need more than finance to succeed. And that growing small businesses to create sustainable jobs is the most powerful driver of social and economic development that truly improves people's lives.
Categories of Small Businesses Covered by Grofin SMEs Loan Support And Eligibility
GroFin only supports and finances loan for small businesses with the following features:
Your SME or growing business operates in a country where GroFin has an office: South Africa, Nigeria, Ghana, Ivory Coast, Senegal, Uganda, Tanzania, Kenya, Rwanda, Zambia, Egypt, Iraq, Jordan or Oman.
Your business is in one of our preferred sectors: Education, Healthcare, Agri-Processing, Manufacturing, or Key Services (Energy/ Waste / Water / Recycling).
Your business is making a positive social and economic impact: e.g. creating jobs, empowering women, benefiting the environment, Sustaining Livelihoods.
You require medium-term loan capital for your business: between US$100k and US$1.5M for a loan duration of 3-8 years.
You have an established business: operating for 2-3 years and has an annual turnover of 1.5 times the loan amount. We do consider startups on a case-by-case basis.
Grofin SME Loan: How It Works
APPLY FOR FINANCE
Our investment team reviews your submitted online assessment form against our investment criteria and informs you if we are able to proceed with your application.
GET A BUSINESS CHECK-UP
If you qualify, your Investment Manager contacts you and helps complete your application by conducting an assessment of your business, highlighting key risks and opportunities to make your business investment-ready.
LOAN APPROVAL
Your application is submitted to a committee for review. Upon approval, your application will result in an offer that will be documented in a formal letter to you.
DISBURSING OF FUNDS
Upon your formal acceptance of our offer, we proceed with disbursing funds to your business.
ON-GOING BUSINESS SUPPORT
We provide you with continuous value-adding business support focusing on your business's needs. Our support is designed to enhance the success of your business while helping you implement your business plan.
GROW YOUR BUSINESS
On payment of your final installment, our formal involvement with your business ends. The final settlement is a good time to review your business plans and discuss any further finance and support needed in keeping with your future growth requirements.
HOW TO APPLY FOR GROFIN LOAN
The application for Grofin loan is done via the official website. It starts with the Pre-qualification Assessment
to make sure you're qualified for the loan.
STEP 01 – Pre-qualification Assessment
STEP 02 – Application Form
STEP 03 – Documents Check-up
STEP 04 – Approval
STEP 05 – Disbursement
To apply, go to the Grofin loan application portal.
Fill the application form with valid and verifiable information about yourself and your business.
Submit the application and wait for approval.
CONTACTS OF GROFIN 
For any in-person visits, please book an appointment by email:
lagos@grofin.com
43 Sobo Arobiodu Street, GRA Ikeja, Lagos, Nigeria
Monday-Friday: 8am to 5pm (Saturday & Sunday: Closed)
You can also send an email to the Lagos or Port Harcout GroFin customer service:
info.nigeria@grofin.com or info.portharcourt@grofin.com
One can also get to them via phone: +234 705 696 6666 or +234 909 000 1346 for Lagos office and
+234 705 295 1455 or +234 806 554 9089 for Port Harcourt office.
Send a message to GroFin Nigeria (Lagos).
6. CBN SME Loan For Graduates, Undergraduates
CBN unveils business loans at 5% (N5m individuals, N25m corporate) for graduates, undergraduates  
The Central Bank of Nigeria (CBN) as part of its policy measures to address rising youth unemployment and underemployment unveiled business loans for graduates and undergraduates of Nigerian polytechnics and universities at a single digit interest rate of 5%.
The business loans which comprises N5million for individual projects and N20million for partnership and company's projects are designated the Tertiary Institutions Entrepreneurship Scheme (TIES), and executed in partnership with Nigerian polytechnics and universities to harness the potential of graduate entrepreneurs (gradpreneurs) in Nigeria.
According to a report the CBN released on Wednesday titled: "Guidelines for the Implementation of Tertiary Institutions Entrepreneurship Scheme', (TIES), it says the broad objective of the Scheme is to enhance access to finance by undergraduates and graduates of polytechnics and universities in Nigeria with innovative entrepreneurial and technological ideas.
Eligibility Criteria for Participation
Applicants under the Scheme shall be graduates of Nigerian polytechnics and
universities with:
i. First degree certificate (BSc/HND/ or its equivalent);
ii. National Youth Service Certificate (NYSC) discharge or exemption
certificate;
iii. Certificate of Participation issued by polytechnics and universities
evidencing entrepreneurship training; and
iv. Not more than 7 years post-NYSC.
How To Apply for the SMEs Loans 
The beneficiary must apply on the dedicated online portal and provide all requisite documentation to support the application, the CBN document says.
i. Apply on the dedicated online portal and provide all requisite documentation to support the application;
ii. Present for verification original copies of submitted certificates and documents;
iii. Submit business proposal and other documentation requirements
iv. Adhere strictly to the terms and conditions of the Scheme and avoid any forms of plagiarism in the project idea;
v. Utilize the funds for the purpose for which it was granted;
vi. Present the business and its location for mapping/tagging, as well as monitoring and evaluation;
vii. Maintain accurate and up-to-date records available for inspection/verification by the CBN and Monitoring Team; and
viii. Adhere strictly to the terms and conditions of the Scheme.
TO APPLY for the SMEs loan scheme N5m (individuals) and N25m (partnerships/company) at  5% interest rate for graduates and undergraduates, CLICK HERE.
TO READ CBN FULL REPORT on the Tertiary Institutions Entrepreneurship Scheme (TIES), CLICK HERE.
To learn more about the Tertiary Institutions Entrepreneurship Scheme, CLICK HERE.
7. CBN Anchor Borrowers Programme
The Central Bank of Nigeria (CBN) in line with its developmental function established the Anchor Borrowers Programme (ABP). The Programme which was launched by President Muhammadu Buhari (GCFR) on November 17, 2015 is intended to create a linkage between anchor companies involved in the processing and small holder farmers (SHFs) of the required key agricultural commodities.
The programme thrust of the ABP is provision of farm inputs in kind and cash (for farm labour) to small holder farmers to boost production of these commodities, stabilize inputs supply to agro processors and address the country's negative balance of payments on food. At harvest, the SHF supplies his/her produce to the Agro-processor (Anchor) who pays the cash equivalent to the farmer's account.
Top 15 Fake Loan Apps In Nigeria 2022
Objectives of the CBN Anchor Borrowers Programme
The broad objective of the ABP is to create economic linkage between smallholder farmers and reputable large-scale processors with a view to increasing agricultural output and significantly improving capacity utilization of processors.
Targeted Beneficiaries of the CBN Anchor Borrowers Programme
The loan shall be targeted at smallholder farmers engaged in the production of identified commodities across the country. The Farmers should be in groups/cooperative(s) of between 5 and 20 for ease of administration.
Identified Agricultural Commodities of the CBN Anchor Borrowers Programme
The targeted commodities of comparative advantage to the State shall include but not limited to: 3  Cereals (Rice, Maize, wheat etc.) Cotton Roots and Tubers (Cassava, Potatoes, Yam, Ginger etc.)  Sugarcane Tree crops (Oil palm, Cocoa, Rubber etc.) Legumes (Soybean, Sesame seed, Cowpea etc.) Tomato  Livestock (Fish, Poultry, Ruminants etc.) Any other commodity that will be introduced by the CBN from time to time.
The Loan Amount
The Fund shall be provided from the N220 billion Micro, Small and Medium Enterprises Development Fund (MSMEDF). Loan amount for each SHF shall be arrived upon from the economics of production agreed with stakeholders.
Interest Rate
Interest rate under the ABP shall be guided by the rate on the N220 billion MSMEDF, which is currently at 9% p.a (all inclusive, pre and post disbursement). The PFIs shall access at 2% from the CBN and lend at a maximum of 9% p.a. 1.10. Tenor The tenor of loans under the ABP shall be the gestation period of the identified commodities.
To apply for the CBN Anchor Borrowers Programme, (ABP), CLICK HERE.
In Septrember 2021, the Anchor Borrowers Programme was revised. To read details of the updated copy and application procedures, CLICK HERE.
8. Sterling Specta
SMEs loans for small businesses take 5 minutes — Sterling Specta
Specta is an online lending platform that claims to give loans of up to 5 Million in one transaction all within 5 minutes! According to the organization, you don't need any collateral, no paperwork, no guarantors and no visit to any office. Digital lending from Specta are available to take care of urgent personal and business needs.
Specta claims that once application is complete, scoring is instant, and disbursement can be done in less than 5 Minutes. Specta is opened to everyone irrespective of occupation and bank.
Specta has different packages but the two relevant to this article are:
Non-Salaried Individuals – You can access a loan if you are self-employed, a business owner, a professional, a trader etc., with accounts in any other bank or with Sterling Bank.
Specta4Business – Boost sales with Specta by signing up to start receiving payments from customers with Specta spending limits. You can also get up to N2M to start or grow your business.
To get more information about Sterling Specta SME loan , CLICK HERE.
To Apply, CLICK HERE.
9. Smart Business Loan (SBL)
Smart Business Loan (SBL) is a product of Standard Chartered Bank and it provides you access to credit of up to N20million for your SMEs loans without collateral in Nigeria.
Benefits
No Collateral Required
Available to both Existing and New Clients (no waiting period)
The repayment plan can be structured to suit your business and flexible for up to 2 years
Easy access to the loan through our digital application forms and automated repayment process.
If you need additional financing during your loan tenor, we can offer you a top up after 12 months if regular repayments are made.
To apply for Smart Business Loan, CLICK HERE.
10. Wema Bank ALAT for Business Quick Loan
Wema Bank unveils Quick Loan of N100,000 to N10m for small and medium scale businesses
Wema Bank's digital platform, Quick Loan is set up to assist entrepreneurs, startups and SMEs customers fund their businesses.
The digital lending product hosted on ALAT for Business, its corporate internet banking platform, will help small and medium-scale enterprises (SMEs) and corporate customers access quick loans between the range of N100,000 and N10 million.
Quick Loan, the bank claims, will be accessed virtually from any location without the need to locate a physical branch. And it will only be available for ALAT for Business customers. This implies that to access this SME Loan, you must be or ready to become a Wema Bank Customer.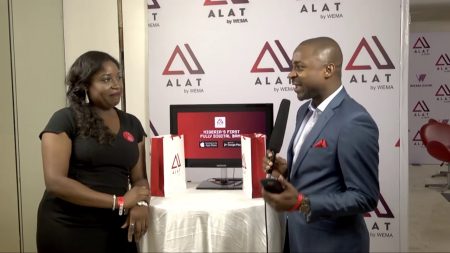 The ALAT for Business Quick Loan is open to new and existing customers registered on the ALAT for Business platform and does not require cumbersome paperwork.
ALAT for Business is the internet banking platform designed to help corporate customers and entrepreneurs manage their business accounts optimally and stay on top of their finances from anywhere and anytime.
It's a low-interest quick loan platform by the deposit money bank, for salary earners whether such person is an existing customer or not and has been in operation before this additional feature for businesses was launched.
Frequently Asked Questions (FAQs)
1. Which is the most reliable loan app in Nigeria?
Carbon. Carbon is our first in the list of the 5 best digital lending apps in Nigeria. The loan platform claims to give up to N1m unsecured credit. Carbon, formerly known as Paylater, gives instant loans to its customers and you do not require any collateral, guarantor or documentation to access its loans.
At your first try, you may not be able to access big funds, you start by borrowing small, and paying back as at when due, then you can have      to bigger funds. The loan platform is available 24/7. You can apply on weekends and holidays and get instant access to loan credited to your bank account.
5 Best Digital Lending Apps In Nugeria
2. Is Palmcredit approved by CBN?
Palmcredit is owned and managed by Newedge Finance Limited (RC No: 1585793) and it is fully licensed by the Central Bank of Nigeria (CBN) to operate as a finance company in Nigeria. Palmcredit is CBN-approved.
3. Which app gives loan faster?
QuickCredit. QuickCredit, our second in the list of the 5 best digital lending apps in Nigeria and it gives loan up to N100,000 instantly and fast with no paperwork.
QuickCredit is a simple, technologically deployed digital lending app in Nigeria that provides micro loans for short- terms duration to help meet and cover unexpected emergency expenses and urgent cash needs.
With QuickCredit, getting loans is a simplified process and you can apply for up to ₦100,000 with loan tenors of up to 90days and have your money sent straight to your bank account in minutes.
QuickCredit super-fast loan solution comes with no paperwork and no delay to meet your urgent financial needs within 24 hours.
4. Where can I borrow money urgently in Nigeria?
FairMoney
FairMoney is the third in our list of 5 best digital lending apps in Nigeria for quick, seamless instant loans. Its procedures and excellent customer service are of great benefits.
5 Best Digital Lending Apps In Nugeria
This platform gives loans ranging between ₦1,500 to ₦1,000,000 with repayment periods from 61 days to 18 months at monthly interest rates that range from 2.5% to 30% (APRs from 30% to 260%)
5. Where can I borrow money immediately?
Branch loan app. This digital lender which is the fourth position in our list of 5 best digital lending apps in Nigeria makes it easy for people in Nigeria to get quick and instant access to loan immediately up to ₦500,000, and to transfer money for free, and enjoy investment yields of 20% per annum.
SAGE 50 ACCOUNTING SOFTWARE: 8 KEY BENEFITS FOR YOUR BUSINESS
To download the app from Google Play Store and apply for loan, CLICK HERE.
Please follow and like us: