This is the height it could get to, for one of the fake loan apps in Nigeria, called Aimloan to refer to one of its esteemed and loyal customers who have been dutifully paying back his own, as a kidnapper, child rapist and ritualist. This is just for a paltry loan that was overdue for a day or two.
Public Shaming By Aimloan And Other Loan Apps In Nigeria Unaccptable And Grossly Unethetical And Condemnable
This is most terrible, unethical, unacceptable. This type of evil and disturbing practice by Aimloan and many other loan apps in Nigeria that continue to demean and threaten their customers should never be allowed to continue.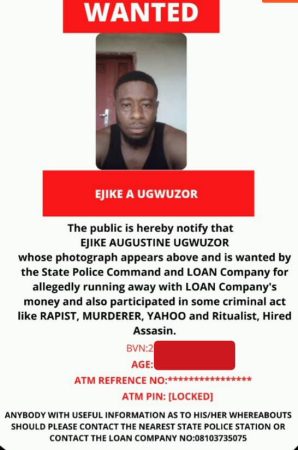 QUICK LOAN ARENA Urges Google To Ban Aimloan Immediately From Its Play Store
QUICK LOAN ARENA quickly call on Google to immediately ban Aimloan from its Play Store and permanently delist the violating loan app and prevent a re-entry in the future.
QUICK LOAN ARENA Urges FCCPC, CBN, Others To Shut Down Operations Of Aimloan Immediately
We also call on Nigeria's regulatory authorities, Central Bank of Nigeria (CBN) and especially the Federal Competition and Consumer Protection Commission (FCCPC) to immediately rein on Aimloan, shut down their activities and operations and rein on other terrible and fraudulent loan apps in Nigeria that are still daily perpetrating all sort of heinous crimes against their customers and borrowers.
Loan Sharks And Illegal Lending Platforms In Nigeria Continue To Terrorise, Threaten And Defame Nigerians After FCCPC Ban
Even after the FCCPC reportedly shut down operations of many of the defaulting loan sharks and
frozed the accounts of 30 loan apps in Nigeria as we reported on March 30th this year, and further reported frozed bank accounts belonging to another 50 loan apps in Nigeria, the sharks in this lending platform still continue to public shame its customers and borrowers. FCCPC and other regulatory authorities should unmask these evil lending platforms and prosecute them for gross violation of customer data privacy and defamation of Nigerians.
Please read carefully the account of a victim who cried out to QUICK LOAN ARENA yesterday. Many more are still lamenting and recounting their ordeal to us.
Please I'm contacting you with regards to my recent experience with an online loan company that I'm having issues with. They are out defame my character and rubbish my name just for asking them to be a little patient with me over the money I owe them. I never denied owing them and I've not changed my location for once… I'm still at the same address I gave them while taking the loan.
They were the ones who approached and enticed me into borrowing from them… I didn't know about them. They contacted me through WhatsApp, direct text messages and phone calls. I'm still trying to fathom how they got my number up til today.
They started acting up exactly on the same day the loan was due, on the 25th of this month. Meanwhile, I've done business with them and paid two days before the due date on 3 different occasions and just because I couldn't meet up this time around they started sending false messages to my contacts list which includes friends, relatives and business partners.
All these happening after 2 days of loan expiration. Currently I'm ashamed of myself, they've disgraced me over a loan I'm still going to pay. If not for the fact that all the people they sent those things to know me very well and trust me it would have been a different case. I gave them every single details they asked for when I was requesting for the loan.
So there's nothing to hide… I'm open like a book in this case. I've been entrusted with 20 million once in my life by someone who barely knew me and I didn't run away with the money, how come I'll be running away with 50 thousand naira?
I have been borrowing and paying two days before the due date on 3 different occasions. Just that the business I invested this last one is yet to pay but will definitely pay before next week runs out. I've labeled a kidnapper, child rapist, murderer, pedophile, fraudster, ritualist and hired assasin all in just three days of loan expiration.