QUICK LOAN ARENA is compiling a list of all quick loan apps on Google Play Store that are invading the data privacy of their customers and sending blackmailing and threatening messages to their contacts whenever there is an alleged loan repayment default. Our first on the list is NairaPlus.
We understand this is in breach of their customers' data privacy policy which the different loan apps vowed to adhere to during registration and hosting on Google Play Store. This is also required by local laws for any loan app or lending company operating in Nigeria.
Data breach: NairaPlus should be boycotted like a plague
See the defaming message below NairaPlus sent to one of its customer a day to loan repayment due.
It's obvious you're fraudulent about your NAIRAPLUS LOAN, please be inform that if no payment is received BETWEEN NOW NOW TOMORROW 9AM, we will have no option than to reach-out all your contacts, relatives, business associate,work place and your neighbors, your name tag wanted CRIMINAL on run with company money. please PAY your DEBT TO AVOID DISGRACE WE WILL GO FORWARD IN ATTACHING YOUR PICTURE ALONG WITH A FRAUD,YOU HAVE TILL 9AM TOMORROW.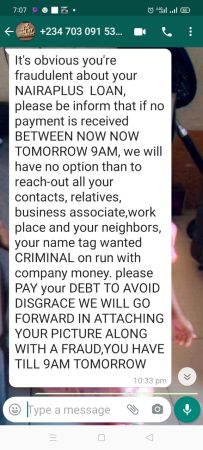 This is what Google says about data collected by apps on its Play Store:
You must be transparent in how you handle user data (e.g. information collected from or about a user, including device information). That means disclosing your app's access, collection, use and sharing of the data, and limiting the use of the data to the purposes disclosed. In addition, if your app handles personal and sensitive user data, please also refer to the additional requirements in the 'personal and sensitive user data' section below. These Google Play requirements are in addition to any requirements prescribed by applicable privacy and data protection laws (in your domiciles country).
Furthermore most of these loan apps have tenure ranging from 7- 14 days, this is in breach of Google Policy on loan apps hosted on its Play Store and contravenes local laws in Nigeria. Hear what Google has to say on loan tenure:
We do not allow apps that promote personal loans which require repayment in full in 60 days or less from the date the loan is issued (we refer to these as "short-term personal loans.
Most of the digital lending platform have turned into loan sharks terrorising Nigerians with extremely high interest rate sometimes as high as 50% for 7 days tenure and then later harassing the consumers and their contacts with malicious and defamatory words even when it's still a day to the loan expiration. This is unethical.
Finally most of the loan apps now charge illegal loan service fees while feigning to have low interest. This is unacceptable.