MTN app: Your 30GB 'more data promo' at N6k is a fraud — Customer
An MTN customer has cried out to QUICK LOAN ARENA how the communications giant just allegedly defrauded him of his N6,000 in the guise of a 30GB for 6k promo advertised in one of the short message service (SMS) of the giant telecom app.
The alleged victim, a post paid customer who does not want his name on print complained to this medium that he has been using his post paid line for over 10 years and has been dutifully patronising the telecom company.
He said on Saturday he saw the advert for 30GB at N6k sent to him in form of a SMS message and he jumped to it, not realizing it was going to be a tale of woe, fraud and pains.
He said after purchasing it, the data started flying like air and started being consumed very fast, and within 24 hours, at least 5GB has been been "used up" something which normally takes him about one week to use. In 44 hours, 10 GB of data has been allegedly used up. He told QUICK LOAN ARENA that he complained to MTN customer service but they said they can do nothing about it, that their system is down.
Then he decided to share data with some of his friends, which he normally does. To his dismay and chagrin, the network returned a message that he does not have active data! At this point, he still has almost 20GB of data left.
This morning he said he called MTN customer service again to report the situation and why he couldn't share his data. Alas the customer service personnel told him it is because he was a post paid customer. The aggrieved customer said he has been buying and sharing data to prepaid and post paid customers alike before now uisng his post paid line. And wondered what has suddenly changed. However he added that the customer support staff of MTN could not provide any veritable reason.
Now the data is vanishing very fast and at the same time cannot share with anyone. We think this is unacceptable by MTN network. We saw screenshot of the sms messages, how the data got so low within a few days and how the MTN network sent a message that the customer doesn't have data even when he had almost 18GB.
Some customers who also purchased different categories of MTN data within this period has also complained to QUICK LOAN ARENA about the speed at which the their data is been depleted. One of the customer, a lady who lives in Ikeja told us, I usually purchase N1,000 for 1.5GB for one month from MTN. And it always last for one month. However the one I purchased yesterday is just about 200MB left.. this is just less than 2 days. MTN is a fraud, they must do something to rectify this anomaly or data depletion.
SEE THE SMS MESSAGE ADVERTISING THE MTN MORE DATA PROMO BELOW:
Yello! You have N0.00 left from your monthly credit limit of N10000.00. Your personal top up bal. is N1332.48. MOD/App Recharge Bonus balance N400.00 expires 30-12-2021 13:48:42. Data Balance: Daily: 3.87MB; expires 26-12-2021. 2-day Plan: 94.45MB; expires 26-12-2021. Free incoming minutes: You have used 0.00 mins from your free incoming mins. You have 300.00 mins remaining, valid till 06-01-2022. MORE DATA! Get 30GB at N6000. Dial *131*402#. Val/30days.
See screenshots of the previous customer who purchased 30GB but cannot share data with anybody.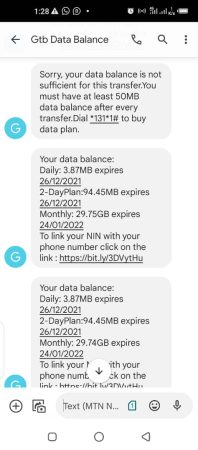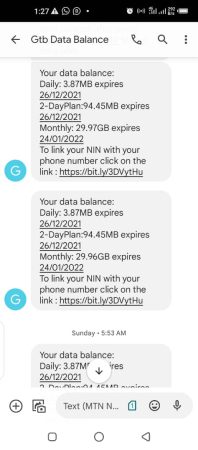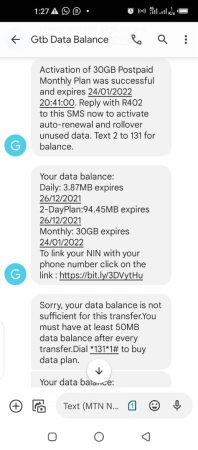 START EARNING MONEY BY BECOMING A CITIZEN JOURNALIST AT QLA COMMUNITY PAGE
QLA Community is set up to create a community of people passionate about sanitizing the digital lending space, ensuring loan apps play according to the rules and respect Nigerian consumers, and stop abusing and sending derogatory messages to them.
QLA Community Membership benefits
1. Register as a member and create a digital loan relevant post of not less than 400 words, you get N500.
2. Refer someone to register and make a post, you get N250. The person gets N250.
3. For each additional post you make, you get N250.
4. For each reasonable comments you make on other people's posts, you get N50.
5. Payments are made daily through direct transfer at the end of the day by 12 midnight.
What are you waiting for? Join Quick Loan Arena Community, Create a post, refer others and start earning real money 💰💰💰 into your account!
After you do any of the above, at the end of the day, send a message to our business whatsapp line (0915 382 1578) with the link of your post and account details to receive your earning.
Sign up and start earning.
BECOME QUICK LOAN ARENA BUSINESS PARTNER BY DONATING TO OUR CAUSE
Original content creation costs a lot of money and time. You can support our objective and social intervention by donating to this cause with this link>>>>>Register to become our business partner and donate to our CSR cause. Among other things, this will make sure we continue in this cause and additionally entitle you to enjoy free advisory and consultancy services with our financial consortium.
Disclaimer: Quick Loan Arena is not a loan agency and we do not give out loan to anybody. We however profile and review legitimate and reputable loan agencies and seeks to educate individuals, household and small businesses about loan opportunities and fight for the cause of Nigerian consumers who are daily being oppressed by loan sharks. Our intervention is to help prospective and subsisting loan customers make informed lending decisions.
You can speak with any of our Loan Consultants for more information! Call or Whatsapp +234 (0) 915 382 1578.
Do remember to give us a feedback about your loan experience after the lending process is executed.
READ ALSO! Data Breach: Lagos Journalist blows hot, threatens to sue 9Credit for defamation
READ ALSO! Top 20 Loan Apps In Nigeria For Instant Cash!
READ ALSO! FG Launches Portal For Sale Of Homes Under National Housing Scheme (HOW TO APPLY)
READ ALSO! For customers' data breach, defamation: 9Credit app should be blacklisted
READ ALSO! CBN unveils business loans at 5% (N5m individuals, N25m corporate) for graduates, undergraduates
READ ALSO! Quick online loan scams: Top 7 ways to avoid falling victim
READ ALSO! Data Breach: EFCC, CBN, NITDA, FCCPC To Crack Down On Rogue Loan Apps
READ ALSO! CBN '100 Companies Every 100 Days' Loan Fixed At Maximum N5bn At 5%
READ ALSO! Google removes LCredit, Rapid Naira, other predatory loan apps from its Play Store
READ ALSO! How To Apply For CBN '100 Companies Every 100 Days' Project Funding
READ ALSO! Running from banks, Nigerians face crisis with quick loan sharks On Google Play
READ ALSO! EasyMoni: Stop sending threats to customers' contact list: Do your homework if you're real!
READ ALSO! Accounting software expert, Femi Adeoya, takes on small and medium scale businesses
READ ALSO! You have a job offer or you are an applicant looking for job, click here or whatsapp 0803 239 3958 to reach us
READ ALSO! How I Was Lured Into Debt Trap With N2.5m Specta Quick Loan From Sterling Bank
READ ALSO! BBNaija Dorathy Launches Lingerie Line, Says Priority Is Making Busty Women Look Good
Please follow and like us: