PennyTree Inc. unveils digital lifestyle app, first of its kind in Africa
PennyTree, an app that allows users to integrate savings habits with their lifestyle, and that helps to reinforce the fact that lifestyle and finance are not mutually exclusive has been launched in Nigeria.
The unique app, using Penn Rules as its unique selling point, enable users to be able to save as they earn, save as they spend, save as they live and save as they interact in the digital village without second guessing.
Nigerian fintech Startup launches PennyTree – a gamified digital lifestyle platform using AI features with a mission to take the savings culture a notch further with PENN RULES.
According to PennyTree's Co-Founder/President, Ayo Ogunlowo, "As the world becomes more complex with different societal standards and peer pressure, it is important to build financial governance in a way that people do not get worried about missing out financial milestones through lifestyle friendly features such as "Hey PennyTree, get me an Uber to the office" – yes, you get the Uber and PennyTree automatically saves as you ride to the office. This is because you already told PennyTree to do so. That's one of the many cool parts."

The gamified digital lifestyle platform brings ease to everything finance by building an ecosystem that integrates financial well being with the lifestyle of its users. The idea to build a gamified digital financial lifestyle product was born out of the zeal to democratize the way people save by making it a part of their lifestyle.
PennyTree enters the Nigerian market with existing competitors such as PiggyVest, but with a first of its kind product in Africa called Penn Rules and other features such as bills payment, wallet transfer, target savings and personal vault . The brand's unique selling proposition of a unique user experience through gamification, wealth building tactics through financial discipline with good interest rates for compliant users to grow their money, promises to place it in a fresh league of its own in no time.
Penn Rules allows users to integrate savings habits with their lifestyle, thereby, demonstrating that lifestyle and finance are not mutually exclusive. With Penn Rules, users are able to save as they earn, save as they spend, save as they live and save as they interact in the digital village without second guessing.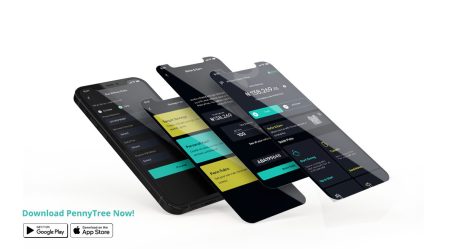 "We are currently at a level where savings and wealth building are characterised by setting debit reminders and locking funds away in digital vaults. We are making this more fun and enjoyable by building an affinitive ecosystem; creating a clan of financially savvy customers who would automate wealth as they live their lives", Ayo said.
On safety of funds and cyberattacks, Ayo revealed that PennyTree is in partnership with reliable and trusted platforms such as Flutterwave, Verifyme and Africa's Talking to leverage their technology. "We have partnered with PCIDSS level 1 compliant payment processor for security of funds and all our business partners are regulated in their respective industries. We also have a strategic partnership which avails us an Microfinance licence as a savings and collections company".
While the application is now available on the iOS/Playstore for download, PennyTree launches in a controlled format. This is to ensure that early adopters experience the gamified digital lifestyle platform in its early stage (Minimum Viable Product), giving feedback while continuously improving. "This is in a bid to ensure we understand our customers, implement feedback, roll out new features and scale our architecture to accommodate a bigger customer base," Ayo said.
Download PennyTree for iOS from Apple Store or for Android from Google Play Store.
You can also visit the PennyTree website for more information.
Has any loan app sent you, your family or your contact list defaming and threatening messages before? Simply self publish a report of the incident anonymously on our new QLA COMMUNITY PAGE. Simply register and post your complaint and see it go public.
The loan app could be blacklisted from Google in a matter of days.
Unauthorized use, copying and/or duplication of this content material without prior express and written permission to the publisher/owner is strictly prohibited and infringements shall be subjected to relevant copyright laws.
BECOME QUICK LOAN ARENA BUSINESS PARTNER BY DONATING TO OUR CAUSE
Original content creation costs a lot of money and time. You can support our objective and social intervention by donating to this cause with this link>>>>>Register to become our business partner and donate to our CSR cause. Among other things, this will make sure we continue in this cause and additionally entitle you to enjoy free advisory and consultancy services with our financial consortium.
Disclaimer: Quick Loan Arena is not a loan agency and we do not give out loan to anybody. We however profile and review legitimate and reputable loan agencies and seeks to educate individuals, household and small businesses about loan opportunities and fight for the cause of Nigerian consumers who are daily being oppressed by loan sharks. Our intervention is to help prospective and subsisting loan customers make informed lending decisions.
You can speak with any of our Loan Consultants for more information! Call or Whatsapp +234 (0) 915 382 1578.
Do remember to give us a feedback about your loan experience after the lending process is executed.
READ ALSO! Data Breach: Lagos Journalist blows hot, threatens to sue 9Credit for defamation
READ ALSO! Top 20 Loan Apps In Nigeria For Instant Cash!
READ ALSO! FG Launches Portal For Sale Of Homes Under National Housing Scheme (HOW TO APPLY)
READ ALSO! For customers' data breach, defamation: 9Credit app should be blacklisted
READ ALSO! CBN unveils business loans at 5% (N5m individuals, N25m corporate) for graduates, undergraduates
READ ALSO! Quick online loan scams: Top 7 ways to avoid falling victim
READ ALSO! Data Breach: EFCC, CBN, NITDA, FCCPC To Crack Down On Rogue Loan Apps
READ ALSO! CBN '100 Companies Every 100 Days' Loan Fixed At Maximum N5bn At 5%
READ ALSO! Google removes LCredit, Rapid Naira, other predatory loan apps from its Play Store
READ ALSO! How To Apply For CBN '100 Companies Every 100 Days' Project Funding
READ ALSO! Running from banks, Nigerians face crisis with quick loan sharks On Google Play
READ ALSO! EasyMoni: Stop sending threats to customers' contact list: Do your homework if you're real!
READ ALSO! Accounting software expert, Femi Adeoya, takes on small and medium scale businesses
READ ALSO! You have a job offer or you are an applicant looking for job, click here or whatsapp 0803 239 3958 to reach us
READ ALSO! How I Was Lured Into Debt Trap With N2.5m Specta Quick Loan From Sterling Bank
READ ALSO! BBNaija Dorathy Launches Lingerie Line, Says Priority Is Making Busty Women Look Good
Please follow and like us: