Debt recovery agents of loan apps in Nigeria have continued to shame defaulting borrowers against the nation's cyber laws, while the lending companies charge borrowers high-interest rates, constitute themselves into loan sharks and scandalously share pictures of loan defaulters in Nigeria, this special report by QUICK LOAN ARENA has shown.
According to an online medium, the International Centre for Investigative Reporting (ICIR), the digital loan apps mislead borrowers by posting lower interest rates and longer loan tenure on the Google Play Store but borrowers saw the loan apps raised interest rates by more than 50 per cent. The interest rates can be as high as 75 per cent to 395 per cent per year. When these estrangled borrowers are unable to repay their loan, these loan sharks start threatening them and sending defamatory and maligning messages to the public.
The practice of public shaming online debtors and sharing pictures of loan defaulters in Nigeria across social media and with their contacts is an unethical one that began with the digital evolution and advent of fintechs across the nation. QUICK LOAN ARENA has published several articles against this illegal practice by fake loan apps in Nigeria.
The ability of securing loans within minutes just after a few clicks in digital lending apps, and particularly without collateral made loan apps a darling of many people. What the borrowers did not know, however, was that the hundreds or thousands of contacts (as the case may be) on their mobile phones, was the ultimate collateral.
The numbers stored on their phones and accessed by the loan apps, were the lenders' insurance against any inability to repay. In essence, their reputation and dignity or whatever was to be left of it was to be used in guaranteeing repayment of loans. And the platforms go as bad as sharing pictures of loan defaulters in Nigeria, exposing their BVN and vital banking details to the public.
QUICK LOAN ARENA several reportage have revealed many culprits loan apps that share pictures of loan defaulters in Nigeria. Some of those involved in this heinous practice include the following:
9credit
LionCash
Nkash
ForNaira
CycleCash
Cashrain
Mikoloan
Supercash
Xcredit
ICoin
PalmCredit
CashLion
GoCash
EasyCredit
Easi Moni
KashKash
Speedy Choice
BorrowNow
FastMoney
GetCash
Gotocash
Sokoloan
AngelLoan
LCredit,
9credit
Nkash
ForNaira
CycleCash
Cashrain
Mikoloan
Supercash
Xcredit
ICoin
PalmCredit
Borrowers, Victims, Others Recount Tortuous Experiences Of Loan Companies Sharing Pictures Of Loan Defaulters In Nigeria
Loan apps on the Google Play Store that offer short-term loans are mandated by Google policy rules to give borrowers no fewer than 60 days from the date of issue to repay any loan. The internet giant forbids a loan app sharing pictures of loan defaulters in Nigeria or anywhere else. Still the digital lenders persist in this unethical practice. Loan recovery agents have been declaring defaulters dead, calling them child rapist, paedophiles, terrorists and all sort of unprintable names. They also circulate the defamatory messages to their family, friends and contacts.
"It is not a good experience," said Jane, who defaulted on a loan. After the lender reached out to her phone contacts, to console herself, she said in a mixture of Pidgin and English; "Who no dey borrow? Even Nigeria dey borrow, it is a normal thing. But they should have focused on me paying their money and not reaching out to my contacts." While she may have been humiliated beyond her imaginations, the psychological impact was a feeling of nothing else to lose.
A debt collector identified as Tobilola who works for LCredit with first-hand knowledge of their operations was quoted by The ICIR that the recovery agents are split into five teams with a team leader assigned to each. The teams are headed by a team leader who assigns customers to the debt collectors based on the duration of time they have defaulted on their loans.
"We are divided into five groups. Most debt collectors prefer the first to the third team because their focus is on short-term overdue loans, which are easier to retrieve than long-term loans.
"We are assigned 400 customers per week to each debt collector at the call centre, and they don't care whatever you do to recover overdue loans from customers," he said.
There is no official number of how many loan firms exist in Nigeria; however, debt collection is a critical part of their operations.
The agents get a weekly bonus of three per cent of the total amount they recover if they meet their weekly target.
The monthly salary of a debt collection agent at LCredit is N50,000, while the top three performing agents for the week receive between N10,000 to N15,000 as an incentive.
He said loan defaulters of LCredits often asked for more time to escape the constant harassment, but they would continue anyway with the stringent unethical loan recovery method with eyes on the bonus.
"The team leaders always threaten to sack us if we don't meet the target, and when they verbally abuse us, we tend to transfer the aggression on the customers using any means possible to recover the company's money," he said.
"Shame! Shame! Shame!" as may be recalled by Game of Thrones fans, was the chant as Cersei, the Queen Mother, was paraded through the fictional town of King's Landing, as atonement for her 'sins'. The same can be replayed, when hundreds or thousands of numbers on a person's phone are contacted, all in a bid to shame a borrower into loan repayment.
"Christmas is over, if you know you borrowed money from any digital lending App, biko (i.e. please) go and pay back. I don't want to receive unnecessary messages because of you. Walahi, I go carry them come your house," wrote Collins Nnabuife on his Facebook page, intended as a joke but also a portrayal of the current reality many live through. Not only for those who have borrowed, but their phone contacts who are harassed with threatening messages, even when they were never used as guarantors for the loan.
With all the enforcement and clampdown by Nigeria's regualtory authorities and policy enforcement by Google Play Store where these offending apps are hosted, the platforms are so daring and continue to publicly disgrace and harass and threaten their customers and share pictures of loan defaulters in Nigeria.
Some of such pictures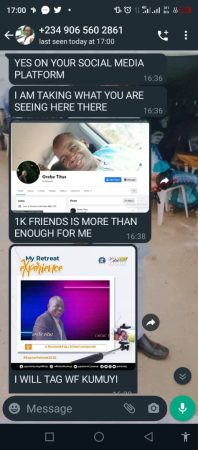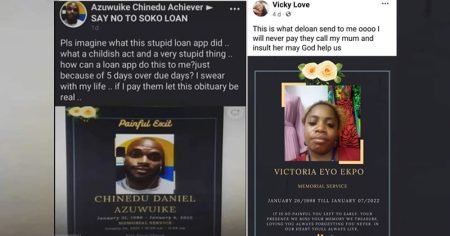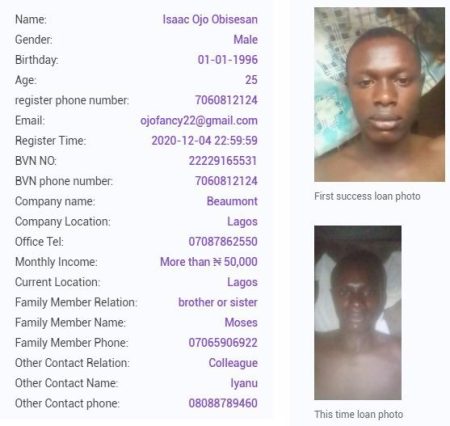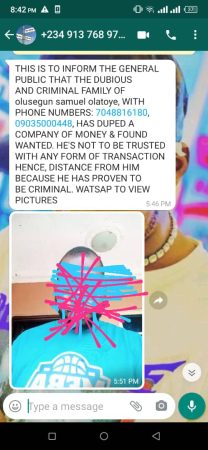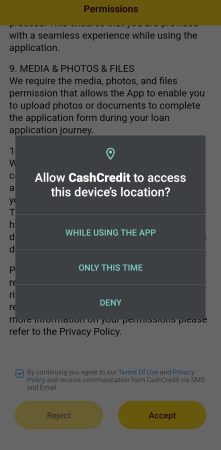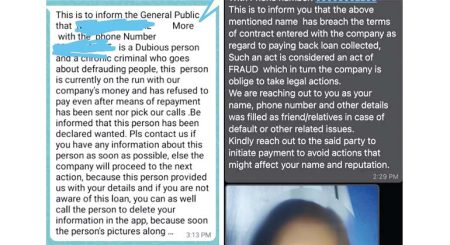 Outrageous Interests By Loan Sharks In Nigeria, Deception, Tricks
While Nigerians have been quick to embrace digital loan apps, their interests are at sky-high rates, ICIR medium says.
Loan apps listed on the Google Play Store offering short-term loans are mandated by Google policy rules to give borrowers no fewer than 60 days from the date of issue to repay any loan.
The three loan apps owned by Rock Financials claim to give users at least 60 days to repay their loans. In reality, the app users are offered one week to pay back their loans against Google policy rules.
According to its advert on the Play Store, Rock Financials Limited charges a maximum interest rate of 18 per cent.
Yet the company's claim is outrightly false. Most of the loan apps in Nigeria and these ones charge as much as 40 to 100 per cent as interest.  This deception misleads customers who download its loan apps from the Play Store.
On the Google Play Store, a victim, who identified himself as Olatokunbo Folayan, commented on AngelLoan. He took a loan of N26,500 and was asked to pay N37,500 in seven days.
"I won't advise anyone to (take their loans), Play Store should check all the people they allow on their platform, govt should ban such app," he said.
The interest rate Folayan was charged on his loan was 42 per cent. If he were charged the 0.05 per cent daily interest rate as advertised on the Play Store, then Folayan would have paid a total of N26,592 instead of the N37,500.
Another user Mohammed Idayat borrowed N30,000 from AngelLoan and paid N44,000, which included interest a week later. He was charged an interest of 47 per cent.
"If a customer is unable to pay early (AngelLoan), they abuse and rain curses as if they are God. Will not advise anyone to go for this loan app if you don't want to be ruined," he said.
Some loan apps offer users false information on their interest rates and loan repayment plan, thereby breaching the Google Play Store policy.
The interest rate for an average commercial bank loan in Nigeria is 24 per cent each year. However, loan apps interest rates are between 75 per cent and 395 per cent per year.
A study by Hinderberg says OPay, a loan app in Nigeria, falsely claims to give a maximum interest rate of 24 per cent on every loan but charge borrowers 438 per cent as interest. Late borrowers pay as high as 876 per cent.
Despite, their non-compliance with Nigerian financial laws and Google Play's Developer Policy, by lying to customers about their repayment tenure and interest rates, they still operate on the Google app.