Quick Naira loan app claims to be one of the evolving instant lending platforms to borrow money from in Nigeria but QUICK LOAN ARENA findings have revealed it is a fake loan app and has been banned and taken down from Google Play Store.
Quick Naira platform has gotten over 100,000 downloads within the few period it was unveiled before its ban. The website encourages customers and borrowers to give any negative or unethical response behavior or harassment from their service offering for an update of the review. See a user feedback sent to this writer below:
Quick Naira is rubbish and a scam loan app. You are misleading people. That Quick Naira has given a lot of people depression and frustration. They have damaged lives. Please stop writing about them. Only those who want to commit suicide or kill members of their family should take a loan from them. Stop misleading people oo…… Oyinade Olanipekun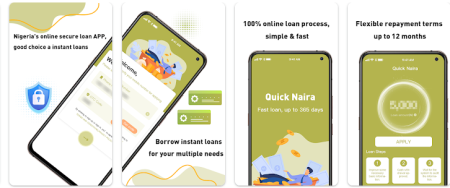 Quick Naira claims to provide:
1. Loan amount: ₦1,000 to ₦50,000
2. Loan term: the shortest term is 6 months, the longest is 12 months
3. Daily interest rate: 0.067%
4. Monthly interest rate: 2.038%
4. Annual interest rate (APR): 24.46%
5. Service fee: Loan amount 0.5%
However our investigations show all these claims are false. It shames its customers and send threatening messages to their contact list.
To apply for a loan, Quick Naira claims you should follow several steps:
1. Download Quick Naira from Google Play.
2. Create your account with your phone number and log in.
3. Fill in the information to complete the loan process
4. Verify the information and credit risk profile.
5. Apply for the loan
6. Receive your loan into your bank account.
7. Repayment at any time before the due date.
Equally these claims are false. The app has no legit loan to offer anyone.
Quick Naira: Data Privacy, Safety and Security claims are all false
When you download the APP, we will ask your permission to use the data on your phone (including your SMS and other permission) to verify your identity and create a credit score. We take privacy very seriously and will never share your personal information without your direct permission.
Nothing could be further from the truth as victims accuse this lending app of sending threat messages to them and their contacts.