Zenith bank mobile app, according to the financial institution can transform your smartphone into a powerful banking tool. With it, you can manage your finances; make card settlements, transfer funds and make payments using QR (Quick Response codes). The bank claims with the app, you can make your life experiences simpler and stay in control.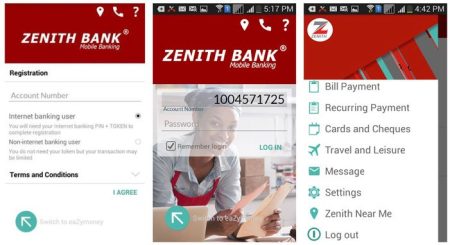 How Zenith Bank Mobile App Serves Dual Functionality Purposes
The Zenith Bank Mobile App, according to the bank is a dual functionality app which bundles Mobile Banking and eaZymoney. Some of the accliamed features Of Zenith Bank Mobile App include:
24/7 Livechat with our contact center ZenithDirect
Log POS, Web or ATM dispense errors.
Generate, share and save transaction receipts.
View Bill Payments history.
View transfer beneficiaries' personal details.
View transaction mini-statement.
View all your accounts on your phone: Current, Savings, Domiciliary, Fixed Deposit etc.
App is locked to device preventing unauthorized use.
Validates NUBAN account numbers for error-free transfers.
Protected by two-factor authentication: Password and mobile PIN.
Pay bills directly from your bank account.
How To Register With Zenith Bank Mobile App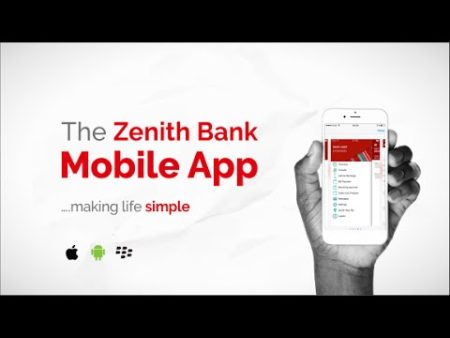 A user may register as either an Internet Banking user or a non-Internet Banking user. To register as internet banking user you will need your hardware token, your Internet banking PIN and the One Time Password generated from your token. A non-internet banking user would need her mobile number setup for alertz on her registered account to receive an SMS soft token
Internet Banking User
Enter your account number, (Ensure the Internet Banking user is selected).
Create a password (password is numeric and 6 digits, this will be used to log-in to the app).
Create a MOBILE PIN; Numeric and 4 digits ( which is an alternate means for consummating transactions).
You will be asked to enter your PIN + TOKEN (For authentication).
Once successful, the next page you will see is the LOGIN PAGE. To begin using the service, enter your account number registered and your password created during registration.
Non- Internet Banking User
Create a password (password is numeric and 6 digits, this will be used to log-in to the app)
Create a MOBILE PIN; Numeric and 4 digits ( which is the only means for a non-Internet Banking user to consummate transactions)
You will be After successful registration, you will be directed straight to the login page the next time you launch the app, Registration is done once only.
Zenith Bank Mobile App: User And Customer Feedback And Reviews
Henry Jr. Uzor
3 February 2022
What kind of problem is this? Since the last update, logging in has been a problem. I have even uninstalled the app & reinstalled it, same error problem. Honestly, if there's ½star or even less, that's what my rating would've been. For the many years I've been using the app, as well as the bank, I have had no problem so far. But it's like, with the turn of the new year, y'all just went on and messed up the whole system. Even now I still have a #500 Glo recharge card that never got delivered.
716 people found this review helpful
Adewale Ajayi
11 January 2022
Its being frustrating!!! Seems you guys updated the app and since then, it has being a disappointment to the other. I can't send statement to myself or any email at all. Can't query history, it will return empty results. The bank services option of sending bank statement to third party keeps failing with error message "unable to retrieve transaction details". This is so very much frustrating and annoying to say the least!!! Please fix this bug!!!
644 people found this review helpful
Chidiebube Nwankwo
10 May 2022
My experience with this app is frustrating. Most times and for the past 1 week I try to log into the app and it keeps telling me an error occurred despite no mistake in My details. The worst part is when you call customer care they tell you maybe you don't have data or there's no network where I am, WHAT NONSENSE!! Of cause I have data and network reception, then they tell you reinstall the app of restart your phone it still doesn't work. For 1 week I can use the mobile app.
237 people found this review helpful
Buchi Samuel
7 May 2022
Worst Bank App ever!! It fails to deliver airtime, but never fails to debit the account. This has happened on several occasions. It also doesn't track finances when you inwuire for your bank statement. I uninstalled the app out of frustration. If this is what Mobile banking is like, then it defeats the essence of it being convenient. It's the worst experience. It deserves less than 1star.
52 people found this review helpful
Buchi Stein
4 January 2022
Can you guys please have an option for self airtime recharge just like every other bank. I don't like that I have to input my number each time I want to recharge my phone. It would have been 5 stars but for this issue. You guys are good though, fastest banking I've ever seen. The way transfers go through is faster than speed of light.
237 people found this review helpful
akintayo ogunsanya
6 February 2022
This app has been 100% failing and frustrating in the last few days since I updated. One cannot log in because it keeps reporting error, try again later. I've got in touch with your people via Twitter but they offered no solution. Fix this quickly; it's annoying. If it's possible to give negative zero (-0) that's what I would have given.
378 people found this review helpful
Ogundipe Favour
19 January 2022
Changed my phone and it's been difficult launching the app. Went to the bank and I was told they were gonna fix it and up until now, I still can't launch the app. It keeps saying "Error occured" and I keep receiving mail of successful logins but the app itself isn't even opening or showing the dashboard. It's so appalling and disheartening.