Borrowell is a Canadian fintech lender with over 1 million customers. It's one of Canada's top quick loan providers, offering a variety of financial services. In addition, this Canadian lender is the first to make a deal with Equifax and offers free credit reports to its clients.
Quick Loan fees are clearly disclosed on the website
Free credit score
Limited loan terms
Payments are only available in monthly installments
Borrowell: Good credit? Unlock $1,000 to $35,000 quick loan
Some of the services that Borrowell offers are credit monitoring, credit cards, mortgages, banking and investing, and insurance programs. Loans, which range from $1,000 to $35,000, can be quick loans, small business loans, debt consolidation loans, home improvement loans, and vehicle purchase loans.
Borrowell loans start at $1,000 up to $35,000, with an annual percentage rate (APR) of 5.6% to 29.19%. Loan terms are from 36 to 60 months. There's a one-time origination fee of 1%-5%, depending on the amount of the loan. Additionally, there's a late payment penalty of $25 to $54.
One of the positive aspects of Borrowell's services is that the company provides every information about the fees included in the loan. What's more, it also helps you to calculate how much interest you'll pay. The biggest drawback is that Borrowell only approves loans to people with good credit.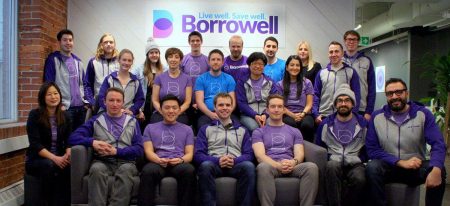 How to get a Quick Loan from Borrowell
Sign up and get your free Equifax credit score in just 3 minutes. Your credit score is updated on a weekly basis, and checking your score won't hurt it!
Check Rates & Choose Your Offer
Your credit profile is automatically matched with the best loan products for you. Select your offer and complete the online application through the platform.
Get Your Money
Once you are approved through loan partners, you can usually get access to funds in a matter of days.
 Eligibility Criteria
The basic requirements are a minimum credit score of 660, credit history of at least 1 year, and a minimum annual income threshold of $20,000.
What you need to get a quick loan from Borrowell
A credit score within a certain range
Some form of credit history
A Canadian bank account
Proof of income / Steady employment
Canadian Residency
You must be 18+ years of age
 Verdict
Borrowell is one of the top quick loan lenders in the country, proved by the many loan reviews from Canada. Known for offering some of the best online quick loans in the country, the company's biggest advantages are its free credit score and the wide variety of loan options.
You can apply for a Borrowell Quick Loan from HERE
To learn more about Borrowell Quick Loan, CLICK HERE