The Brigit app is a unique cash advance lending platform that gives you access to superfast small amounts of cash loan in between paychecks up to $250 with no interest rates, late fees, overdraft charges or credit checks. And Brigit loan app offers the ability to help build up your credit score.
In this article I will be reviewing similar apps like Brigit that can help you with access to instant and quick cash advances when you are in a financial emergency until your next payday. With more than 1 million users, the Brigit lending platform has proven to be one of the most reliable and reputable cash advance apps right now. Other apps like Brigit include Earnin, Dave, MoneyLion, Chime, Even and some others that give you quick access to cash when you are down financially.
Without a cash advance app like Brigit, you may be forced to accept the conditions of your bank and therefore pay back overdraft fees that sometimes are very high. If there are a lot of payments linked to one's credit card, the card balance can easily drop below zero; and if it happens way too often over the course of a year, you may be surprised how much money goes down the sinkhole. That's where Brigit comes in.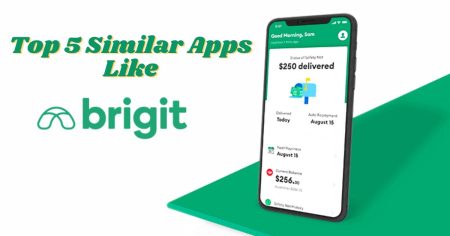 Not only does Brigit track periodic expenses and produce statistics-based insights, it demonstrably saves you all the money that would otherwise be spent on annoying overdraft fees.
List Of Top 5 Loan Apps Like Brigit To Help You Until Your Next Payday 2023
Brigit isn't the only loan app that can help you get access to instant cash advance without incurring overdraft charges. There are other trusted apps like Brigit such as Dave Loan App, MoneyLion Loan App, Chime Loan App, Even Cash Advance App, Earnin App among other interest-free loan apps that can carry you through until your next paycheck without any credit check and without paying overdraft fees.
The following are the top 5 apps Like Brigit for superfast cash advances in 2023.
1. Dave App Like Brigit
If you have a steady paycheck but occasionally need a small cash advance to help your finances until the next paycheck, Dave may be a good option. Dave doesn't charge any overdraft fees or minimum balance fees. Instead, the loan app asks for optional tips from people who use the service. You will however have to pay a $1 monthly membership fee.
Dave has a ton of features like Brigit, but it offers a lower payday advance. The limit is pegged at $100. While this is a smaller number, it can prove useful in helping you borrow just the right amount of money to pay for emergencies.
2. MoneyLion App Like Brigit
MoneyLion is a cash advance platform that not only works like Brigit, but gives you more, a lot more so you can get paid today. You can get access to $250 at any time with no interest with Instacash. This gets you 0% APR.
Just like Brigit, MoneyLion app lets you borrow $250 per day. The only caveat is that you must register using a checking account. One of the best things about MoneyLion is that it transfers your loan amount straight to your bank account on the same day. Take note, however, that the amount you borrow cannot exceed 10% of your direct deposit. Plus, you can get your paycheck up to two days early with RoarMoney – plus easy ways to borrow, save, invest, and earn. All in one app.
3. Chime App Like Brigit
Chime is a loan app that works exactly like Brigit. Instead of charging you an overdraft fee, they allow you to overdraft up to $200* with no fees. So if you need to pay for something but don't have any money, you can still buy it with Chime SpotMe covering you. There are a ton of apps that work with Chime so it's a flexible option for any consumer.
Chime works a little differently compared to other cash advance apps here in that it functions more like a mobile banking app, enabling you to avoid overdrafts, set up automatic savings, and make secure online transactions. But many people also use it for getting paid early. With Chime, you can get your paycheck up to 2 days in advance without any hidden fees.
4. Even App Like Brigit
Even loan app is rated as one of the best financial planning apps like Brigit, offering cash advances equivalent to 50% of the money you've earned as long as you're working for a qualified employer. It proves to be an excellent Brigit alternative because it offers plenty of the same features, such as helping you allocate funds for specific expenses and sending alerts to avoid penalty and overdraft fees. To become an Even Plus member, you need to pay a monthly fee of $8.
5. Earnin App Like Brigit
Earnin cash advance app allows you to borrow money against your next paycheck and doesn't charge any processing or overdraft fees or interest charges. To qualify, you must have a steady paycheck, either work at the same location each day or use online timesheets to track your hours, and have more than 50% of your direct deposit sent to a checking account.
The Earnin lending platform has all of the features you would expect to see in a typical loan app like Brigit that loans you money but without any monthly fees. Thousands of employees turn to Earnin to get a cash advance. If you accumulate a ton of work hours, you may even qualify for a loan amount of up to $500 per day.
Conclusion
Cash advance apps like Brigit loan you money without any credit checks and high interest rates. With more than 1 million users, Brigit has proven to be one of the most reliable and trusted loan apps at the moment.
Aside from giving you quick access to cash when you need it most, Brigit also helps you get your finances on track. It allows you to monitor your spending habits, avoid overdrafts, and send real-time alerts so you wouldn't miss any payments.
With Brigit, you can loan up to $250, which should be enough to cover emergencies. If you need more, you can use the following apps like Brigit to help you get by until your next paycheck: Dave cash advance app, MoneyLion loan app, Ingo Money app, Chime loan app, Even Cash app, Branch app, Earnin app among other interesting lending apps and loan platforms.