QUICK LOAN ARENA is compiling a list of all quick loan apps on Google Play Store that are invading the data privacy of their customers and sending blackmailing and threatening messages to their contacts whenever there is an alleged loan repayment default. Our second on the list is BorrowNow.
We understand this is in breach of their customers' data privacy policy which the different loan apps vowed to adhere to during registration and hosting on Google Play Store. This is also required by local laws for any loan app or lending company operating in Nigeria.
BorrowNow: For data breach, this loan app should be blacklisted
In our list of blacklisted loan apps in Nigeria, BorrowNow is gaining the second entry. We advise all Nigerian loan seekers to boycott the services of BorrowNow loan app until it apologizes to its customers and comply with local laws and Google policies.
See the defaming message below BorrowNow sent to the people in the contact list of one of its customers. This is umethical and unaccptable.
FRAUDULENT ACT!!!!!!!!!!
This is to inform the general public  that [ xxxxx ] with phone number [ xxxxx] has DEFRAUDED an online loan company [ BorrowNow ] with sum of #12111 and he has refused to pay up…if peradventure you get this message, kindly note that your details was dropped from said person when applying for the loan as emergency Contact…. kindly contact the person to make the full repayment on before 12pm today 14th of october as the organization is ready to take drastic actions about his case….
We would not seize to keep broadcasting his details until full payments is made
please note that he's not trustworthy and no business activities should be carry out with him for now until the said person is declared free .
DO NOT IGNORE!!!!!!!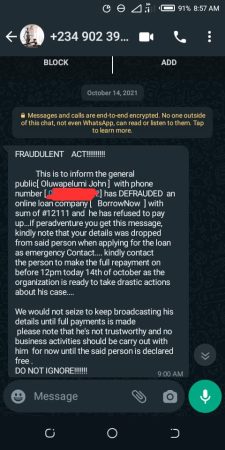 This is what Google says about data collected by apps on its Play Store:
You must be transparent in how you handle user data (e.g. information collected from or about a user, including device information). That means disclosing your app's access, collection, use and sharing of the data, and limiting the use of the data to the purposes disclosed. In addition, if your app handles personal and sensitive user data, please also refer to the additional requirements in the 'personal and sensitive user data' section below. These Google Play requirements are in addition to any requirements prescribed by applicable privacy and data protection laws (in your domiciles country).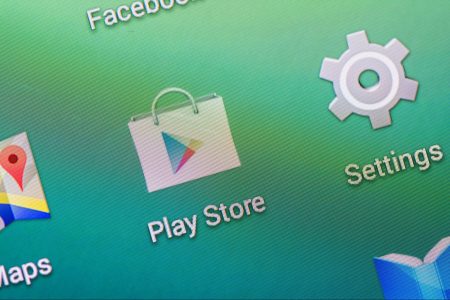 Furthermore most of these loan apps have tenure ranging from 7- 14 days, this is in breach of Google Policy on loan apps hosted on its Play Store and contravenes local laws in Nigeria. Hear what Google has to say on loan tenure:
We do not allow apps that promote personal loans which require repayment in full in 60 days or less from the date the loan is issued (we refer to these as "short-term personal loans.
Most of the digital lending platform have turned into loan sharks terrorising Nigerians with extremely high interest rate sometimes as high as 50% for 7 days tenure and then later harassing the consumers and their contacts with malicious and defamatory words even when it's still a day to the loan expiration. This is unethical.
Finally most of the loan apps now charge illegal loan service fees while feigning to have low interest. This is unaccptable.
We appeal to all stakeholders to intensify the effort at cracking down on these defaming loan apps and ensure they comply with local laws or be shown the way out.
Google should respect Nigerian local lending laws and remove any contravening loan app that are breaching the data privacy of Nigerians or in contravention of its Play Store policies.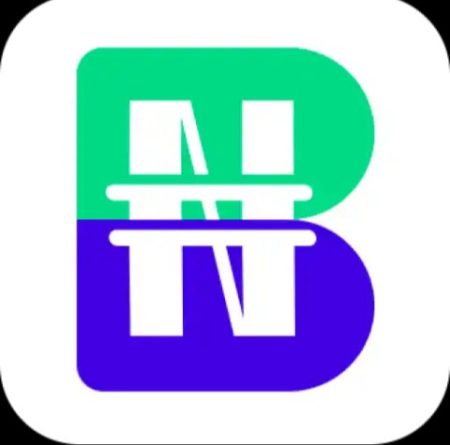 DATA PRIVACY BREACH: LIST OF BLACKLISTED LOAN APPS IN NIGERIA
1. NairaPlus
2. BorrowNow