Didi Cash App: Stop sending blackmails to your customers and their contact list
DiDi Cash is among the many quick loan apps that have taken over the digital online space in Nigeria and threatening financial inclusiveness by its very uncultured and unethical loan practices to its customers.
QUICK LOAN ARENA investigations reveal this instant cash app is one of the many loan apps hosted on Google Play Store that is violating the store's various policy on proper ethical behaviour, infringing on customers' right and privacy as we shall soon show and terrorising contact list of their customer even for a single day's repayment default.
Most of these loan apps hosted on Google Play give out loan for 7 days, charge service fees and high interest rate and terrorise and threaten their customers and contacts because they already had access to their phone details. This is unethical.
Read below the latest account of a young lady of 28 living in Lagos who ran into an emergency and had to borrow money from DiDi Cash app about 10 days ago.
My name is Oluwaseye Omoyele (Not real name) and I am a small business owner living in Lagos. I ran into an emergency sometimes last week and was compelled to look for a loan app on Google Play Store where I could borrow money from in order to meet my financial obligation.
I went on Play Store and downloaded DiDi Cash loan app and filled my contact details and form. I was approved to borrow N10,000 for only 7 days tenure. Interest was N4,000 and was expected to repay N14,000 thereby after 7 days.
Unfortunately I couldn't get the inflow I was expectating. I truly defaulted by not paying on the due date which I reached and started begging them to allow me a few days more for repayment.
However when DiDi Cash loan app official called me on Thursday and asked if I've made my repayment on Wednesday which was the due date, he hunged up the phone when I said I haven't paid and before I could open my eyes, I have started receiving very threatening, abusive and curse messages from Didi Cash loan app sent to  friends, and families and my contacts. Also another official started engaging me on Whatsapp message and sending curse words and threats to my phone.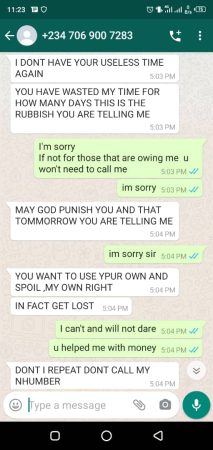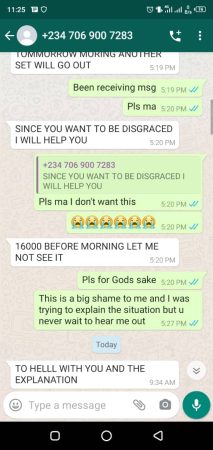 How can a business or an organization especially a finance platform be sending these type of derogatory messages to its customers? This is the height of moral and business decadence and QUICK LOAN ARENA understands this is unaccpetable business ethics which must never go without the law taking its course. We demand that Google Play Store must enfoce its rule and ban DiDi Cash from its Play Store immediately.
See below the first set of messages to me and my contacts of my phone:
ATTENTION!!! ATTENTION!!! ATTENTION!!! THE FAMILY OF OMOYELE ARE ACTING FRAUDULENT LED BY OLUWASEYE.
WITH NO:234XXX/234XXX WHO IS CURRENTLY ON THE RUN WITH A COMPANY MONEY UNTIL PAYMENT IS MADE HE SHOULD NOT BE TRUSTED WITH ANY FORM OF TRANSACTION THANKS..
DiDi Cash loan app working through its representative sent another very defaming message with my photo attached alongside and with the telephone number and contact details of my guarantor claiming we are all thieves to all my contacts on social media. My guarantor also recieved the message and begged the cruel loan app official to chill till the next day.
ATTENTION!!! ATTENTION!!! ATTENTION!!! THE FAMILY OF OMOYELE ARE THIEVES LED BY OLUWASEYE OMOYELE WITH NO: 234XXX Segun Omoyele
AS GUARANTOR WHO IS CURRENTLY ON THE RUN WITH A COMPANY MONEY UNTIL PAYMENT IS MADE THEY SHOULD NOT BE TRUSTED WITH ANY FORM OF TRANSACTION THANKS..
So yesterday (Thursday), I pleaded to pay part of the outstanding loan but the Didi Cash official insisted I paid full. After running around, I got N9,000 out of the now N16,000 because the platform insisted I have to pay additional N2,000 because of "accruing interest for 2 days".
However I had to pay the N9,000 I had with me. The DiDi Cash loan app official started cursing me again on Whatsapp when he realised I paid only part of the money. The app official sent all manner of abuses and curses and then blocked me on Whatsapp. The loan recovery official later went online and sent another set of messages to another set of contacts on my phone.
QUICK LOAN ARENA understands that all these episodes involving Didi Cash and its customer happened in the last 2 days and we note that it's quite embarrassing and dismaying for a loan app hosted on Google Play Store and functional in a law abiding Country like Nigeria to be displaying such untowards and unethical practice.
We call on Google to remove DiDi Cash App from its Play Store with immediate effect. To this effect we have made a formal report to Play Store about the unethical practices of this loan app.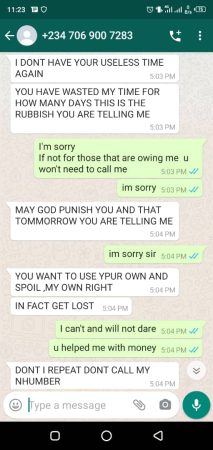 First it has violated its policy on privacy of customers. Secondly it has also violated Google Play policy on ethical practices of loan apps hosted on its store. Thirdly it has violated Google policy on minimum loan tenure used by loan apps hosted on its Play Store for customers. The minimum according to Google Policy is 60 days tenure but Didi Cash and many of these loan sharks charge very high interest and service fees with a contravening tenure period of just 7 days. This is unaceeptable.
Finally we call on the Central Bank of Nigeria (CBN) and regulatory authorities in the country to enforce local laws and call these predatory loan apps to order. Many of them we have featured on our page.
To download the eNaira Speed Wallet on Google Play Store,
CLICK HERE.
To download the eNaira Speed Merchant Wallet on Google Play Store,
CLICK HERE.
To download the eNaira speed wallet on Apple Store
CLICK HERE.

To download the eNaira speed merchant wallet app on apple store
CLICK HERE.
To visit the eNaira website and get more information about the digital currency,
CLICK HERE
BECOME QUICK LOAN ARENA BUSINESS PARTNER
Register to become our business partner and enjoy our free advisory and consultancy services on getting a quick loan from our list of accredited lending partners and also guide on the process of loan application.
Disclaimer: Quick Loan Arena is not a loan agency and we do not give out loan to anybody. We however profile and review legitimate and reputable loan agencies and seeks to educate individuals, household and small businesses about loan opportunities to help them make informed decisions and establish their businesses.
Speak with any of our Quick Loan Consultants for more information! Call or Whatsapp +234 (0)803 385 7245.
Do remember to give us a feedback about your quick loan experience after the lending process is executed.
READ ALSO! Google removes LCredit, Rapid Naira, other predatory loan apps from its Play Store
READ ALSO! Got LCredit loan app on your Phone? Here's why you should uninstall it immediately
READ ALSO! Running from banks, Nigerians face crisis with quick loan sharks On Google Play
READ ALSO! Palmcredit: Get Quick Loan Up To N300,000!
READ ALSO! EasyMoni: Stop sending threats to customers' contact list: Do your homework if you're real!
READ ALSO! Instant Cash In Nigeria: Top 30 Quick Online Loan Apps On Google Play 2021
READ ALSO! Quick Online Loans In Nigeria: 20 Platforms Needing No Collateral – Series 1
READ ALSO! Quick Online Loans In Nigeria Without Collateral: 20 Top Platforms – Series 2
READ ALSO! Accounting software expert, Femi Adeoya, takes on small and medium scale businesses
READ ALSO! Money In Minutes: Instant Online Quick Loans In Nigeria Without Documents
READ ALSO! Migo: Quick Online Loans In Nigeria Without Collateral Or Guarantor
READ ALSO! You have a job offer or you are an applicant looking for job, click here or whatsapp 0803 239 3958 to reach us
READ ALSO! How I Was Lured Into Debt Trap With N2.5m Specta Quick Loan From Sterling Bank
READ ALSO! BBNaija Dorathy Launches Lingerie Line, Says Priority Is Making Busty Women Look Good
Please follow and like us: