My name is Oluwole Oladele (Not real names). I am a transporter working in Lagos.
I applied for a loan of N8,000 from GoCash lending company and my repayment was due for less than two weeks. I was called by one of their lady official and I told them to please hold on that I will pay back. The lady keeps threatening me that she will post my picture to all my contacts. Finally I was able to pay the outstanding loan yesterday not knowing fully well that the interest has accumulated beyond the said amount marginally. The left over is just N420. And she said she will not clear me until this is paid and she will send my picture to my contacts which she eventually did.
'GoCash (Sokoloan) keeps harassing me, my contact list after making full loan repayment'
Somebody just called me from Ijebu East that an online agent from GoCash just called her that I am owning them. That my picture and phone number was included. What a shame!
When will this stop? This is after I have paid their money. Yet I am being embarassed. See below the message GoCash sent to me:
GOCASH COMPANY
YOU HAVE DEFAULTED IN YOUR LOAN REPAYMENT AND HAVE BROKEN THE AGREEMENT BETWEEN YOU AND US WHICH IS NOT ACCEPTED!!!
NOW MAKE YOUR PAYMENT BEFORE (12PM) OR GET READY FOR EMBARRASSMENT. NOTE, ONCE THIS ACTIONS TAKES PLACE, NO APOLOGY MESSAGE OR DISCLAIMING MESSAGE WILL BE SENT TO ANYBODY. YOU ARE WARNED.
PAY THROUGH THE APP OR OUR OFFLINE ACCOUNT 1023408529 UBA AND CHECK THE APP BEFORE YOU PAY TO KNOW YOUR BALANCE AS OF TODAY.
They sent another blackmailing, harassing message to me soon after again.
READ CAREFULLY!!!
A lot of tension is building up and when our company finally hits you, then you will wish you never took us for granted after numerous warning messages.
We are urging you to go and make FULL PAYMENT of your whole debt TODAY!.
DON'T WAIT!!!
KINDLY ACKNOWLEDGE WITH AN AGREEMENT OF CLEARING ALL DEBT WITHIN 2 HOURS TO AVERT PROCEEDINGS WITH THE FOLLOWING ACTIONS STATED BELOW:
There will be a formal detailed messaging of your long defaulted debt considered to be FRAUD (FALSE PRETENCE) affecting your registered emergency contacts and family's image with analysis for months sent officially via the company's text message channel, booked TV stations and our social media platforms to all your phone book contacts (100%) accessed during your registration with the App (A to Z), starting from NOW. As we give updates on your response and feedback towards your debt within 2 HOURS.
Bank Verification Number (BVN) which hold you LIEN to all loan credit companies in Nigeria as a defaulter will be blacklisted by the Central Bank of Nigeria and placed under temporal but strict blockage till further investigations is been carried out.
Pay directly via the APP or request for your offline Virtual Account(GOCASH SOKO COLLECTIONS 1023408529 UBA)
PLEASE, FORWARD PROOF OR DEBIT IMMEDIATELY AFTER MAKING PAYMENT WHETHER CLEARED OR NOT CLEARED FOR PROPER DOCUMENTATION.
GOCASH COMPANY
(GOCASH LEGAL).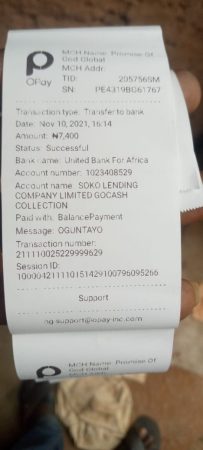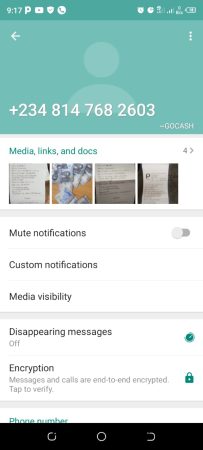 Mr Dave Fadiya, a security consultant said the following of Sokoloan: "Sokoloan is the parent company, they don't give second chance they're the worst loan house i have ever heard. The bottom line is they threaten their staffs to sack them sometimes they don't pay they their salaries, that's what one of their staff who is close to a friend to him. The Chinese dont care."
Another customer spoke with QUICK LOAN ARENA about this threatening loan app: "I borrowed N8000 from GoCash to pay back N12,100 in 7 days and I have paid N7000 remaining N5,100 to balance. I have been sent serial shaming and threatening messages.
QUICK LOAN ARENA findings reveal that Sokoloan Lending Company, unknown to many is the owner of not just Sokoloan app but also owns GoCash, FastMoney, KashKash, AddMoney, GetCash and many others. It's when you want to make payment that you realise it's Sokoloan you are paying to. And they threaten customers and their contact list with blackmailing messages even for a day's default