One of the easiest methods to obtain a Nirsal loan into your account quickly after your application is approved is with Nirsal Microfinance Bank, commonly referred to as a NMFB.
Due to the recent COVID-19 pandemic, Nirsal Loan has become more well-known to Nigerians although it has been around for some time. The Nigeria Incentive-Based Risk Sharing System for Agricultural Lending (NIRSAL), a dynamic, comprehensive USD 500 million public-private initiative, was introduced by the Central Bank of Nigeria (CBN) in 2011 and incorporated in 2013. Its goal is to facilitate the flow of capital and investments into fixed agricultural value chains.
By methodically tackling significant issues in agriculture supply chains, NIRSAL stimulates financing flows to agricultural value chains, which in turn promotes economic development.

Please remember that Nirsal Loan is different from other online loan apps like Branch, Palmcredit, and others. If you want to apply for a loan via a loan app and have the money deposited to your account right away, check out the best loan apps in Nigeria with instant approval.
One of the main goals of NMFB, one of the top microfinance banks in Nigeria, is to make its services easily available to its clients. They created the Nirsal Microfinance mobile banking app in light of this.
ALSO READ: Top 14 Best Instant Small Business Loans UK 2022
This mobile application will offer you, as a current or potential customer, a completely unique and interesting banking experience. Additionally, it will give you the convenience of having access to NMFB financial services whenever you want, wherever you are.
You will also have access to a variety of fascinating features and self-service capabilities. The Nirsal Microfinance bank App has a fantastic user interface. In fact, we promise you a wonderful user experience.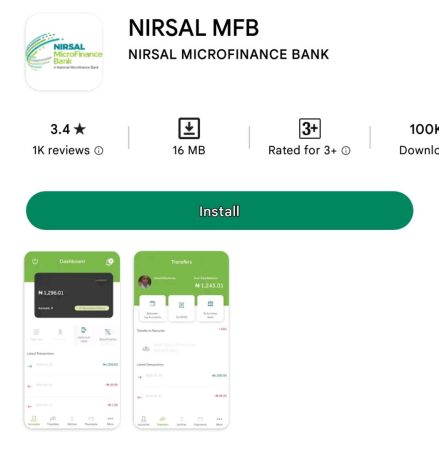 Here are some of the amazing benefits you will enjoy using the NMFB mobile banking application:
The self-registration option. This is with a NMFB account number and your registered phone number.
Faster Login with a fingerprint. (This option is only available on fingerprint enabled mobile devices)
Self-service options for transaction limit increase
The mobile app allows you to initiate transfers to other NMFB accounts
You can open an account using the app
Initiate transfers to other accounts
Buy airtime and data for friends and families
You only need to log into the program and choose the transaction you want to execute to complete any of these operations. You will undoubtedly navigate the Nirsal loan bank app on your first try because the user interface was created with beginners in mind.
For all app users, Nirsal loan bank has made banking incredibly easy. In actuality, both new and returning clients can register easily and without fuss.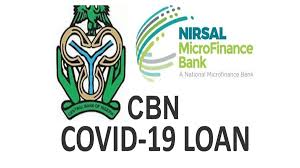 If you have an existing account and you wish to apply for nirsal loan, follow these procedures for activation on the app:
Download the mobile application on Google play store if you use an Android, and App store for iPhone users
Click on the Sign Up button
After this, enter your NIRSAL MFB account number as your username and your registered mobile number
Click on the Registerbutton
After you must have successfully done this, follow the preceding prompt, this is to generate a PIN and password
If you do not have an account with Nirsal Microfinance Bank, you can leverage the following by opening an account:
Download the mobile application on Google play store if you use an Android, and App store for iPhone users
Click on the LoginButton
Next up, Click on the Open Account
Follow the preceding prompt to complete your registration process
How To Apply For Nirsal Loan Through The Website
First of all, you need to visit the NIRSAL LOAN website to apply for a Microfinance bank loan, you must avoid making mistakes. Next, you must select the (NON INTEREST FACILITY) Apply for Non-Interest Facility category.
Once the NIRSAL MFB Credit Loan column is open, click on the Apply button. A pop-up window will appear with two options:
Once you reach this level, you can select any of your options and begin your application; however, avoid entering false information.
You'll be asked to fill out an application form, which you'll keep, and provide permission for them to check your background and use the application to see whether you're eligible for financing. They will contact you in the morning to schedule an appointment to discuss your application and financial requirements.
Note: You should have the following credentials to be able to apply for a Nirsal loan, either through the app or website 
One recent clear passport photograph.
Means of Identification (Driver's License, International Passport)
Public Utility Receipt dated within the last three months (PHCN bill, water rate bill, tenement rate, rent receipt, telephone bill)
Having inputed all these, your nirsal loan form will be duly completed and ready for submission
NIRSAL Loans will assist you in the process of building a business and maintaining your lifestyle or expanding an existing business. They offer loans ranging from N250,000 to N500,000 for individuals with good credit who are looking to start or expand their businesses, along the line, if you have a good repayment record you will have the opportunity to borrow higher loans.
Whether you are interested in Micro savings, micro loans or you simply want a school targeted loan, they've got you covered. With over 115 branches all over Nigeria, they are committed to delivering exceptional financial services to all parts of the country. You can visit their branches where ever you are. And whichever might be convenient for you.
Frequently Asked Questions (FAQs): Nirsal Loan Checking, How To Check Nirsal Loan Approval, Covid-19 Loan Status
Is There Interest In Nirsal Loan?
The interest rate is nine percent (9%) per annum. Micro loans – This is for entrepreneurs, traders and students to access up to N1m for existing businesses. The interest rate charged by Nirsal on loans is a minimum with the total dependent on the tenor of the loan.
How Much Is The Salary Of Nirsal?
The average salaries for NIRSAL is 203,922 Naira. This data is collated by 2 employees from NIRSAL. The roles include Senior Manager, ICT Officer.
Who Is The Head Of Nirsal?
Aliyu Abdulhameed, the pioneer Managing Director/Chief Executive Officer of the Nigeria Incentive-Based Risk Sharing System for Agricultural Lending (NIRSAL Plc), is an adept Agricultural Economist, corporate development expert and programme management specialist with varied experience in institution building, process.
Is Nirsal A Government Agency?
NIRSAL is an initiative of the Central Bank of Nigeria (CBN), the Bankers Committee (BC) and the Federal Ministry of Agriculture & Rural Development (FMA&RD).