Imagine a lending app used by thousands of customers and loan seekers not having a website or even a physical office? This is exactly the case with EasyMoni app. A lot of articles have been written and questions asked if EasyMoni is a legit app.
However I still wonder why on earth such a business that involves in such sensitive financial service would decide not to have a website. In this digital evolution age, any business without a website and dealing with money is easily associated with scam. Not to talk about the fact that EasyMoni also has no physical office address. We ask again, "Is EasyMoney Legit?"
Is EasyMoni Loan App legit? Was It Banned
The simple answer is that EasyMoni loan app is not a legit lending platform and it has been shutdown by the Nigerian government and banned from operating on Google Play Store for gross violation of its policies.
"The address" has no number and can we safely conclude it doesn'y exist?
Imagine the loan app has gotten over 100,000 successful downloads on Google Play Store, rated 3+ and has over 4,100 reviews from users and patrons before it was banned.
A user, Toyosi Jumoke reviewed the app on October 16th and narrated her terrible customer service experience from Easymoni.
Bad app ever, they started disturbing with calls and threatening messages even before the due date. I would have shown the threatening messages they sent which I screenshot here, if it was possible. You all lack manners and don't know how to treat customers and I had applied loan from them before, and even paid before the due date. I won't advice you to download this app, please opt for other good apps like fairmoney, quick check and the likes.
We keep wondering why should loan apps be bordering their customers for repayment even before the due date? Some of these apps deduct inaccurate amount as loan and some charge interest not stated in their app.
We call on the regulatory authorities to rise up to their duties and call loan sharks such as EasyMoni loan app to order. Google is one of them. Such faceless and hapless loan apps without a physical address or website should not be hosted on such a dignified platform as Google Play.  A minimum standard to have apps hosted on Google Play Store should be the possession of a verifiable physical office address and a functional website.
Also the Central Bank of Nigeria should step up its regulatory functions on this faceless apps and enforce rules on their activities because poor Nigerians beaten down by the economy and resulting to quick loans for survival are the ones bearing the sad brunt.
To apply for an EasyMoni loan, Download the APP ON GOOGLE PLAY STORE BY CLICKING HERE.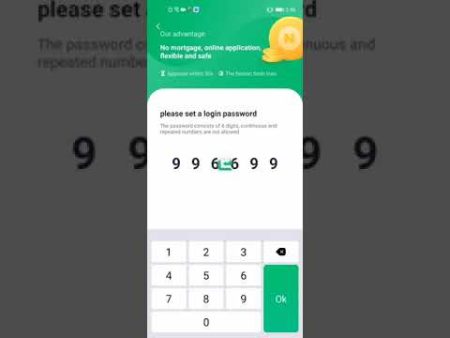 See other reviews about the app by customers.
Jaylin Emiliano
September 12, 2021
Nice application. Try to increase the limit of the fist timer. Nice app quickly responds, please try to increase the limit quickly, it's great, but the starting loan limit is too low, but the speed is fast, high-quality and fast service recommend any day at any time, nice app, easy to register and f…
Ifeanyi Ndubuisi
October 2, 2021
Good day, please I have been trying to make a repayment but I can't log in to the easymoni loan app. Each time I try to login, the system pops up a robotic code and when I input it to verify, it still pops up different code. Please how else do I make a repayment
Wagner Wilkins
September 12, 2021
Good loan app but need to increase to monthly repayment, it is easy, their app is fast, but the loan is too small. Payment and payment are very fast, please keep it up. I like this app. It is very good and easy to use. This is the fastest loan application. It's ready in a few minutes, wow, this is so fast. I like it. thank you all.
Drgeorge gemson
September 24, 2021
This app is a worse app ever I applied for loan is was declined but they sent me message that my loan was sent to my FCMB account of which I don't have sure Account I thought it was a mistake but at they due date they kept sending me messages and call and even late payment charges but because I first applied for the loan and don't want problem I paid them off but I'm not happy with the whole thing only God will judge the liar between us, that was my unpleasant experience with the app.
Danna Roberto
September 12, 2021
Fast and convenient, the deadline is very suitable for repayment. Even after get off work, it's fast and easy…nice app, nice people, great job, great answers, loan app is very fast and low interest, I'm rushing to grab yours now, very easy and fast . You should keep working hard, this app provides fast, unique and simple loans in just 5 minutes
Hollya Jongn
September 12, 2021
EasyMoni loan app is very good, not disappointed at all. Fast and fast app, loan is quick and convenient. Although interest rates are quite high, smooth and fast. Low interest rates and no employee harassment. Nice app…I just want to be interested in this kind of longer. Borrowing money from you is very fast and very good. You are excellent, a good application, but your interest is too great, but it is a good application
Sartain Gazania
September 13, 2021
In order to meet your funding needs, the EasyMoni loan APP is convenient for mobile phone loans, with low threshold and fast loan approval. As long as you have the status of cash, many agencies' review is particularly strict. I heard a friend introduce this platform, so I want to give it a try. I hope I can lend it soon. You can also borrow through the preferred platform, submit information, fast loan and interest rate. Very high. About commendation.
SUNDAY GLORY IFEOMA
October 15, 2021
I applied for a loan , it was approved quite alright with repayment date. But i havent received the money in my account. I demand an urgent solution to avoid problem in the future. I must say your platform is fast with a very good intrest rate.
Moriah Morgan
September 13, 2021
I like EasyMoni loan app very much, it's very simple and fast. Download it. It is a good application and user-friendly. I really like this interface. Good loan application but need to increase to monthly repayment, get loan cash quickly and easily in a few seconds, fast and reliable. No trouble, no pressure. Hold on, guys
Akinoluwa Hephzibah
September 19, 2021
The process is functional, network might only be the plights but with a strong data. It's reliable to go with easymoni loan app only if you are not default ready. The service is qualitative, fast and effective. There could be a notification, three days before the repayment due. The service is indeed!
Locklin Carri
September 11, 2021
One of the best apps ever. Low interest rates, fast and efficient. I would recommend this app to anyone, and I bet you will enjoy using it. Using this cash loan app, I want to commend you for your excellent work and helping people during the financial crisis. You don't have to worry about loans anym…
Chika Nnaocha
August 19, 2021
EasyMoni loan app is one of the best 👌👌,,, but the issue am having with you guys is after payment it takes u guys eternity to clear the dashboard why,,,, please nd please clear my dashboard i have made payment since morning,,,,ur calls and texts are embarrassing,,,, but truth be told the app is quick in disbursement after u fill ur form correctly,,,,,,,,,,, easymoni easymoni i don't like the way ur recording system call nd text me every hours,,,, do something about it please
J P B
September 21, 2021
One of the most useless app I have ever downloaded. Keeping deducting my money without giving me loan even after successfully meeting all the requirements and receiving loan approval. It is very unfortunate.