A Nigerian man who lives in Lagos and works in a car charter service company has threatened to drag AimLoan loan app to court for sending defamatory messages to him and people in his phone contacts. The AimLoan customer has given the sham lending platform 7 days to retract its defamation about him sent to his contacts and apologize for such unethical misdemeanor.
AimLoan And Many Loan Apps In Nigeria Continue To Flout Google Law By Giving Out Loans For 7 Days Tenure
Mr Orebe told QUICK LOAN ARENA that he took a loan of N21,000 from AimLoan for a duration of 7 days to pay back N31,000. This in its own is already an interest too high and exorbitant. To collect N10,000 interest on N21,000 for just one week is ungodly, callous and illegal. It's against Google policy on loan apps and goes contrary to Nigeria's local lending laws.
According to Mr Orebe Titus, around 10am on the due date which was 2 days ago, a message was sent to him threatening him to pay immediately or else face their consequences of public shame.
Hear this customer AimLoan story below:
I took a loan of #21,000 for 7 days duration to repay #31000 from AIMLOAN.
Around 10am on the due date, 07/06/2022, a message was sent to me threatening me.
I complained that I have not defaulted and such messages were sent to me.
I told them that I will not pay them until the sender of the messages where identified and punished.
I went ahead yesterday to pay the total sum of #26,300 leaving a balance of #5800. To my dismay this morning, messages have been sent to some of my contacts telling them that I defrauded them.
Below are the screenshots of some of the messages AimLoan sent out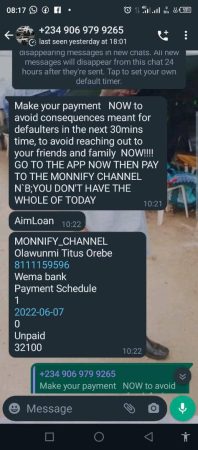 .[NO PAYMENT INTENTIONS]
Attention! Attention!! Attention!!! THE FAMILY OF
Name: OREBE OLAWUMI TITUS
Gender: MALE
Birthday:1965-09-14
Phone:08034034069
Email: orebetitus@yahoo.com
Bvn: 221***3244
DEBTORS, led by OREBE OLAWUMI TITUS who borrowed money from a company and is on the run. The public is warned of this family as they are known to be dangerous. they will be caught by securities agencies and will face the law. you receive this message because this debtor person used your number as a guarantor with us. if payment is not received NOW his details will be posted on social media.
Loan apps that send defamatory and public shame messages to their customers such as above has no reason been in operation in Nigeria, and has no reason been harboured in an highly rated platform such as the Play Store of Google.
QUICK LOAN ARENA checks reveal AimLoan is hosted as a finance app on Google Play Store. What the loan app is doing is against the policy of Google. According to one of the policy statements of Google for loan apps hosted on its Play Store: "We only allow personal loan apps with full repayment required in greater than or equal to 60 days from the date the loan is issued… apps that fail to do so will be removed without further notice." However many of the loan apps in Nigeria are contravening this policy and yet are continuously being hosted on Pla Store even with complaints from numerous Nigerians.
Google Play Store should really rein on lending platforms violating its policy on loan apps and if such persist, the internet giant should ban them from its Play Store.
QUICK LOAN ARENA tried severally to reach AimLoan on their customer service number to balance our story but our several attempts were futile as they were unreachable.