Earlier today QUICK LOAN ARENA exclusively reported that LCredit, Rapid Transfer and some yet to be identified quick loan apps have been removed by Google from its Play Store for violating its operational policies.
While we had also reported weeks back that Rapid Naira is a fraudulent loan app, which does not give out
quick loan to any consumer but lays siege to access customers' banking details to fraudulently debit their account, LCredit removal from Google came as a shock.
Got LCredit loan app on your Phone? Here's why you should uninstall it immediately
QUICK LOAN ARENA conducted an investigation after our initial report of its blacklisting from Google and we have it on good authority that the leading loan app was removed by Play Protect, the security system on Google Play Store that scans apps hosted on the network for malware and other malicious virus and fraudulent activities.
We can report that Google warned users with LCredit app on their Android phones to beware from using the loan app because according to Google, it was trying to spy on phone contacts, recordings, Photos and other private content on their devices, contracy to Google laid down privacy policy.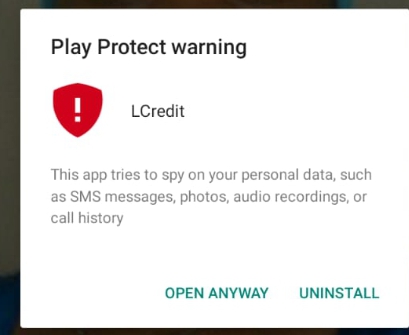 According to Quick Loan Arena findings, Play Protect by Google warned users today: "This app (LCredit App) tries to spy on your personal data such as sms messages, photos, audio recording or call history." It went further to warn users to immediately uninstall the blacklisted LCredit app from their phone, and that if they fail to do so, and open the app, they do so at their risk.
A customer of LCredit loan, Vivian Adejuyigbe who spoke to QUICK LOAN ARENA this afternoon, says she received the warning today from Google to uninstall the app as it was attempting to spy her banking and confidential credentials. She told this reporter that though she borrowed money from the loan app which she's yet to repay, she may be inclined to uninstalling the app to protect her privacy.
Similar reports came to QUICK LOAN ARENA about receiving similar warning from Google Play Protect to uninstall the app for similar concern. We wereby warn customers and loan app consumers to be wary of LCredit platform and if possible immediately uninstall the app from their phones.
Readers and customers of the LCredit app should share this news to others and also share their experiences and feedback with us below on the comment section so we can share with our numerous readers.
QUICK LOAN ARENA understands that so many apps on Google Play are violating their policy on lending and repayment and we call on the search giant to enforce its rules and call them to order. The plight of Nigerian consumers are at stake. Regulatory authorities have also been called upon by this platform to enforce local laws on these loan sharks.
It would seem Nigeria Apex Bank (the CBN) has apparently lost clue on what to do as the Apex Bank confessed months back admitted that the quick loan apps and platform are flouting its rules on operational guidelines and yet failing to enforce the rules and landing the hammer on them.