LCredit: How loan apps are spying your banking, sms and contact details
The proliferation of fake quick loan apps is fast endangering and threatening the financial and digital evolution which has in greater terms facilitated financial inclusiveness of many Nigerians who have hitherto been inaccessible to the traditional banking system, and except regulatory authorities check their operations, more crisis may be ahead, writes Femi Adeoya, Senior Research Consultant with QUICK LOAN ARENA.
On Thursday QUICK LOAN ARENA exclusively reported that LCredit, Rapid Transfer and some yet to be identified quick loan apps have been removed by Google from its Play Store for violating its operational policies.
Our investigation reveals that LCredit was blacklisting by Google and banned from its Play Store because the loan app was discovered by Play Protect, the security system on Google Play Store that scans apps hosted on its network, as involving in malicious and fraudulent activities.
Google discovered that LCredit app was trying to spy on phone contacts, recordings, Photos and other private content on the android devices of its users, contracy to Google laid down privacy policy.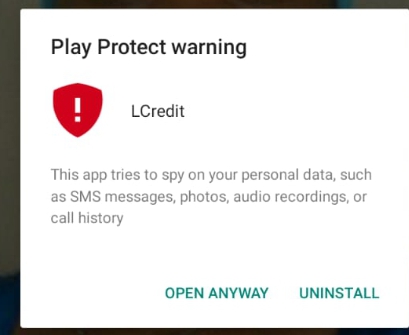 Play Protect by Google had warned users yesterday: "This app (LCredit App) tries to spy on your personal data such as sms messages, photos, audio recording or call history." It went further to warn users to immediately uninstall the blacklisted LCredit app from their phone, and that if they fail to do so, and open the app, they do so at their risk.
Some consumers who spoke with QUICK LOAN ARENA validated Google's claim of LCredit and other loan apps spying illegally into their phones.
One of such is Folafaith on October 22, 2021 at 6:48 am told us: "Truly LCredit do spy on person account, phone storage, contacts, messages and start calling your contacts and message them on WhatsApp and through normal messaging. If you fail to repay just for a day, they will start calling all your contacts and start calling the person a fraudster."
She continues: "This scam activity is not only peculiar with LCredit, there are still many of the loan apps  that does so, such as Sokoloan, Credit9ja, True Naira, Naira Plus, KasKash, Easycredit. Sokoloan for example will tell you to sell your property to repay them, even though you're on sick bed it doesn't concern them."
Another user, Tunji Adeleke on October 22, 2021 at 7:04 am told us: "Most of these obviously fake quick loan apps spy on your private information. They also spy your SMS alert to know when you receive payment and other information. They will collect your phone contact list to which they begin to send threat messages to them and even call some of them."
Yet another respondent, George on October 21, 2021 at 2:43 pm gives his own account:
"My name is George…I'm here to share my unpleasant experiences too with GoCash, 9ja Cash, Fast Money, Sokoloan, KashKash, Easy Credit, Okash, and other loan apps, and what they did to me and other people as well…I must say it is unfair to reach out to peoples contacts on their phone telling them all sort of lies just because a customer defaulted just for a day or two, tarnishing ones image because he or she defaulted…
I feel there are better ways of retrieving their money back from customers rather than threats, alot of people have been humiliated through this means and it's not funny, they need to be stopped at all cost, when they did that to me, I told the agent that I won't pay a dime until they undo the damage they did to me painting me as a criminal on the run.if what I'm reading is true God bless whoever has decided to put a stop to them."
Another user of the app responded to QUICK LOAN ARENA in abewilderment. Vivian on October 21, 2021 at 2:21 pm says "I can't find LCredit app on goggle again, what really happened? Bcoz I loaned from them."
Obinna Michael on October 21 expressed his disappointment with the loan app. He adds to the query, "Money that has been paid with proof of transaction slips, LCredits loan app keep sending messages to contacts. If their systems are faulty they should fix it properly before coming into the business!"
Recall our earlier report yesterday that LCredit is a quick online loan app though hosted on Google Play Store with thousands of successful downloads but does not have an online presence in terms of website nor a single physical office. This was of course a red flag on the now blacklisted lending app.
Many of these loan apps do not have any physical office address, do not have a website, some don't even have any online presence yet they found their way somehow into Google Play Store and get into scamming poor Nigerians of their hard earned money. Google should bring down and clampdown on more of these loan apps once they are discovered to be violating its set down policies.
We also want to point out that some of the apps on the Play Store are violating Google policy on lending and repayment and we call on the search giant to enforce its rules and call them to order. The plight of Nigerian consumers are at stake. Regulatory authorities have also been called upon by this platform to enforce local laws on these loan sharks.
We want readers and customers of the various quick loan apps to share their experiences and feedback with us below on the comment section so we can share with our numerous readers.
BECOME QUICK LOAN ARENA BUSINESS PARTNER
Register to become our business partner and enjoy our free advisory and consultancy services on getting a quick loan from our list of accredited lending partners and also guide on the process of loan application.
Disclaimer: Quick Loan Arena is not a loan agency and we do not give out loan to anybody. We however profile and review legitimate and reputable loan agencies and seeks to educate individuals, household and small businesses about loan opportunities to help them make informed decisions and establish their businesses.
Speak with any of our Quick Loan Consultants for more information! Call or Whatsapp +234 (0)803 385 7245.
Do remember to give us a feedback about your quick loan experience after the lending process is executed.
READ ALSO! Google removes LCredit, Rapid Naira, other predatory loan apps from its Play Store
READ ALSO! Got LCredit loan app on your Phone? Here's why you should uninstall it immediately
READ ALSO! Running from banks, Nigerians face crisis with quick loan sharks On Google Play
READ ALSO! Palmcredit: Get Quick Loan Up To N300,000!
READ ALSO! EasyMoni: Stop sending threats to customers' contact list: Do your homework if you're real!
READ ALSO! Instant Cash In Nigeria: Top 30 Quick Online Loan Apps On Google Play 2021
READ ALSO! Quick Online Loans In Nigeria: 20 Platforms Needing No Collateral – Series 1
READ ALSO! Quick Online Loans In Nigeria Without Collateral: 20 Top Platforms – Series 2
READ ALSO! Accounting software expert, Femi Adeoya, takes on small and medium scale businesses
READ ALSO! Money In Minutes: Instant Online Quick Loans In Nigeria Without Documents
READ ALSO! Migo: Quick Online Loans In Nigeria Without Collateral Or Guarantor
READ ALSO! You have a job offer or you are an applicant looking for job, click here or whatsapp 0803 239 3958 to reach us
READ ALSO! How I Was Lured Into Debt Trap With N2.5m Specta Quick Loan From Sterling Bank
READ ALSO! BBNaija Dorathy Launches Lingerie Line, Says Priority Is Making Busty Women Look Good
Please follow and like us: