The issue of high interest is a re-occuring one especially whenever the now popular loan apps regime is in mention, this is the reason why the Central Bank of Nigeria (CBN) usually come up with some sort of policy statement on lending rate for deposit money banks.
However the proliferation of quick loan apps in the country as a means of raising emergency stop gap funds which became occasioned by the dismal economic situation in the country, joblessness and resulting poverty has changed the entire borrowing dynamics. Faceless loan sharks hosted on Google Play Store and some on Apple Store, some of them owned by Chinese shylocks have flooded the digital space and swindling poor and innocent Nigerians of their hard earned cash in form of loan credit.
Loan apps in Nigeria, loan sharks and high interest rates
In order to appear to be strictly adhering to the CBN's directive on interest rate charges, many quick loan apps and platforms have taken to fraudulently charging service fee that is almost half of what they are giving out as loans.
What some of these loan apps are doing is to charge little amount as interest and charge a very high fee as service fee. An example is what is shown below. A borrower want to borrow #13,000 and his expected to pay back #18,668. Though, they claim the interest rate is just a meager #91, but their service fee is #5,577.
The question now is why charge almost #6,000 as service fee for a loan of #13,000?
Another abnormality noticed in some loan apps is unethical practice of displaying the amount the borrower is eligible to borrow and claim it's interest-free but when disbursement is made, the money sent would be less than what is displayed.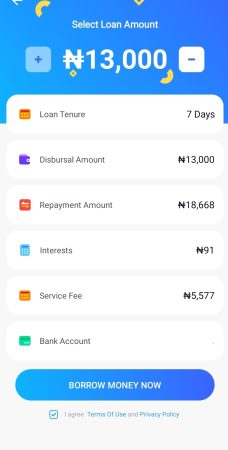 In the image shown above, we see this loan app (Credit Loans) giving out a loan of #13,000 and charging a combined fee of #5,668 which we regard as too high. The total fee charged is close to half of what to be borrowed.
Most of these loan apps force their customers to 7-day tenure for repayment as against Google Policy on loan apps tenure. One of Google Play Store policy statement reads: "We do not allow apps that promote personal loans that require repayment in full in 60 days or less from the date the loan is issued (we refer to these as 'short-term personal loans')." But 70% of the loan apps in Nigeria are flouting these policy and we expect Google to enforce the rule and show these apps the way out.
We have written about some of these infringing loan apps before now but we are yet to see Google Play Store take any definite action and enforcement on them. NCash, Sokoloan, PalmCash, 9credit, GotoCash, Cash Wallet, ForNaira loan apps and many others are all guilty of these infringement.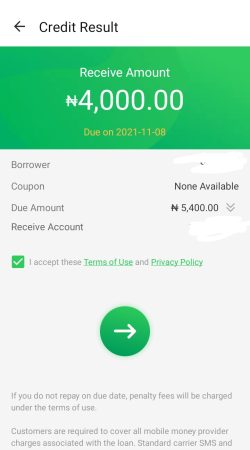 Another app to be revealed is iCredit. From the image above, you can see they too charge almost half of what they are giving out as loans. For a loan of #4,000, they are charging a fee if #1,400.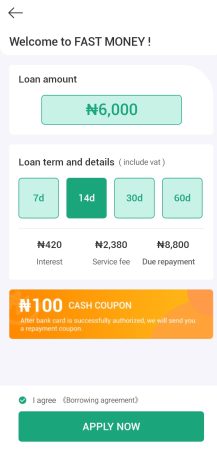 Fast Money is another app that's over-charging its customers. From the image above, Fast Money is charging a combined fee of #2,800 on a loan of #6,000. This indeed is more than exploitation.
People will always want quick loan most especially now that the country is not doing well economically and it is the responsibility of regulatory agencies and Google Play Store where most of these loan apps are hosted to ensure the borrowers are protected.
Users are hereby advised to always be sure of the credibility of these mobile applications before they collect money from them. And more importantly to read clearly their terms and conditions and always write a review after the loan application process.
Exploitation of innocent borrowers seem the order the day and regulators are not helping either. This is a call to action for the CBN and other regulators to look into the operations of these loan applications before they cause more havoc.