A young lady who lives and work in Lagos State has expressed shock and utter amazement over the unruly and uncouth disposition of a digital lender, QCash through one of its workers. Olayemi Akinseye told QUICK LOAN ARENA this afternoon in a lamentable tone how QCash official approached her yesterday (Thursday) and promised to make her regret the rest of her life if she fails to pay her outstanding loan by today.
'QCash called my family fraudulent, threatened to blackmail my contacts over N10,000 not yet due'
According to the loan agreement seen by QUICK LOAN ARENA, the repayment was due by the end of yesterday and she still had the grace to make the payment several hours before QCash started the harassment drive and torment against her and family members. See below the loan details between Akinseye and QCash as evudence.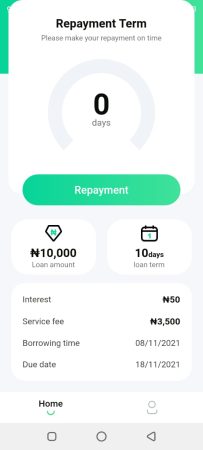 "I took a loan of N10,000 10 days ago from QCash to repay N13,550 with 10 days tenure which ends yesterday. However the loan official came to my message inbox this morning and started threatening me and promising to blackmail my family members, church leader, all prominent people in my contact list if I fail to pay today," Akinseye told QUICK LOAN ARENA in a very anguishing tone.
All her plea for the official to calm that she will pay the outstanding the very yesterday it was due, fell on deaf ears as he continued to harass and blackmail her to get the payment done immediately, even when it wasn't due. See the defaming message QCash sent to Akinseye and the exchanges of their conversation.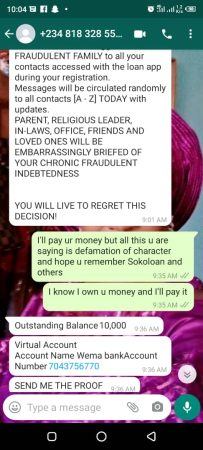 Earlier QCash through its very unruly and uncouth official had sent a very blackmailing warning message to the customer, even when the loan wasn't fallen due yet. See below screenshot: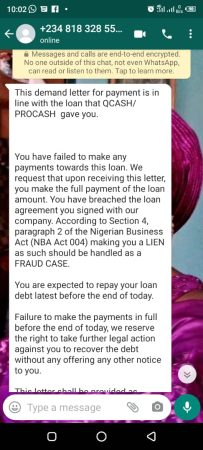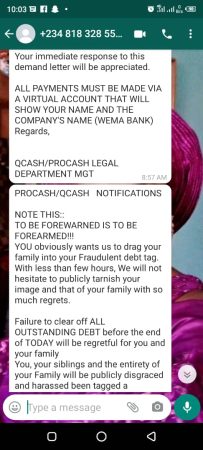 All the pleading by Akinseye for QCash loan recovery worker to calm down didn't yield any effort. Instead the staff from issued more threats and dared her not to pay today, telling her she would regret all her life. See below;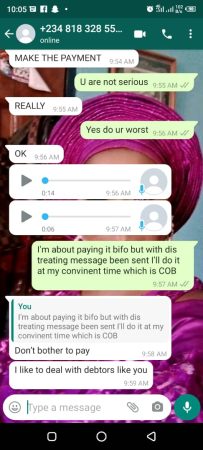 We find these serial dafamatory trend by QCash as very unethical and unprecedented and we advise all Nigerian consumers and loan seekers to boycott their services and refrain from borrowing money from them or dealing with their company, Windville Finnacials Nigeria, henceforth. QCash by this unbecoming act becomes the 8th addition to our list of blacklisted loan apps in Nigeria.