Quick online loan apps on google play: How quick is Hcredit?
HCREDIT QUICK ONLINE LOAN APP- AN INTRODUCTION
HCredit is a quick online loan app on google play that helps you get a mobile loan . With the app,  you can borrow as many times as you want within your credit limit. It is flexible and affordable, the loan app says.
When those urgent needs come knocking and other loan platforms doesn't seem to work, it could be worth it to try HCredit.  The loan app does not require collateral or any document.
The HCredit team is a group of professional and passionate experts with strong back ground of finance and mobile credit services. HCredit is integrated with local payment solutions services and cooperated with local banks.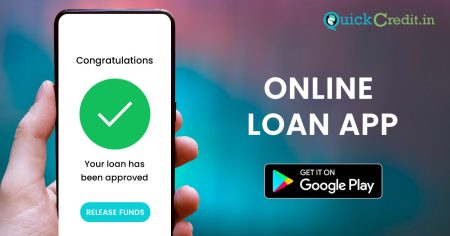 FEATURES OF HCREDIT QUICK ONLINE LOAN APP
Flexible instant loans
With loan up to N100,000 on offer, you can meet any financial obligation without a hassle. Borrow as much as you need, and repay it over flexible tenors ranging from 91 days to 180 days.
Online loan account
Manage your loan Equivalent Monthly Interest (EMI), check your Statement of Account (SOA), find your repayment schedule, access the loan terms and conditions or prepay your loan anytime, anywhere using the online loan account.
No paper work
Follow the simple steps in the loan application process and submit the basic documents required to avail your loan.
No Collateral
HCredit Personal Loan is unsecured loans – this means you can borrow the money that you need without having to worry about pledging any collateral. No documents are needed and there are no hidden fees. You can get the quick loan within 5 minutes.
HOW TO APPLY FOR HCREDIT QUICK ONLINE LOAN
You are just 3 steps away from your loan:
1. Download app. and sign up.
2. Fill up details for Approval
3. Loan disbursed in minutes after Approval
REPRESENTATIVE LOAN EXAMPLE
– Loans range loans from ₦4,000 to ₦100,000 with terms from 91 – 180 days.
–Interest ranges from 15%- 60% with an equivalent monthly interest of 5% – 20% and APR of % 60- 240%.
– Example:
If you choose a 91-day loan and borrow ₦5,000, the interest rate is 5% per month and the interest rate is 15%, we would charge you ₦750 as interest of 91-day repayment period. So the total amount of repayment is ₦5,750.
ELIGIBITY FOR HCREDIT QUICK LOAN APP
1. Nigeria Resident
2. 20-60 years old
CONTACT
– Email: service@hcredit.net
Address: No 5, Isaac John street, GRA, Ikeja, Lagos, Nigeria
TO DOWNLOAD HCREDIT QUICK LOAN APP AND APPLY FOR A LOAN, CLICK HERE.
REVIEW
Joni-waka Kujembola
September 28, 2021
Though the application interface was good and loan disbursements was quick, however after trying unsuccessfully to repay my loan at the due date due to the application problems of which I tried from morning until 11pm at night and took several pictures of which I sent to the customer care. She kept telling me to switch off and on, which I did without the problem being resolved.
I was still charged for late payment when I was eventually able to do it the following day. This is aside from the high interest rate of 43% for 1week loan. Moreover, the application does not permit user to choose how much loan one wants to take even if one is offered higher amounts and want to take less. All these need to be addressed please.
Olusanya Michael
September 24, 2021
I made double repayment. I have sent email to the email provided but it bounced back 3 times. I have reported to all their agents and nobody is saying something reasonable. And no phone number to call. This look like an intentional act. This people actually stole from me and they told me categorically they are not going to refund me.
UMAR RACHAEL
October 7, 2021
Great app to use easy to access the fund once u have fill in ur data. But having a little problem here i paid the repayment through my mobile app sent the receipt of payment by mail since 9.30am this morning uptill now have not been clared please kindly check and clare
Sosu Cornelius
September 20, 2021
My experience with this app is not nice even though I take loan from it, because the the loan tenor is very short and the interest and service fee is quite high and for an the interesting part is they will start calling and threatening existing customer's who have good records on their platform with deformation of character which is unfair.
BECOME QUICK LOAN ARENA BUSINESS PARTNER
Register to become our business partner and enjoy our free advisory and consultancy services on getting a quick loan from our list of accredited lending partners and also guide on the process of loan application.
Disclaimer: Quick Loan Arena is not a loan agency and we do not give out loan to anybody. We however profile and review legitimate and reputable loan agencies and seeks to educate individuals, household and small businesses about loan opportunities to help them make informed decisions and establish their businesses.
Speak with any of our Quick Loan Consultants for more information! Call or Whatsapp +234 (0)803 385 7245.
Do remember to give us a feedback about your quick loan experience after the lending process is executed.
READ ALSO! Google removes LCredit, Rapid Naira, other predatory loan apps from its Play Store
READ ALSO! Got LCredit loan app on your Phone? Here's why you should uninstall it immediately
READ ALSO! Running from banks, Nigerians face crisis with quick loan sharks On Google Play
READ ALSO! Palmcredit: Get Quick Loan Up To N300,000!
READ ALSO! EasyMoni: Stop sending threats to customers' contact list: Do your homework if you're real!
READ ALSO! Instant Cash In Nigeria: Top 30 Quick Online Loan Apps On Google Play 2021
READ ALSO! Quick Online Loans In Nigeria: 20 Platforms Needing No Collateral – Series 1
READ ALSO! Quick Online Loans In Nigeria Without Collateral: 20 Top Platforms – Series 2
READ ALSO! Accounting software expert, Femi Adeoya, takes on small and medium scale businesses
READ ALSO! Money In Minutes: Instant Online Quick Loans In Nigeria Without Documents
READ ALSO! Migo: Quick Online Loans In Nigeria Without Collateral Or Guarantor
READ ALSO! You have a job offer or you are an applicant looking for job, click here or whatsapp 0803 239 3958 to reach us
READ ALSO! How I Was Lured Into Debt Trap With N2.5m Specta Quick Loan From Sterling Bank
READ ALSO! BBNaija Dorathy Launches Lingerie Line, Says Priority Is Making Busty Women Look Good
Please follow and like us: