Many quick loan apps have taken over the digital  space in Nigeria and have become offensive to their customers, threatening fire and brimstone by their very uncultured and unethical practices to their customers, especially once there is a day's loan repayment default.
Some of the platforms are parading outrightly fraudulent loan apps, and once they get access to prospective customers' contact information and banking details, can deduct money at will. either in the name of security fees, or deposit payment or service charge and still won't give out any loan.
QUICK LOAN ARENA investigations reveal that many of these so called instant loan apps which are invariably hosted on Google Play are violating the Store's various policy on proper ethical behaviour, infringing on customers' right and privacy as  well as sending threatening messages to their customers and terrorising their contact list even for a single day's repayment default.
The apps have fixed unchangeable tenure of 7 days, charge service fees and high interest rate which sometimes add up to 50% of loan amount and terrorise and threaten their customers and contacts because they already have access to their phone and contact numbers and details. This is quite unethical.
Recently, QUICK LOAN ARENA published an investigative piece outlining the emotional torture story of a lady, a quick loan applicant and a small business owner in Lagos who along with her contact list were subjected to blackmails and threat by Didi Cash loan platform.
Apart from requesting the regulatory authorities to enforce local laws like how Sokoloan was sanctioned for data privacy violation, we also have the privilege and opportunity to report any fraudulent app unethical behaviour to Google Play Store where they're usually hosted.
Few weeks ago, Google Play removed a fraudulent app, LCredit from its Store after the internet giant discovered it was trying to spy customers contact details, bank details, sms and photos. This is unacceptable as many more in such violation should be removed from the Store.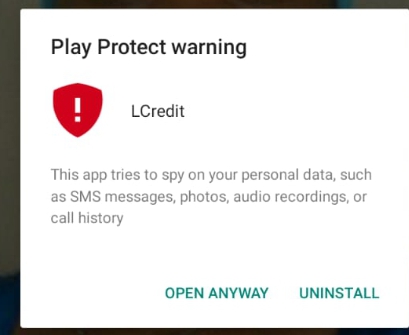 QUICK LOAN ARENA brings you step by step guide to reporting a fraudulent app, whether a loan app or any other, to Google for policy violation, contravening or compromising your data privacy. Do not hesitate to raise a red flag against any suspected fraudulent app especially those lending quick loans to Nigerians hencefoth. Some of them go as far as sending threatening messages to customers and their contact list. Reporting the fraudulent app will enable Google to act and enforce its policy and take down the app for violation.
You may want to read about
Google content policy
for apps hosted on its Play Store. If you want to report an app that you believe infringes on a trademark or copyright, visit the
legal removal requests
page of Google.
However if you want to flag a loan app for policy violation or report the app for sending threat and blackmailing messages to you or your contact list,
CLICK HERE.
Note that you must be logged into a gmail account to submit a report.
To report a fraudulent or offensive loan app or any app for that matter hosted on Google Play in Nigeria and get it removed is not a difficult process. The procedures have been outlined on Policy Statements of Google Play store and we have outlined the steps below:
STEP 1. You will be requested to choose one out of the following infringements that most relate to your report:
* Required field
Reason for flagging *
Sexual content
Graphic violence
Hateful or abusive content
Harmful to device or data
Spam
Gambling
Third-party payment
Ads
Unlawful activities
Other objection.
STEP 2. You will be required to explain briefly why you flagged the loan app.
This explanation will be made in a box provided and your submission should not exceed 1,000 letters. Write exactly what happened, the circumstances surrounding the alleged policy violation, if possible state which policy you think the app violated.
STEP 3.  You will be requested to attach a screenshot of the infringement by the loan app.
Google wants you to attach a screenshot or a related image  that can give credence to the policy violation. This is to help troubleshoot your issue. This could be the screenshot of your conversation with the loan app official on whatsapp.
STEP 4. You will be asked if the application is still available on Google Play? 
Your answer will most likely be "YES".
STEP 5. You will be requested to supply your name and email address.
STEP 6. You may be asked to provide the app's  link on Play Store.
Please note that if you are using some type of devices such as a mobile phone, you may be asked to provide the link to the app on Play Store. You can easily get this by searching for the loan app on Google search and copying the link and pasting as requested.
You can also search for the app on Play Store and once you see it, click it, it will become bold, then click the 3 dots on the top right corner of your device and click "share", you will be able to access the link from wherever you share it to.
STEP 7. Finally you may also be requested to submit the App Application Package Name.
To find the app's package name, select the app on play.google.com. The app's package name is at the end of the app's URL on play.google.com: After id=your.package.name
For example the app Package name for DiDi Cash is com.didicash.nigeria.loan.credit.money
STEP 8. Click submit
If you have filled all required information, Google will prompt you that your report has been submitted once you click the submit box.