Sokoloan: Lending app pronounces customer dead, sends obituaries to family, contacts
A digital lending app, Sokoloan, has reportedly declared one of its customers dead over failure to repay a loan on the due date.
The customer identified as Chinedu Azuwuike made this known via his verified Facebook profile.
Azuwuike had shared a picture of his "obituary" allegedly sent out by the lending app identified as Sokoloan.
He wrote: "Pls imagine what this stupid Sokoloan lending app did. What a childish act and a very stupid thing. How can they do this to me? Just because of 5 days overdue days?
"I swear with my life, if I pay them, let this obituary be real."
Azuwuike says he had defaulted in his repayment plan for five days and the next thing he saw was his obituary.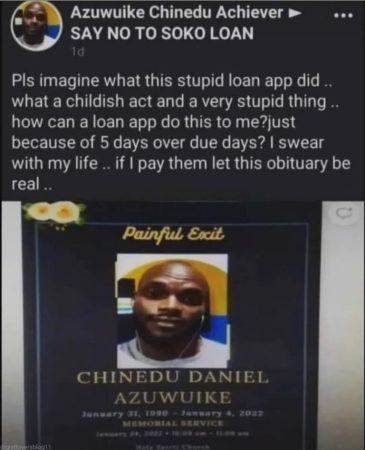 On a public group on Facebook, another customer of another digital lending app, Victoria Eyo Ekpo revealed she was also a victim and vowed not to repay the loan.
She said, "This is what Deloan (lending app) sent to me oooo. I will never pay. They called my mum and insulted her. May God help us." (sic).
Ekpo added that she borrowed the sum of N15,000.
There have been concerns in the past about the activities of these digital lending apps and loan sharks and the lack of regulation of their activities.
Meanwhile, The Federal Competition and Consumer Protection Commission (FCCPC) says the joint committee tackling violation of consumer rights by digital lending apps and online quick loan industry is set to shut down those operating illegally.
There have been a major boomin the digial lending apps and quick loan platforms in Nigeria championed by financial technology companies, Fintechs. The Nigerian Government however may be on the way to limiting their activities to only those licensed and regulated by the Central Bank of Nigeria, CBN.
Presently, most of the digital lending operators are not regulated by any government authority and they engage in activities ranging from savings to lending as well as micro-investments and digital currency trading.
Giving this indication, the Chief executive officer of FCCPC, Babatunde Irukera, told the News Agency of Nigeria, NAN, in Abuja on Sunday that the committee would commence operation soon.
The joint committee is made up of representatives from FCCPC, the Central Bank of Nigeria (CBN) and the Economic and Financial Crimes Commission (EFCC).
Other agencies participating in the committee are the National Information Technology Development Agency (NITDA) and the National Human Rights Commission (NHRC).
Irukera said that the committee would also be writing provisional regulations for the money lending companies.