One of our followers Emeka Yinusa (not real names) read our review about  the inhumane practices of online lending platforms in Nigeria, and told QUICK LOAN ARENA about his own personal horrific experience after he borrowed money from 9credit loan app.
9Credit is one of the many fake loan apps terrorizing borrowers on end and this platform has warned Nigerians to cease from patronizing them.
Read below feedback from Mr Yinusa about 9Credit.
9Credit Is Evil — Customer Vows To Sue Loan App Over Malicious Messages To His Contacts
Hello QUICK LOAN ARENA,
My name is Emeka Yinusa, (not real names). I took a quick loan (7-day) from 9credit on the 22nd of December and by 29th they claimed I was a day overdue and they started sending out malicious and damaging messages to my contacts. This include my business partners and family members who have been calling me, I'm afraid this will affect my business and my aged mother's health.
This came as a shock to me because this is the 26th time I've taken a loan without defaulting and they have made over 100k profit from interest accruing from our transactions. The loan is 35k and the repayment is 43330. 1 day overdue is 1630 which has also been added to it. I couldn't make the repayment on time because I was hospitalised from food poisoning. I feel with my record I deserved at least a few days given that I'll also pay penalties for late repayment.
After collecting their money how are they going to erase the damages done to my career and name? They even published my wife's number, my BVN and account number. This 9credit is evil. There must be a way to get them to cut down these excessively malicious and damaging actions meted out to genuine customers with good records. Nobody deserves this at all!!! I need to sue 9Credit over this defamatory contents.
9Credit is evil, no need to go this length at all. It's like they don't care that they are ripping customers off. Subjecting them to less than inhumane traumatic treatment. I hope the FCCPC will put 9credit on their radar for customer abuse
They doxxed my wife by revealing her number unnecessarily to people she doesn't even know.
See message from 9Credit below:
PUBLIC NOTICE!!! This is to inform the general public that Emeka Yinusa Phone: 0703xxxxxxx, WIFE: 904xxxxxx, Bank Name: First Bank of Nigeria plc Account no.: 3064xxxxxx, is a dubious person and a ruthless chronic criminal who goes about defrauding people. this person is currently on the run with our companys money and has refused to pay nor pick our calls.
Be informed that this person has ben declared wanted. Pls contact us if you have any information about this person as soon as possible, else the company will proceed to the next action, because this person provided us with all your details and if you are not aware of this fund you can as well call the person to delete your information in the app,, because soon the person pictures along side your own pictures will be posted in all social media be warned NC ICT EMBARRASSING TEAM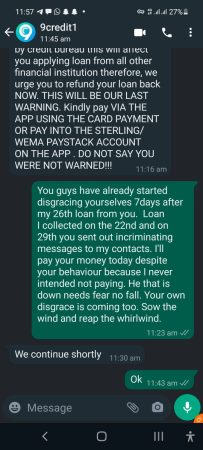 Editor's Note: The above was sent to us from one of our numerous readers in response to our review articles warning customers not to borrow money from fake loan apps and loan sharks most of them with high interest that will become debt traps. Our Right of Reply Column features feedbacks from our readers and loan customers and are published unedited.
QUICK LOAN ARENA is the first and foremost review and reference website for loan apps and online banks in Nigeria and Africa at large. We do not give loan to anybody. Our objective is to inform and educate individuals and businesses about reputable loan platforms and offers and advice them to shun loan sharks.
Inquiries:
Email: quickloanarena@gmail.com
Whatsapp: +234 0915 382 1578
Do You Need Reputable And Reliable Loan Apps For Quick And Emergency Cash?
In need of an instant loan or an emergency cash loan in Nigeria? You can apply through any of the top loan apps in Nigeria and get funded under a few hours, a few more hours without collateral or document needed of our list of reputable loan apps in Nigeria.
If you are looking for legitimate and easy ways you can make money online in Nigeria in 2022, this article outlines 13 online businesses that will help.
If you are in United States of America (USA), you can also apply for an emergency cash advance loan even if you have a poor or bad credit rating. If you need the top and best Apps For No Credit Check Loans Guaranteed Approval Direct Lender, CLICK HERE.
If you need apps that let you borrow money instantly, these 14 cash advance apps will be very useful.
These Top 10 Best Instant Loans No Credit Checks Guaranteed Online Approval are also highly recommended.
If you are in Canada, these 10 cash advance loan apps could meet your emergency and quick cash loan request.
For instant, payday, emergency or advance cash loan if you are in Australia, CLICK HERE.
Inquiries:
Email: quickloanarena@gmail.com
Whatsapp: +234 0915 382 1578
Please follow and like us: