QUICK LOAN ARENA is compiling a list of all quick loan apps on Google Play Store that are invading the data privacy of their customers and sending blackmailing and threatening messages to their contacts whenever there is an alleged loan repayment default. Our number 3 on the list is LCredit.
Data breach: Facing Google ban, LCredit continues to defame its customers
LCredit was caught weeks back by Google Play Protect spying its customers' contact, banking details and credentials and was immediately banned by Google. However the quick loan platform continues to operate underneath through its website and to defame customers and infringe on their data privacy, no thanks to the regulatory authorities in Nigeria that are subtily allowing these loan sharks continued oppression.
In our list of blacklisted loan apps in Nigeria, LCredit is gaining the third entry. We advise all Nigerian loan seekers to boycott the services of LCredit loan app until further notice. This will serve as deterrent to other micro-lending platforms.
See the defaming message below LCredit sent to the people in the contact list of one of its customers. This is umethical and unaccptable.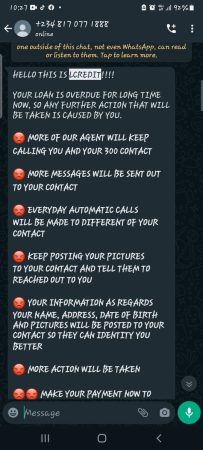 In texr form below:
HELLO THIS IS LCREDIT!!!!
YOUR LOAN IS OVERDUE FOR LONG TIME NOW, SO ANY FURTHER ACTION THAT WILL BE TAKEN IS CAUSED BY YOU.
😡 MORE OF OUR AGENT WILL KEEP CALLING YOU AND YOUR 300 CONTACT
😡 MORE MESSAGES WILL BE SENT OUT TO YOUR CONTACT
😡 EVERYDAY AUTOMATIC CALLS WILL BE MADE TO DIFFERENT OF YOUR CONTACT
😡 KEEP POSTING YOUR PICTURES TO YOUR CONTACT AND TELL THEM TO REACHED OUT TO YOU
😡 YOUR INFORMATION AS REGARDS YOUR NAME, ADDRESS, DATE OF BIRTH AND PICTURES WILL BE POSTED TO YOUR CONTACT SO THEY CAN IDENTITY YOU BETTER
😡 MORE ACTION WILL BE TAKEN
😡😡 MAKE YOUR PAYMENT NOW TO AVOID ALL THIS EMBARRASSMENT
YOU ARE WARN!!!!!
This loan app was caught below by Google Play Protect spying customers' contact details, amd banking credentials.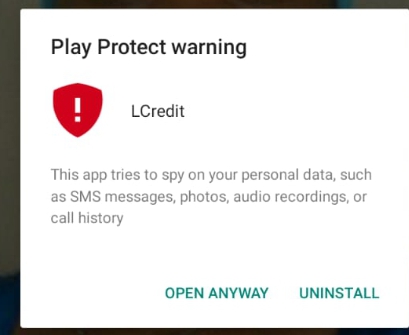 This is what Google says about data collected by apps on its Play Store:
You must be transparent in how you handle user data (e.g. information collected from or about a user, including device information). That means disclosing your app's access, collection, use and sharing of the data, and limiting the use of the data to the purposes disclosed. In addition, if your app handles personal and sensitive user data, please also refer to the additional requirements in the 'personal and sensitive user data' section below. These Google Play requirements are in addition to any requirements prescribed by applicable privacy and data protection laws (in your domiciles country).
The National Information Technology Development Agency (NITDA) has also resolved to sanction and rein on loan apps and their lending platforms operating in Nigeria over these unethical practices of blackmailing and threatening consumers, their family members and their contact lists who were never parties to the loan agreement, whenever there is an alleged repayment default.
We appeal to all stakeholders to intensify the effort at cracking down on these defaming loan apps and ensure they comply with local laws or be shown the way out.
Google should respect Nigerian local lending laws and remove any contravening loan app that are breaching the data privacy of Nigerians or in contravention of its Play Store policies.
Please do not download their app from any other source.