Data breach: Facing Google ban, LCredit continues to defame its customers
QUICK LOAN ARENA is compiling a list of all quick loan apps on Google Play Store that are invading the data privacy of their customers and sending blackmailing and threatening messages to their contacts whenever there is an alleged loan repayment default. Our number 3 on the list is LCredit.
LCredit was caught weeks back by Google Play Protect spying its customers' contact, banking details and credentials and was immediately banned by Google. However the quick loan platform continues to operate underneath through its website and to defame customers and infringe on their data privacy, no thanks to the regulatory authorities in Nigeria that are subtily allowing these loan sharks continued oppression.
In our list of blacklisted loan apps in Nigeria, LCredit is gaining the third entry. We advise all Nigerian loan seekers to boycott the services of LCredit loan app until further notice. This will serve as deterrent to other micro-lending platforms.
See the defaming message below LCredit sent to the people in the contact list of one of its customers. This is umethical and unaccptable.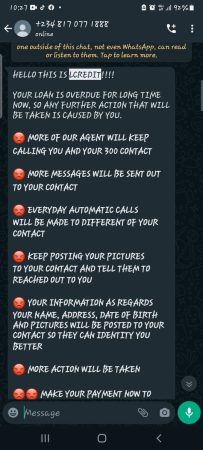 In texr form below:
HELLO THIS IS LCREDIT!!!!
YOUR LOAN IS OVERDUE FOR LONG TIME NOW, SO ANY FURTHER ACTION THAT WILL BE TAKEN IS CAUSED BY YOU.
😡 MORE OF OUR AGENT WILL KEEP CALLING YOU AND YOUR 300 CONTACT
😡 MORE MESSAGES WILL BE SENT OUT TO YOUR CONTACT
😡 EVERYDAY AUTOMATIC CALLS WILL BE MADE TO DIFFERENT OF YOUR CONTACT
😡 KEEP POSTING YOUR PICTURES TO YOUR CONTACT AND TELL THEM TO REACHED OUT TO YOU
😡 YOUR INFORMATION AS REGARDS YOUR NAME, ADDRESS, DATE OF BIRTH AND PICTURES WILL BE POSTED TO YOUR CONTACT SO THEY CAN IDENTITY YOU BETTER
😡 MORE ACTION WILL BE TAKEN
😡😡 MAKE YOUR PAYMENT NOW TO AVOID ALL THIS EMBARRASSMENT
YOU ARE WARN!!!!!
This loan app was caught below by Google Play Protect spying customers' contact details, amd banking credentials.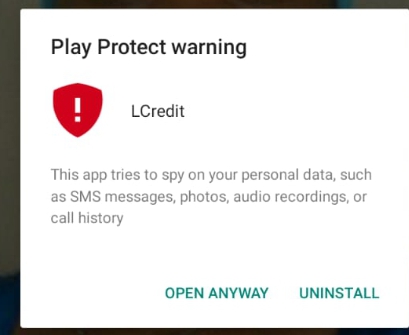 This is what Google says about data collected by apps on its Play Store:
You must be transparent in how you handle user data (e.g. information collected from or about a user, including device information). That means disclosing your app's access, collection, use and sharing of the data, and limiting the use of the data to the purposes disclosed. In addition, if your app handles personal and sensitive user data, please also refer to the additional requirements in the 'personal and sensitive user data' section below. These Google Play requirements are in addition to any requirements prescribed by applicable privacy and data protection laws (in your domiciles country).
The National Information Technology Development Agency (NITDA) has also resolved to sanction and rein on loan apps and their lending platforms operating in Nigeria over these unethical practices of blackmailing and threatening consumers, their family members and their contact lists who were never parties to the loan agreement, whenever there is an alleged repayment default.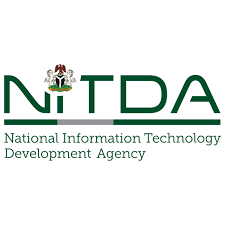 We appeal to all stakeholders to intensify the effort at cracking down on these defaming loan apps and ensure they comply with local laws or be shown the way out.
Google should respect Nigerian local lending laws and remove any contravening loan app that are breaching the data privacy of Nigerians or in contravention of its Play Store policies.
This is the link to LCredit website. Nigerian consumers and quick loan seekers should boycott the platform, It has already been taken down by Google Play Store.
Please do not download their app from any other source.
DATA PRIVACY BREACH: LIST OF BLACKLISTED LOAN APPS IN NIGERIA
1. NairaPlus
2. BorrowNow
3. LCredit
—————————————————————-
Original content creation costs money and time.
Unauthorized use, copying and/or duplication of this content material without prior express and written permission to the publisher/owner is strictly prohibited and infringements shall be subjected to relevant copyright laws.
BECOME QUICK LOAN ARENA BUSINESS PARTNER
Register to become our business partner and enjoy our free advisory and consultancy services on getting a quick loan from our list of accredited lending partners and also guide on the process of loan application.
Disclaimer: Quick Loan Arena is not a loan agency and we do not give out loan to anybody. We however profile and review legitimate and reputable loan agencies and seeks to educate individuals, household and small businesses about loan opportunities to help them make informed decisions and establish their businesses.
Speak with any of our Quick Loan Consultants for more information! Call or Whatsapp Speak with any of our Quick Loan Consultants for more information! Call or Whatsapp +234 (0) 915 382 1578.
Do remember to give us a feedback about your quick loan experience after the lending process is executed.
READ ALSO! Google removes LCredit, Rapid Naira, other predatory loan apps from its Play Store
READ ALSO! Got LCredit loan app on your Phone? Here's why you should uninstall it immediately
READ ALSO! Running from banks, Nigerians face crisis with quick loan sharks On Google Play
READ ALSO! Palmcredit: Get Quick Loan Up To N300,000!
READ ALSO! EasyMoni: Stop sending threats to customers' contact list: Do your homework if you're real!
READ ALSO! Instant Cash In Nigeria: Top 30 Quick Online Loan Apps On Google Play 2021
READ ALSO! Quick Online Loans In Nigeria: 20 Platforms Needing No Collateral – Series 1
READ ALSO! Quick Online Loans In Nigeria Without Collateral: 20 Top Platforms – Series 2
READ ALSO! Accounting software expert, Femi Adeoya, takes on small and medium scale businesses
READ ALSO! Money In Minutes: Instant Online Quick Loans In Nigeria Without Documents
READ ALSO! Migo: Quick Online Loans In Nigeria Without Collateral Or Guarantor
READ ALSO! You have a job offer or you are an applicant looking for job, click here or whatsapp 0803 239 3958 to reach us
READ ALSO! How I Was Lured Into Debt Trap With N2.5m Specta Quick Loan From Sterling Bank
READ ALSO! BBNaija Dorathy Launches Lingerie Line, Says Priority Is Making Busty Women Look Good
Please follow and like us: