QUICK LOAN ARENA investigation reveals that the fraudulent and fake 9ja Cash loan app has finally been banned by the tech giant, Google from its Play Store after serial violations of its policy on customer privacy, and after much defamation and threatening messages to borrowers and their contacts. We advise customers to only patronize authentic and legit loan apps and lending platforms.
How 9ja Cash Fake Loan App Has Been Threatening and Shaming Nigerians
This medium has published series of reports about violations by 9ja Cash against Nigerians. The scam loan app has consistently maligned and shamed its borrowers whose only offence is to contact the lending app for loan.
10 Best Loan Apps Without ATM Card In Nigeria 2022
On the 15th of November 2021, we published how 9ja Cash loan app maligned a customer and referred to his family as criminals.
See the defaming message below 9ja Cash sent to the people in the contact list of one of its customers. This is unethical and unacceptable.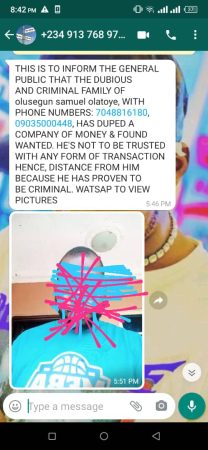 List of Fake Loan Apps In Nigeria
On November 19th 2022, we published how the fake 9ja Cash loan app was scamming customers collecting over 50% as interest. This is against local lending laws and contravenes Google policy.
The same month we yet published another contravention by this scam lending app and how an Abuja accountant threatened to sue it for sending defamatory messages to him, his family and his contact list.
The accountant who works with a fertilizer company in Abuja says he borrowed N18,000 from 9ja Cash on the 23rd of October 2021 and was expected to pay a service charge of N10,000 after 14 days bringing his repayment to N28,000. He says: "I intend to sue 9ja Cash lending platform for defamation except they retract their earlier defamatory and threatening messages. They must send an apology to all my contact list, failing wish I may resort to seek redress in a court of law."
Best 22 Reputable Loan Apps For Instant Cash In Nigeria 2022
FG Clamps Down, Shuts Illegal Fake Loan Companies in Lagos
Last week the Nigerian government decided to clamp down on some fake and illegal loan apps in Lagos, and raided their companies in Opebi and had their offices shut down. Sokoloan which is the owner of 9ja Cash was one of those those was affected.
The FG through the FCCPC, had in collaboration with the Independent Corrupt Practices and other Related Offences Commission, National Information Technology Development Agency, and the Nigerian Police Force shut down some illegal loan apps operating in Nigeria specifically on Opebi Road, Ikeja, Lagos.
After shutting the fraudulent loan apps, the FG ordered Google and Apple Companies to ban illegal and fake loan apps and digital lending banks operating in Nigeria from their Play Stores with immediate effect. This relates to loan apps operating in the country that have consistently used threatening, shaming and defamatory languages on borrowers and have been in constant violation of customers right to privacy and violation of Google and Apple policies for loan apps hosted on their network.
It is thereby a good news to hear that 9ja Cash has being yanked by the giant network, hoping other fake and scam loan apps will be removed too.
How Fake Loan App, 9ja Cash Was Banned, Yanked Off Google Play Store
Link of 9ja Cash loan app on Play Store and how it appears after Google ban.