In a landmark maiden enforcement, a Nigerian regulatory agency, NITDA, the National Information Technology Development Agency has imposed a fine of N10 million on an online loan app, Sokoloan for spying, invading and compromising the data privacy of its customers.
Sokoloan app is managed by Soko Lending Company Ltd. in Nigeria.
Mrs Hadiza Umar, Head, Corporate Affairs and External Relations of NITDA, who made the statement in Abuja recently says the action was taken following series of complaints against the company for unauthorised disclosures, failure to protect customers' personal data, defamation of character and violating the provisions of the Nigeria Data Protection Regulation (NDPR).
Sokoloan sanctioned N10m fine for spying, invading customers' data privacy, sending threat messages
According to her, one of such complaints filed by Bloomgate Solicitors on behalf of its client, the data subject, was received on Monday, Nov. 11, 2019, which prompted the agency to investigate the claims.
Umar explained that Sokoloan granted its customers uncollateralised loans which required a loanee to download its mobile application on the phone and activate a direct debit in the company's favour.
"In such manner, the application gains access to the loanee's phone contacts," she said.
According to one of the complainants, when he failed to meet up with his repayment obligations due to insufficient credit in his account on the date the direct debit was to take effect, the company unilaterally sent privacy invading messages to the complainant's contacts.
She said NITDA's investigation revealed that the complainants' contacts who were neither parties to the loan transaction nor consented to the processing of their data had confirmed the receipt of such messages.
According to Mrs Hadiza Umar: "NITDA's investigation further revealed that Sokoloan embeds trackers that share data with third parties inside its mobile application without providing users information about it or using the appropriate lawful basis.
"NITDA has, therefore, found Sokoloan and its entities in violation of use of non-conforming privacy notice, contrary to the content of the NDPR, insufficient lawful basis for processing personal data, contrary to Articles 2.2 and 2.3 of the NDPR."
It said the company was involved in "illegal data sharing without appropriate lawful basis, contrary to Article 2.2 of the NDPR, unwillingness to cooperate with the Data Protection Authority, contrary to Article 3.1 (1) of Data Protection Implementation Framework and non-filing of NDPR audit reports through a licensed Data Protection Compliance Organisation (DPCO).
"In view of the foregoing and in consideration of its implication on the privacy of Nigerians and erosion of trust in the digital economy, NITDA hereby imposes a monetary sanction of N10 million on Soko Lending Company Ltd, owners of Sokoloan loan app.
"NITDA also directs that no further privacy invading messages be sent to any Nigerian until the company and its entities show full compliance with the NDPR."
She said the agency also directed the company to pay for the conduct of a Data Protection Impact Assessment by a NITDA appointed DPCO on its operation and placement on a mandatory IT and Data Protection oversight for nine months.
The adoption and resort to quick loan apps for emergency financial need means the risk of mishandling consumers' data today has grown significantly, and experts are now warning that the Central Bank of Nigeria, CBN, regulators and the existing regulations are unable to compel fintech (financial technology) to comply with data protection laws.
A new report found that online loan apps and digital lending platforms are harvesting vast amounts of personal data from their users, often without their knowledge.
According to a new report by Strathmore University's Centre for Intellectual Property and Information Technology Law (CIPIT) and Citizen Labs,quick loan apps are linked to tracking and advertising software, raising questions over the sale of Nigerians' personal data to third parties.
"All the loan apps read contacts, location data and have access to network connectivity data," explains the report in part. "The loan apps have continuous access to location data, meaning that they track borrowers' movements. Coupled with the fact that the apps run at start-up and prevent the phone from sleeping, this raises issues from a data protection perspective, for example, transparency and data minimisation."
QUICK LOAN ARENA has been on the forefront of deterring loan apps and platforms from blackmailing their customers and their contact list who are not parties to the transactions, with threatening messages whenever a customer defaults.
About two weeks ago, QUICK LOAN ARENA reported how LCredit loan app was removed by Google Play Store after it was detected to be spying their customers' phone contacts, email messages, banking details etc. Many more of these apps are flouting Google policies and disclosure requirements, on loan approval, disbursement procedures, interest charges and tenure and yet, the platform allows them free ride to continue predating on Nigerians.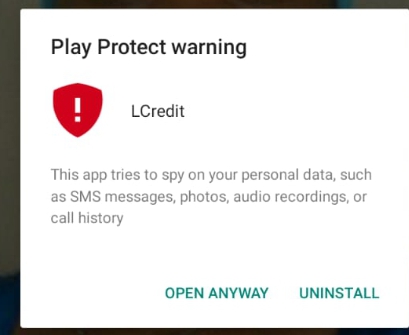 We expect Google Play Store to carry out investigations and place a ban on every loan apps in Nigeria flouting its operational and procedural rules.
Please give us a brief of your experience with any of these loan apps and any other one you had a negative experience with in the comment section below. You don't have to write your name if your prefer anonymus.
REVIEWS AND FEEDBACK ON SOKOLOAN
Temitope Leye
26 October 2021
Such a terrible customer relationship is Sokoloan. They are very rude, worst is that the app automatically access to everything on ur phone with seeking your consent and permission. Even when they have been assured of getting their refund they send derogatory message to ur contact. Outrageous interest rate. Best advice. Do not use the platform. Worst experience ever.
Edward Azubuike
26 October 2021
Sokoloan is the worst app for loan solutions. They will steal your data, copy all your contacts numbers on your phone and send damaging messages to your full contacts lists that you are a thief and a fraudster on the run( just 1 day overdue oo). And they will also tell all your contacts that you used them as guarantors. Run from them please!!!! #Saveoursoulsfromchinenese #Nigeriansspeakout #Depression #Extortion #repaymentthatcantfinish #Sucide
Owotunse Adewunmi
25 October 2021
Don't believe all those names giving this Sokoloan app good review, it is a devious means to deceive potential Customers. Check the names and thank me later. Runaway from them ASAP, except you want to have problems. The staffs are very rude, repayment process is absolutely zero and overall performance of the organization is below par. Just don't take their loan.