Covid 19 TCF Loan: 8m loan applications received, over 600,000 executed — CBN
The Nigeria's Apex Bank says it has received over 8 million loan applications for its COVID 19 targeted credit facility (TCF) while over 600,000 applications have already been processed and loan disbursed.
Osita Nwanisiobi, CBN's corporate communications department director, announced this during a one-day interactive session with organised labour and civil society groups in Enugu state recently
The facility was introduced in April 2020 as a stimulus package to support households and small and medium-sized enterprises (SMEs) in the country that were hard hit by the COVID 19 pandemic.
In March 2021, the apex bank reopened applications for the fund.
According to Nwanisiobi, the TCF helped Nigeria exit recession and achieved the current gross domestic product (GDP) growth rate of 5.01 percent.
He added that over 600,000 applicants have benefited from various COVID 19 intervention funds so far.
"If you tell me that there are people who still need COVID 19 facility and who have not received it, honestly, I will agree with you," Nwanisiobi said.
"We started with about N50 billion. We moved from N100 billion to N300 billion. Today, we are talking about N400 billion. Now the number of applications that we have is over eight million, and we have done over 600,000.
"The governor (Godwin Emefiele) is actually very passionate because he has also seen that what we have done in this regard also helped Nigerians exit recession and to post the kind of GDP that we have, and so he is poised to do more."
Nwanisobi further said CBN has implemented about 37 intervention programs, particularly in the agricultural sector, to boost the economy, lower inflation, and create more jobs for the youth.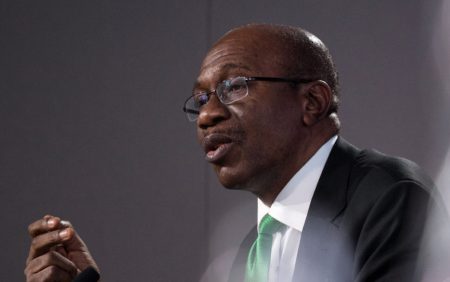 The scheme (TCF) is disbursed through the Nigeria Incentive-Based Risk Sharing System for Agricultural Lending Microfinance Bank (NMFB).
According to the Central Bank, the exit day for the loan intervention is on December 31, 2024.
BECOME QUICK LOAN ARENA BUSINESS PARTNER
Register to become our business partner and enjoy our free advisory and consultancy services on getting a quick loan from our list of accredited lending partners and also guide on the process of loan application.
Disclaimer: Quick Loan Arena is not a loan agency and we do not give out loan to anybody. We however profile and review legitimate and reputable loan agencies and seeks to educate individuals, household and small businesses about loan opportunities to help them make informed decisions and establish their businesses.
Speak with any of our Quick Loan Consultants for more information! Call or Whatsapp +234 (0)803 385 7245.
Do remember to give us a feedback about your quick loan experience after the lending process is executed.
READ ALSO! Top 30 Quick Online Loan Apps On Google Play 2021 You Can Borrow money without collateral or documents
READ ALSO! Migo: Quick Online Loans In Nigeria Without Collateral Or Guarantor
READ ALSO! Quick Online Loans In Nigeria: 20 Platforms Needing No Collateral – Series 1
READ ALSO! Quick Online Loans In Nigeria Without Collateral: 20 Top Platforms – Series 2
READ ALSO! Quick Loan In Nigeria Without Collateral: Consider Page Financials
READ ALSO! C24 Capital: Credible And Quick Loan Up To N1m But Lots Of Paperwork
READ ALSO! You have a job offer or you are an applicant looking for job, click here or whatsapp 0803 239 3958 to reach us
READ ALSO! How I Was Lured Into Debt Trap With N2.5m Specta Quick Loan From Sterling Bank
READ ALSO! EasyMoni: Stop Sending Threats To Customers' Contact List: Do Your Homework If You're Real!
READ ALSO! Basketmouth signs music deal with US label Empire
Please follow and like us: