An inflammatory and defamatory text message sent to a renowned Lagos journalist,.Mr. Muyiwa Lucas who works with a leading mainstream newspaper, may snowball into a litigation if the lending platform involved fails to apologise in three major Nigerian newspapers in the next one week.
Data Breach: Lagos Journalist blows hot, threatens to sue 9Credit for defamation
A renowned journalist who works with The Nation Newspaper in Lagos, Mr Muyiwa Lucas has threatened to sue 9Credit, a lending platform hosted on Google Play Store and it's parent company, OTP Internet Technology based in Lagos, for sending defamatory and blackmailing messages to him on his telephone number this morning.
The lending company, 9credit, on Wednesday morning (today) had sent a blackmailing text message to Lucas' mobile number intimating him of a loan gone awry given to a certain to one Mr Shola Akinyele.
However, the content of the text does not sit well with the ace journalist, who is now demanding an official apology from 9Credit within 7 working days, failing which he has threatened to drag the loan app and its parent company, OTP Internet Technology to court of law to seek redress.
READ HIS STATEMENT BELOW:
"I woke up this morning to read the text message from 9Credit loan platform claiming my name and number was used as collateral at the time of granting a said loan to one Mr. Sola Akinyele. Did 9Creditt contact me before granting the loan? No! So why sending me this very annoying, disrespectful, embarrassing and blackmailing message over a transaction I'm not privy to?", a visibly angry Lucas asked rhetorically.
He said it was hightime firms like 9Credit are made to face the consequences of their actions or inactions as a deterrent to others.
Consequently, the journalist has given a 7-day ultimatum to 9Credit to publish an official apology in three Nigerian national Newspapers or face litigation.
See below the infuriating message :
Phone 08024563894 Name Shola Akinyele Good day, the above named person took a fund from NC and has defaulted for several days, broken all contractual agreements that were in place when this fund was taken and has refused to repay the fund and has proven to be a person of questionable character. DISGRACE IS INEVITABLE AT THIS POINT, AND YOU BEING A FRIEND / FAMILY SHOWS THE KIND OF PERSON YOU ARE AS BIRDS OF A FEATHER FLOCK TOGETHER. YOU WERE USED AS AN EMERGENCY CONTACT. SO, CALL AND TELL THIS INDIVIDUAL to make payment now.IF YOU WERENT INFORMED WHILE THIS fund WAS TAKEN, ASK FOR YOUR DETAILS TO BE REMOVED FROM OUR WEBSITE AS YOU WERE USED AS THE EMERGENCY CONTACT.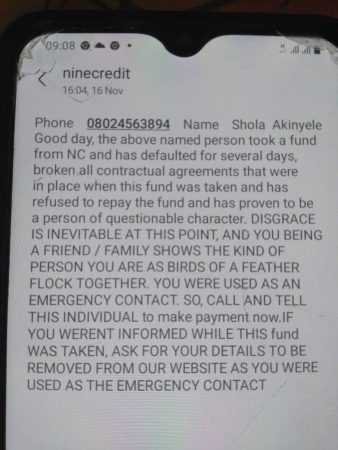 For this data breach, 9Credit has become blacklisted on our blog list and we enjoy Nigerians to boycott the loan app henceforth.